"This summer has been one of the most transformative times of my life": The 10th Annual Center for Translational Mental Health Research Undergraduate Research Program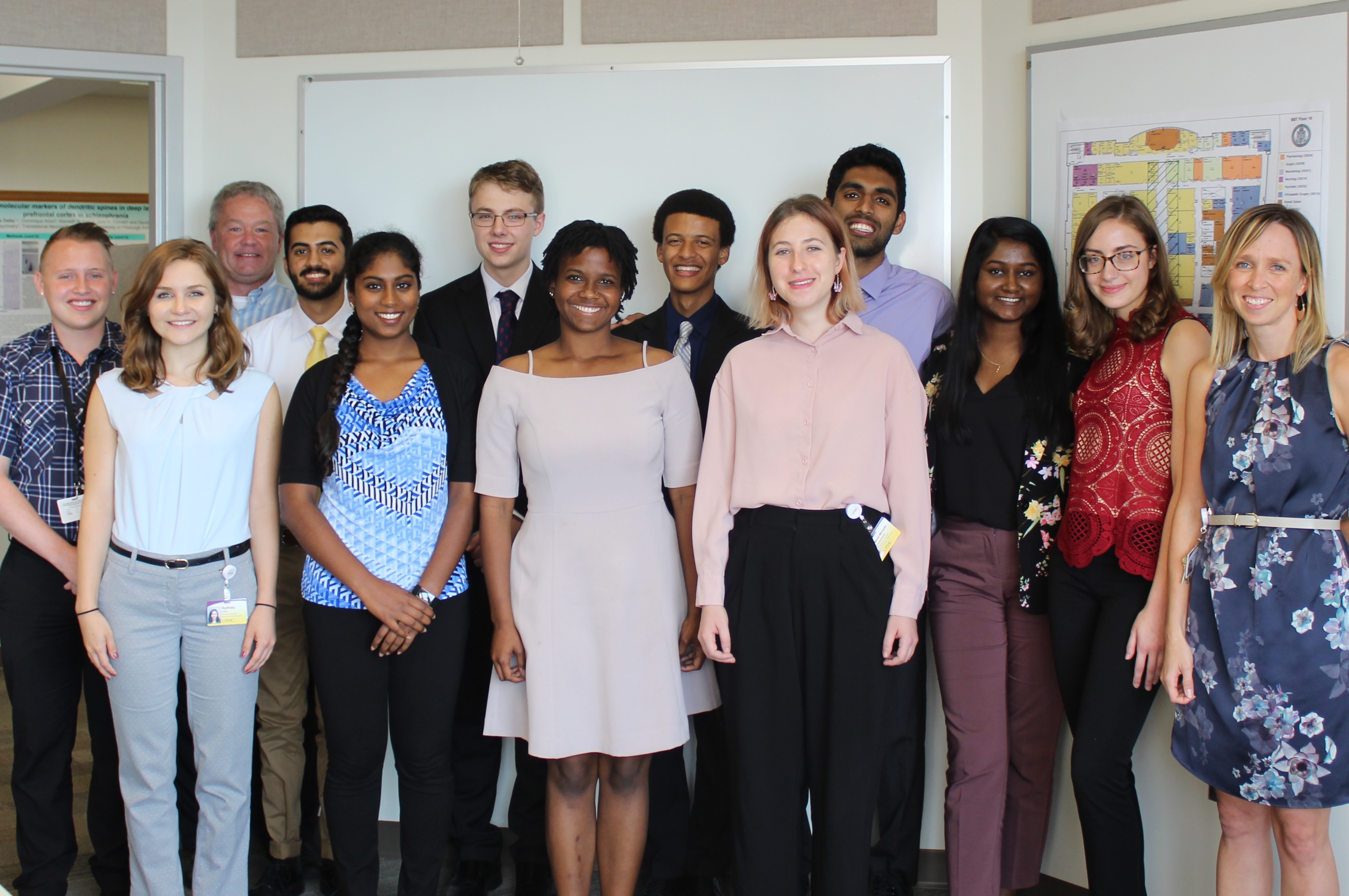 This summer marks the 10th year of the Undergraduate Research Fellowship Program, funded by the NIMH Conte Center for Translational Mental Health Research. The competitive 10-week summer program provides undergraduate students studying neuroscience, biology and psychology, among other fields, the opportunity to conduct hands-on, cutting-edge neuroscience research under the mentorship of clinical and basic neuroscientists in the Department of Psychiatry. The program is designed for students who plan to pursue an MD or PhD after graduation, and fellows receive career development guidance, including the opportunity to speak with faculty, postdoctoral trainees, medical students involved in research (including those in Pitt's Medical Scientist Training Program) and graduate students at the Center for Neuroscience at the University of Pittsburgh. 
The program emphasizes the clinical importance of neuroscience research, and each year, fellows are consistently enthusiastic about the clinical exposure component of their training. Undergraduate participants shadow psychiatrists, therapists and other behavioral health care providers in both the inpatient and outpatient settings, as well as Western Psychiatric Hospital's emergency intake service, to develop an understanding of the diagnosis of psychiatric disorders. 
At the conclusion of this year's program, one fellow commented: "This summer has been one of the most transformative times of my life. The fellowship allowed me to pursue my research interests to the fullest extent, with the support of a tight-knit community of students, researchers and clinical practitioners." 
The eleven Undergraduate Research Program fellows presented their research projects at a special event at the University of Pittsburgh:
Sabrina Catalano (Mentor: Maria Jalbrzikowski, PhD): Age-Associated Disruptions in the Brainstem in Psychosis Spectrum Youth
Leah Vines (Mentor: Maria Jalbrzikowski, PhD): Evaluation of Emotion Reactivity and Emotion Regulation in Youth at Clinical High Risk for Developing Psychosis
Leslie Rajendran (Mentors: Heather Joseph, DO and Brooke Molina, PhD): Assessment of Toddler Attention in a Naturalistic Setting
Marie Ivantechenko (Mentor: Neil Jones, PhD): Anxiety is in the Eye of the Beholder
Levi Fleeger (Mentor: Danella Hafeman, MD, PhD):    Understanding the Effect of Mindfulness on the Brain
Vishan Ramanathan (Mentor: Zachary Freyberg, MD, PhD):  Roles of Dopamine and Glutamate Co-Transmission in Neurodegeneration
Eddie Lasker (Mentor: Melanie Grubisha, MD, PhD): The Influence of Kalirin on Dendritic Morphology
Nathan Kindja (Mentor: Robert Sweet, MD): Sex and Age Differences in Dendritic Spine Density & Morphology
Sydney Green (Mentor: Marianne Seney, PhD): Sex Differences in Dendritic Spine Density in the Mouse ACC and its Implications in Major Depressive Disorder
Srividhya Madireddy (Mentor: Susanne Ahmari, MD, PhD): Investigating the Relationship Between Behavioral Sequences and Reward Processing
Sravan Kanuparthi (Mentor: Susanne Ahmari, MD, PhD): Effect of Adult-Specific Overexpression of EAAT3 on Fear and Anxiety Behaviors in Mice