Now in The American Journal of Psychiatry: Neural Reward Circuitry & Psychotherapy in Youths with Anxiety Disorders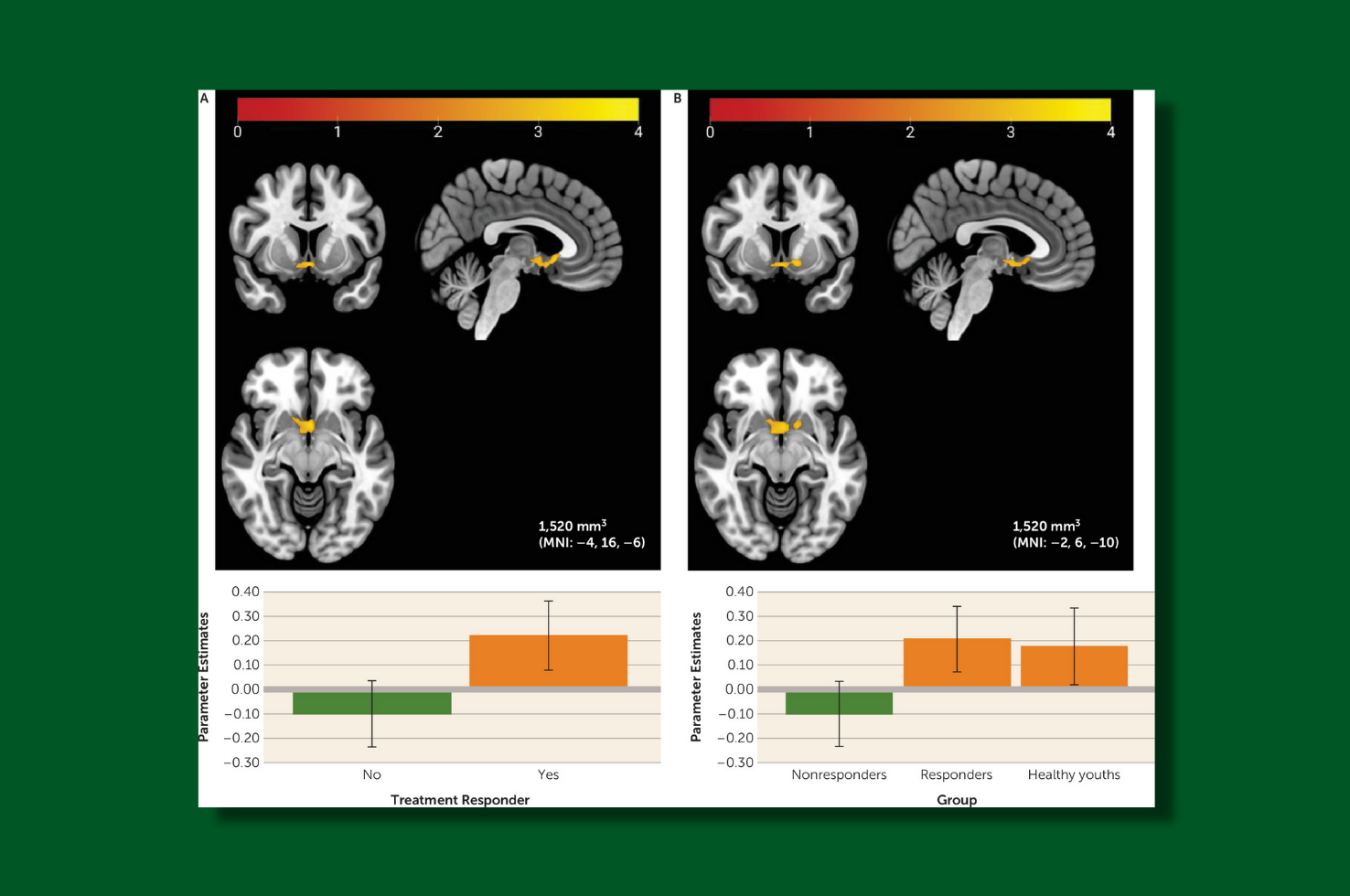 In a recent American Journal of Psychiatry study, Pitt Psychiatry investigators examined the association between function in the brain's reward circuitry and response to psychotherapy in youths with anxiety disorders. Recent research has indicated the importance of reward in the pathophysiology and treatment of anxiety, suggesting the potential involvement of reward circuitry in treatment response.
The team of faculty scientists, including Cecile Ladouceur, PhD; Neal Ryan, MD; Judith Morgan, PhD; Jennifer Silk, PhD; and the study's senior author, Erika Forbes, PhD, and first author, PhD student Stefanie Sequeira, from the University of Pittsburgh, conducted a randomized clinical trial examining predictors of response to treatment among young adolescents (ages 9-14) with anxiety disorders. Study participants, including an unaffected comparison group, underwent functional magnetic resonance imaging (fMRI) during a reward task then received either cognitive behavioral therapy or child-centered therapy. 
Results revealed that at baseline, youths with anxiety disorders showed higher medial prefrontal cortex activation to reward relative to comparison youths. Within the anxiety group, greater baseline response to monetary wins versus losses in a region of the left subgenual anterior cingulate cortex/nucleus accumbens was associated with successful treatment response.
"When we designed this study, we debated whether to include a reward fMRI task because the focus in anxiety has traditionally been the brain's threat systems. This turned out to be worth the effort, as we observed that a stronger response in the hub of reward circuitry characterized adolescents who would go on to respond to treatment. Response to psychotherapy might thus be enhanced in those with the ability to engage positive emotions or the tendency to find the challenges of treatment rewarding," said Dr. Forbes.
Association of neural reward circuitry function with response to psychotherapy in youths with anxiety disorders
Sequiera AL, Silk JS, Ladouceur CD, Hanson JL, Ryan ND, Morgan JK, McMakin DL, Kendall PC, Dahl RE, Forbes EE. 
The American Journal of Psychiatry. Volume 178, Issue 4. April 1, 2021. Pages 343-351. https://doi.org/10.1176/appi.ajp.2020.20010094