Congratulations to the UPMC Western Psychiatric Hospital Resident and Fellow Class of 2020!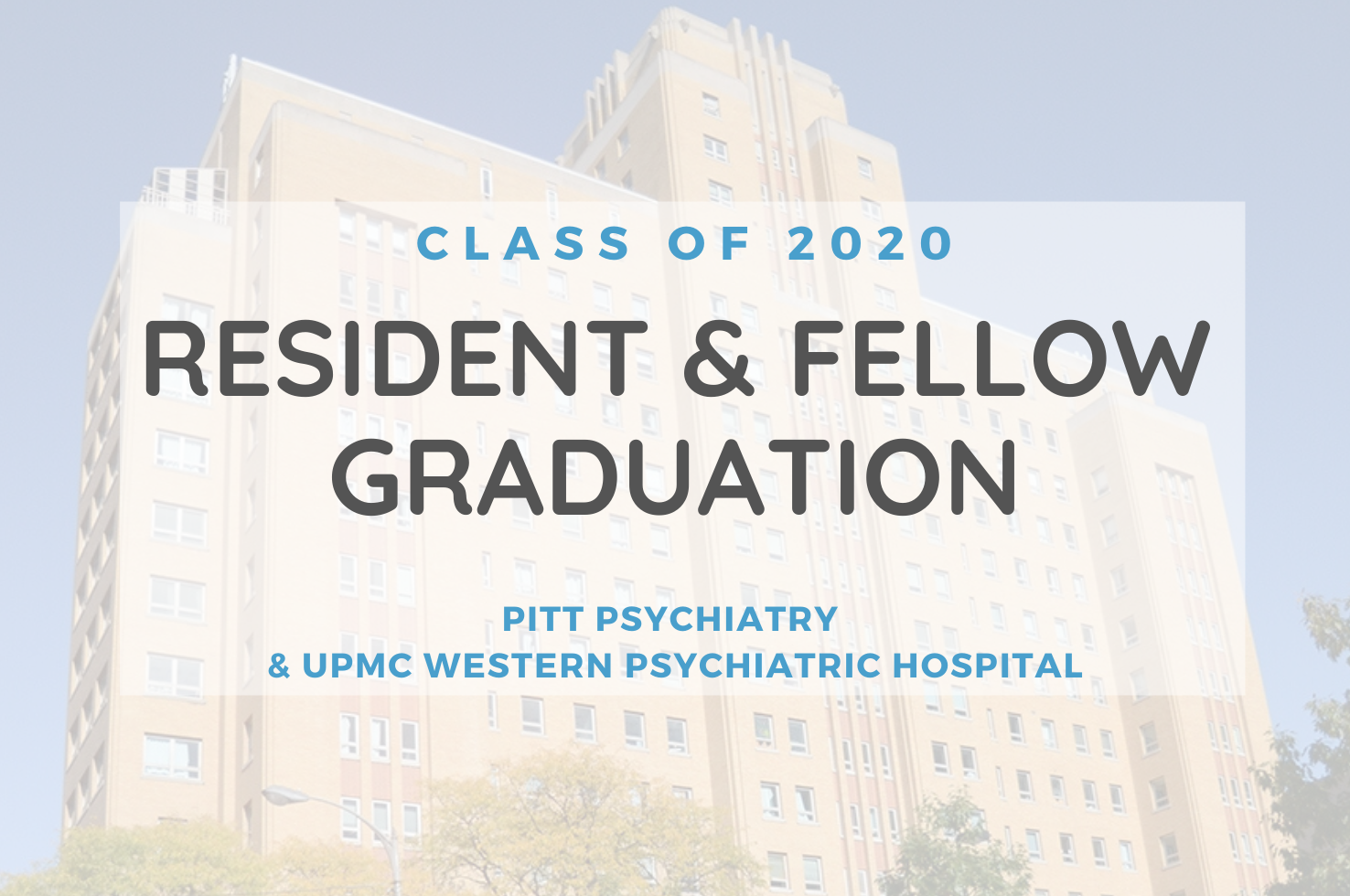 This year the Department of Psychiatry held our first-ever virtual UPMC Western Psychiatric Hospital (WPH) resident and fellow graduation—a festive and moving online event, hosted by Michael Travis, MD (Senior Director for Postgraduate Physician Training), celebrating the myriad accomplishments of this year's graduating class. 
The themes of community and family, as well as the outstanding care delivered during the COVID-19 pandemic, were emphasized by leadership who addressed the graduating class. Dr. Travis additionally noted that during the crisis, WPH residents and fellows established among themselves a strong network of mutual support.
David Lewis, MD (Chair, Department of Psychiatry) told the 2020 class: "What could have been perceived as another four-year allotment in your training is something that we see as a life sentence…meaning that we are committed to you not just for the time that you are here but for the remainder of your careers. We are here to help you with career advice, consultations on challenging patients, questions about how to pursue the next set of scientific questions, to help you manage life and most of all, to support you as you grow as human beings. …Remember, you will always be a part of the WPH family."
Kenneth Nash, MD (Chief of Clinical Services, WPH) said, "COVID-19 has made me think about things a little bit differently. In terms of the value of mental health, we have a window now. We're needed more than we ever were … and I think you will be called upon more than ever. It will be important as you as graduates step up to meet that demand. You have the skills to do it and you have changed WPH for the better."
Neal Ryan, MD (Director of Education, Department of Psychiatry) connected his remarks to current socio-political events: "The healthcare disparities in psychiatry and all of healthcare have really emphasized the fact that we as a society, and as a profession, need to pay more attention to those problems. There's room for education, clinical care and research to improve the world."
Deborah Brodine (President, WPH) and Camelia Herisko (Chief Nursing Officer & Vice President, Operations and Patient Care Services, WPH) also offered congratulations and thanks to the graduating class. 
Several residents received awards in recognition of their accomplishments in medical education and service:

2020 Psychiatry Student Interest Group Exemplary Service Award for Excellence in Teaching

Office of Residency Training Education Committee Resident Teaching Awards
2020 Outstanding Graduating Resident: Elizabeth Kistler, MD

2020 Outstanding Adult Teaching Resident: Nina Ross, MD

2020 Outstanding Child Teaching Resident: Amanda Downey, MD

2020 Graduating Resident Humanism Award: Elizabeth Hale, MD

The class of 2020 presented the following awards to key faculty, staff and groups in honor of their extraordinary contributions to the medical training of WPH's residents and fellows. Below are the 2020 Residency Training Awards:
Sarah Elizabeth Wolfe Exemplary Teaching Service Award for Child and Adolescent Psychiatry: Paula Powe, MD

WPH Exemplary Teaching Service Award for Adult Faculty: Hader Mansour, MD

WPH Exemplary Teaching Service Award for Geriatric Faculty: Daniel Varon, MD

WPH Exemplary Teaching Service Award for Volunteer Faculty: Patrick Driscoll, MD

WPH Exemplary Teaching Service Award for Non-Faculty Staff: Mike Meharra

WPH Exemplary Teaching Service Award for Outpatient Services: Comprehensive Recovery Service

WPH Exemplary Teaching Service Award for Special Services: WPH Social Workers

WPH Exemplary Teaching Service Award for Inpatient Services: 7th Floor General Adult Unit

Congratulations to the graduates and to the award winners!