Award-Winning Interdisciplinary Collaboration Between the Departments of Psychiatry and Pharmacy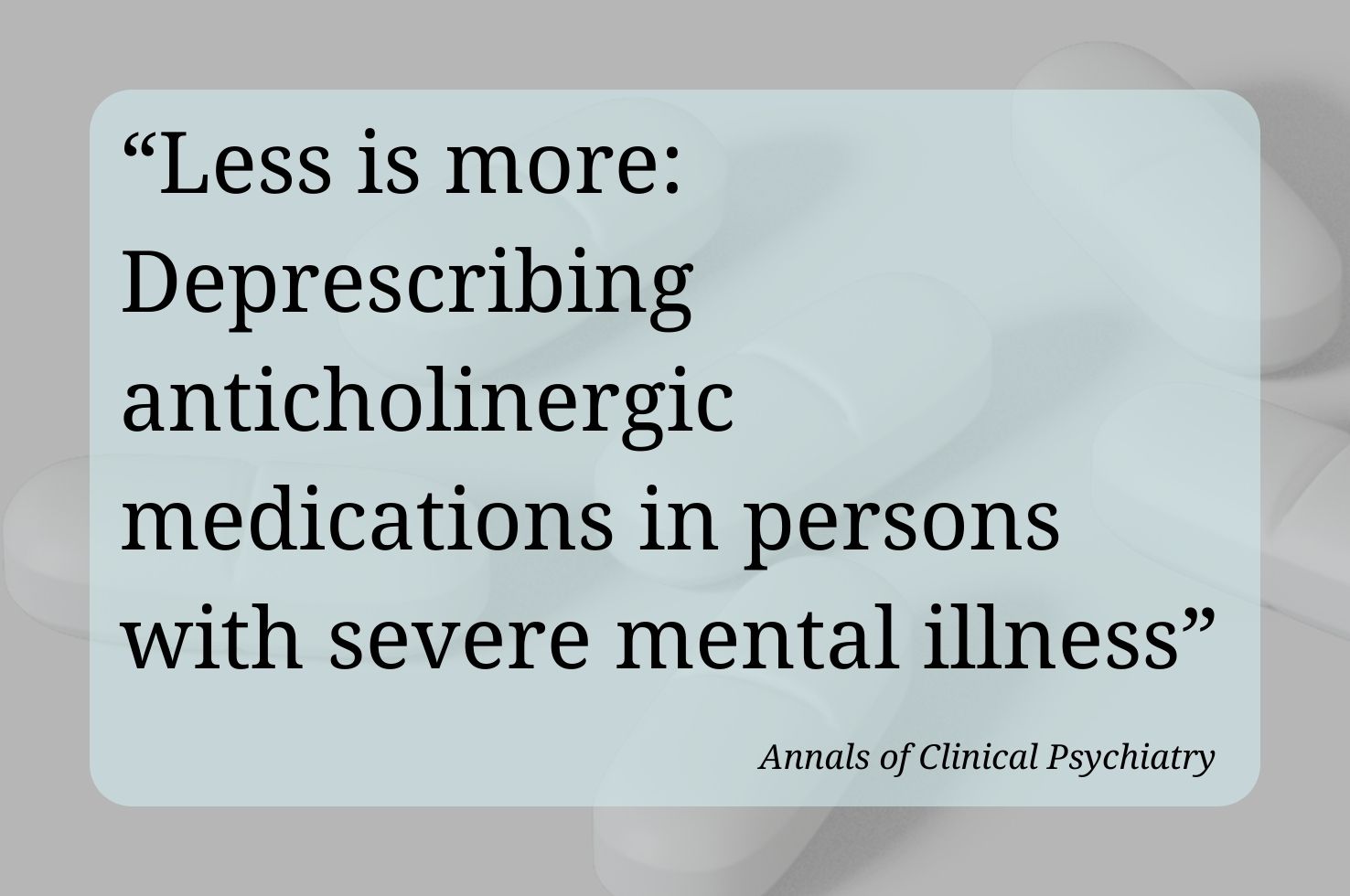 We are pleased to announce that Ana Lupu, PharmD, has received the American Academy of Clinical Psychiatrists 2022 Annals of Clinical Psychiatry Winokur Award for her article, "Less is more: Deprescribing anticholinergic medications in persons with severe mental illness." K.N. Roy Chengappa, MD (Professor of Psychiatry), is Dr. Lupu's mentor, and is a corresponding author on the paper. 
The team of scientists conducted a quality improvement deprescription project to reduce chronic anticholinergic medication use in patients with serious mental illness.
Anticholinergic medications can cause numerous adverse side effects that may substantially negatively impact quality of life. The investigators found that for most clinically stable patients with serious mental illness, gradual deprescription of chronic anticholinergic medication is clinically appropriate and improves quality of life. 
Regarding this collaboration, Dr. Chengappa said:
"Ana, as she is known to many of us, is an Adjunct Instructor of Pharmacy and Therapeutics at Pitt's School of Pharmacy, and a Clinical Pharmacist, Ambulatory Care, Forbes Pharmacy at UPMC Western Psychiatric Hospital (WPH). Ana will receive this award at the AACP Annual Conference in March 2023, Congratulations, Ana!
Ana works closely and collaboratively with clinicians at WPH's Comprehensive Recovery Services and Pathways: Long Term Structured Residence, which serve individuals with severe mental illness. Ana is also the face of our 'clinic within a clinic' that addresses smoking cessation in patients with severe mental illness.
The ongoing quality improvement project that resulted in this paper began seven years ago, and is a testament to the interdisciplinary collaboration that began with Ana and Kimberly Clinebell, MD (attending psychiatrist and Medical Director of Pine-IOP) and myself, and grew to include Jessica Gannon, MD (Associate Professor of Psychiatry), Jaspreet Brar, MD, PhD (senior fellow, WPH), and many others. Our work has extended beyond the Comprehensive Recovery Services clinics to include Western Behavioral Health at Mon Yough.
The work from this quality improvement project has resulted in three peer-reviewed medical journal articles, continuing medical education offerings, and clinical grand rounds at WPH and at three external departments of psychiatry. Furthermore, we have developed a self-report Pittsburgh Anticholinergic Symptoms Scale built into Epic electronic health record, a patient handout, and a decision support tool. We are currently developing a Shared Decision-Making Guide and Clinical Pathway tool for patients and prescribers to use. However, the greatest reward for us as a team is the smile of the patients who experience a significant reduction of their anticholinergic side effects, pill burden, and improved quality of life."
Less is more: Deprescribing anticholinergic medications in persons with severe mental illness
Lupu AM, MacCamy KL, Gannon JM, Brar JS, Chengappa KNR.
Annals of Clinical Psychiatry 2021;33(2):80-92 doi: 10.12788/acp.0019