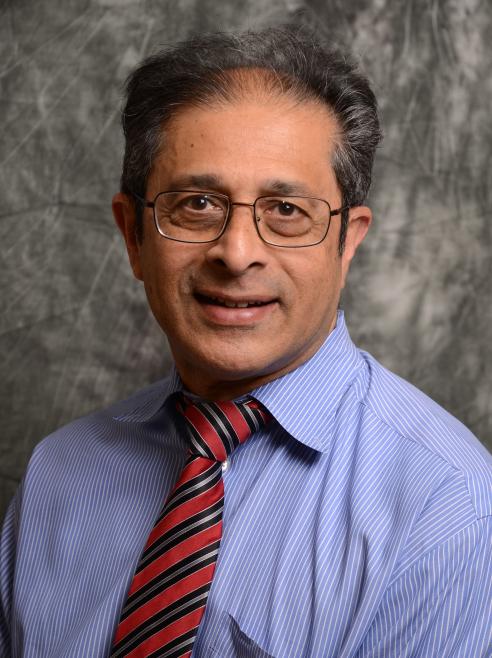 Kadiamada N Chengappa, MD
Professor of Psychiatry
Contact Details
3811 O'Hara St.
Pittsburgh
PA
15213
Education & Training
MD
University of Mysore, Kasturba Medical College, Manipal
Medicine
Kasturba Medical College, Manipal
Multidisciplinary
Dalhousie University, Canada
Psychiatry
Edinburgh University, United Kingdom
Psychiatry
National Institute of Mental Health and Neurosciences, India
Psychiatry
Kasturba Medical College, India
Internal Medicine and Psychiatry
University of Pittsburgh School of Medicine
Clinical Research in Schizophrenia
Specialty Certifications
Board Certification
American Board of Psychiatry and Neurology (Geriatric Psychiatry)
Current Appointments
Chief, Comprehensive Recovery Service
Professional Affiliations
Fellow, Royal College of Physicians and Surgeons of Canada
Member, American Society for Clinical Psychopharmacology
Member, Canadian Psychiatric Association
Member, International Society for Bipolar Disorders
Selected Honors & Awards
Paul Wender Best Paper Award, American Society of Clinical Psychopharmacology
Outstanding Academician Award, Indo American Psychiatric Association
President's Award, Pennsylvania Community Providers Association
Young Investigators Award, National Institutes of Mental Health, New Clinical Drug Evaluation Unit
Rev. C. Leroy Hacker Ambassador Award, Mayview State Hospital
Research Interests
Schizophrenia; Bipolar disorders; Smoking cessation in mental illness
Selected Research Publications & Products
Schooler NR, Marder SR, Chengappa KNR, Petrides G, Ames D, Wirshing WC, McMeniman M, Baker RW, Parepally H, Umbricht D, Kane JM. Clozapine and Risperidone in Moderately Refractory Schizophrenia: a Six-month Double-blind comparison. J Clin Psychiatry. 2016;77(5):628-634. PubMed PMID: 27035871
Chengappa KNR, Perkins KA, Brar JS, Schlicht PJ, Turkin SR, Hetrick ML, Levine MD, George TP. Varenicline for Smoking Cessation in Bipolar Disorder: A double-blind, random assignment, placebo controlled study. J Clin Psychiatry. 2014; 75:765-772. PMID: 25006684
Chengappa KNR, Bowie CR, Schlicht PJ, Fleet D, Brar JS, Jindal R. Randomized Placebo-Controlled Adjunctive Study of an Extract of Withania Somnifera for Cognitive Dysfunction in Bipolar Disorder. Journal of Clinical Psychiatry. 2013; 74:1076- 1083. PMID:24330893
Chengappa KNR, Turkin SR, DeSanti S, Bowie CR, Brar JS, Schlicht PJ, Murphy SL, Hetrick ML, Bilder R, Fleet D. A preliminary, randomized, double-blind, placebo-controlled trial of L-carnosine to improve cognition in schizophrenia, Schizophr. Res. 2012; 142:145-152. PMID: 23099060
Chengappa KNR, Kupfer DJ, Frank E, Houck PR, Grochocinski VJ, Cluss PA, Stapf DA. The Effect of Birth Cohort on the Early Age at Onset of the First Episode of Illness in a Bipolar Disorder Case Registry. American Journal of Psychiatry. 2003; 160:1636-1642. PMID: 12944339
Clinical Interests
Clinical pathways in ambulatory care; Metabolic syndrome; Quality improvement
Selected Clinical Publications & Products
Abdulkader Alam, KNR Chengappa, Frank Ghinassi, Screening for obstructive sleep apnea among individuals with severe mental illness at a primary care clinic. General Hospital Psychiatry 2012; 34(6):660-664. PMID: 22832135
Perkins KA, Lerman C, Stitzer ML, Fonte CA, Briski JL, Scott JA, Chengappa KNR. Development of Procedures for Early Human Screening of Smoking Cessation Medications. Clinical Pharmacology and Therapeutics. 2008; 84(2): 216221. PMID: 18388880
Chengappa KNR, Ebeling T, Kang JS, Levine J, Parepally H. Clozapine reduces severe self-mutilation and aggression in psychotic patients with borderline personality disorder. Journal of Clinical Psychiatry. 1999 60:477-484. PMID 10453803
Chengappa KNR, Schwarzman L, Hulihan JF, Xiang J, Rosenthal NR, for the CAPSS-168 Investigators. Adjunctive topiramate therapy in patients receiving a mood stabilizer for bipolar I disorder: a randomized, placebo-controlled trial. Journal of Clinical Psychiatry. 2006; 67:1698-1706. PMID: 17196048
Chengappa KNR, Gopalani A, Haught MK, McChesney K, Baker RW, Schooler N. The treatment of clozapine-associated agranulocytosis with granulocyte-colony stimulating factor (G-CSF). Psychopharmacology Bulletin. 1996; 32(1):111-121.
Education Interests
Mentoring residents and junior psychiatry faculty; Coaching in academic writing for clinical journals
Selected Education Publications & Products
A QI project for de-prescription: Lupu AM, Clinebell K, Gannon JM, Ellison JC, Chengappa KNR. (in press) Reducing anticholinergic medication burden in patients with psychotic or bipolar disorders. Journal of Clinical Psychiatry.
Nash K, Ghinassi F, Brar JS, Alam A, Bohan MC, Gopalan K, Carter A, Chengappa KNR. The Development and Implementation of an Electronic Health Record Tool for Monitoring Metabolic Syndrome Indices in Patients with Serious Mental Illness. Clin Schizophr Relat Psychoses. 2016; 10(3):145-153. PMID 24275635
Alam, A., Chengappa, KNR Obstructive Sleep Apnea and Schizophrenia: A Primer for Psychiatrists. Acta Neuropsychiatrica 2011; 23:201-209.
Conference Director 2008-Current, Annual Pittsburgh Schizophrenia Conference. Sponsored by Western Psychiatric Institute and Clinic of UPMC. Held at Sheraton Station Square Pittsburgh, PA
Water Intoxication in Psychiatric Patients. State Hospital Video Conference Series. University of Pittsburgh School of Medicine; Western Psychiatric Institute and Clinic; Mayview State Hospital, Pittsburgh, PA January 27, 2005.