University of Pittsburgh School of Medicine Promotes Natacha De Genna, PhD, to Associate Professor of Psychiatry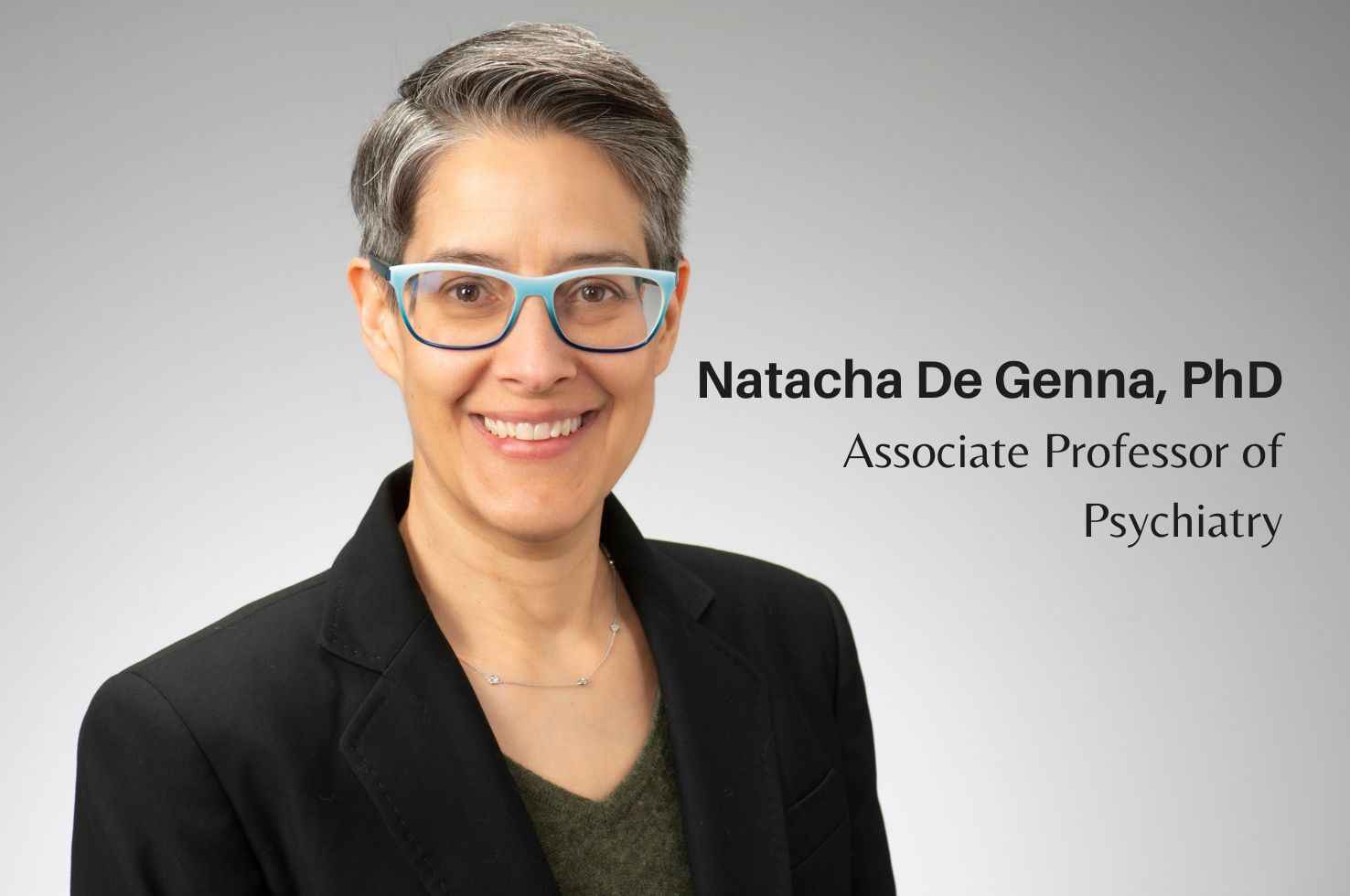 We are delighted to announce that Natacha De Genna, PhD, has been promoted to Associate Professor of Psychiatry by the University of Pittsburgh School of Medicine.
Dr. De Genna earned her PhD in developmental psychology from Concordia University (Montreal, Québec). After receiving her doctorate, she  arrived in Pittsburgh to conduct postdoctoral research in substance use epidemiology as part of the Department of Psychiatry's National Institute on Alcohol Abuse and Alcoholism (NIAAA)-funded T32 program in alcohol research. Dr. De Genna joined the Psychiatry faculty as assistant professor in 2009.
Dr. De Genna's research focuses on substance use in adolescent mothers, intergenerational transmission of health, and long-term effects of prenatal exposures. She takes an intersectional approach to behavioral health, incorporating the complex interactions among race, sex assigned at birth, developmental history, and mental health and substance use outcomes. 
Dr. De Genna currently leads a National Institute on Drug Abuse (NIDA) R01 grant focused on teen mothers' prenatal cannabis use and co-use with tobacco. Supplements to this project enable her to study structural racism and discrimination and prenatal substance use during a pandemic, and prenatal substance use in young sexual minority women. She is a past recipient of a NIDA K01 award looking at substance use and risky sex in vulnerable populations, as well as a NIDA R01 focused on maternal age, trajectories of substance use, and health disparities.
An expert in the field of maternal and child health, Dr. De Genna serves on the editorial boards of the Journal of Youth and Adolescence, as well as Nicotine and Tobacco Research, where she is associate editor. She has provided reviews for numerous scientific journals, and has been honored with outstanding reviewer awards on multiple occasions. 
Having previously received a University of Pittsburgh Postdoctoral Association Postdoctoral Alumni Award herself, Dr. De Genna currently engages in postdoctoral training as a faculty member on the NIAAA Developmental Alcohol Research Training T32 program in the Department of Psychiatry, and the Adolescent Research in Community Postdoctoral Training Program in the Department of Pediatrics. Dr. De Genna's teaching also includes instruction of medical students taking introduction to psychiatry, psychology undergraduates, and graduate students in the Pitt Department of Epidemiology and the School of Nursing.
"Dr. De Genna is tremendous asset to the Department of Psychiatry. She is fully engaged in a unique research program with tremendous potential to improve the lives of women and families. Moreover, she has demonstrated a serious, ongoing commitment to health disparities research, which is critical to our Department's equity and inclusivity goals," said David Lewis, MD (Chair, Department of Psychiatry).
Please join us in congratulating Dr. De Genna!