The Department of Psychiatry Welcomes Three New Faculty Members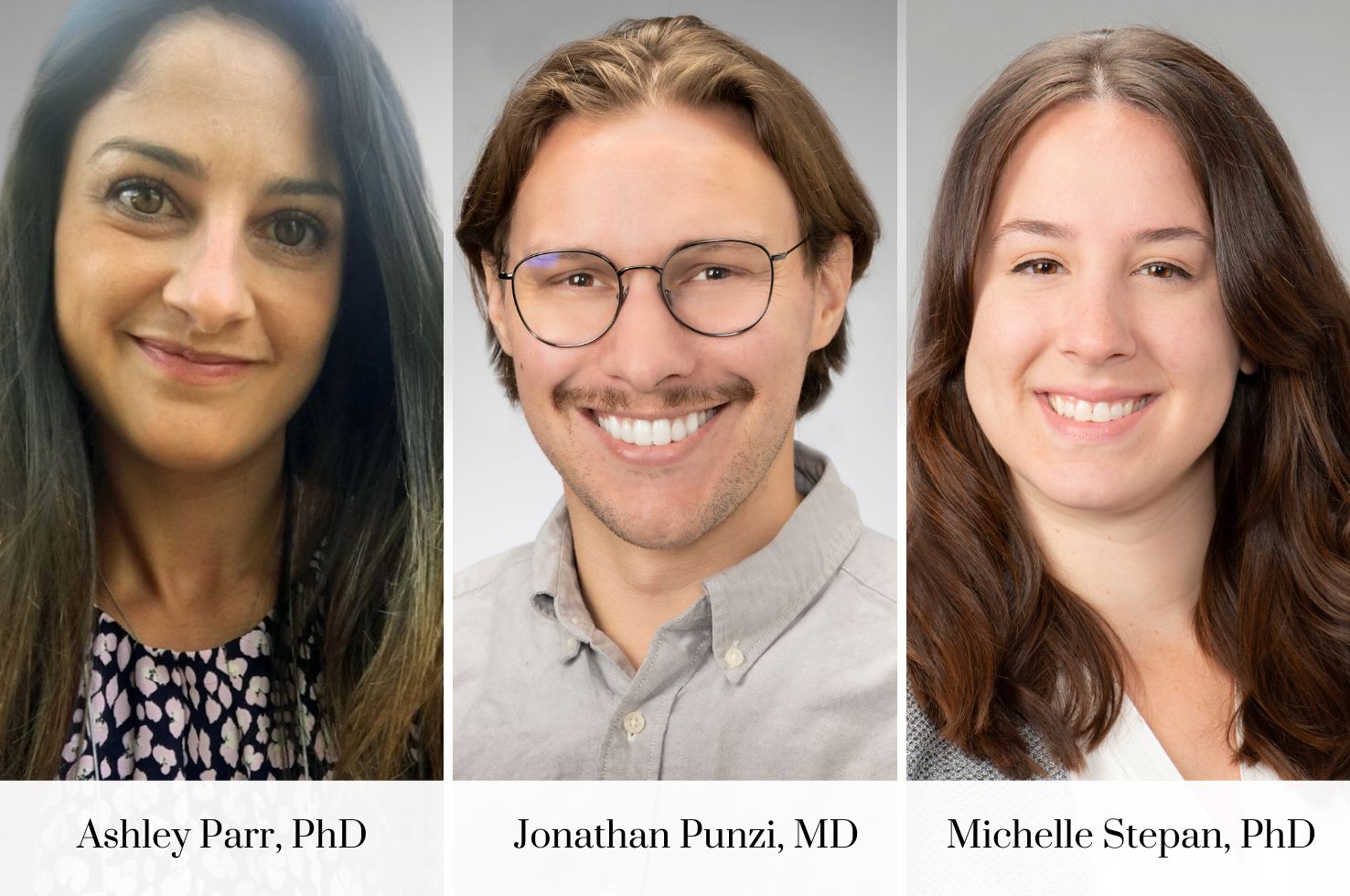 Pitt Psychiatry extends a warm welcome to three new faculty members: 
Ashley Parr, PhD (Research Instructor in Psychiatry)
Dr. Parr earned her PhD in neuroscience, with a focus on neuroeconomics, from Queen's University in Ontario, Canada. She then came to the University of Pittsburgh for postdoctoral research training under the mentorship of Bea Luna, PhD (Distinguished Professor of Psychiatry and Psychology and Staunton Professor of Pediatrics and Psychiatry). 
Dr. Parr's research focuses on characterizing developmental changes in reward and cognitive systems that support the transition from adolescence to adulthood. In Dr. Luna's lab, Dr. Parr uses multimodal neuroimaging techniques to understand the role of dopamine and how this interacts with other systems to contribute to decisionmaking across development. She has presented her work at meetings including Flux Congress, the Organization for Human Brain Mapping, and the Society for Neuroeconomics. 
Jonathan Punzi, MD (Assistant Professor of Psychiatry)
Dr. Punzi received his MD from Eastern Virginia Medical School, and completed his psychiatry residency in Virginia Commonwealth University Health System, where he served as chief resident. Dr. Punzi then came to Pittsburgh for additional training as part of the UPMC Western Psychiatric Hospital (WPH) clinical fellowship in consultation-liaison psychiatry. At WPH, Dr. Punzi is a psychiatry consult to UPMC medical hospitals, as well as with Department of Neurology clinical services. 
Morgan Faeder, MD, PhD (Director, Consultation-Liaison Psychiatry Fellowship) noted, "Dr. Punzi has an unflappable demeanor, which fits right in with our busy consult service, and he is an excellent teacher as well. We are thrilled to have him as a faculty colleague!"
Michelle Stepan, PhD (Assistant Professor of Psychiatry)
Dr. Stepan earned her PhD in psychology in the cognitive neuroscience program at Michigan State University. She then joined the Department of Psychiatry as a postdoctoral scholar in the National Heart, Lung, and Blood Institute-funded Translational Research Training in Sleep and Circadian Science T32 program. 
Dr. Stepan's research uses experimental manipulations of sleep duration and sleep architecture to investigate how sleep affects processes such as cognitive control, attention, memory, and emotion regulation, and how these processes relate to anxiety and mood disorders. Dr. Stepan is also interested in behavioral and pharmacological interventions to improve dysfunction caused by poor sleep. She is currently principal investigator of an NIMH-funded K01 award focused on the effect of acoustic enhancement of slow-wave activity on cognitive control and emotional reactivity in young adults with anxiety and depression symptoms. 
Please join us in welcoming Dr. Parr, Dr. Punzi, and Dr. Stepan!