The Department of Psychiatry Welcomes Three New Faculty Members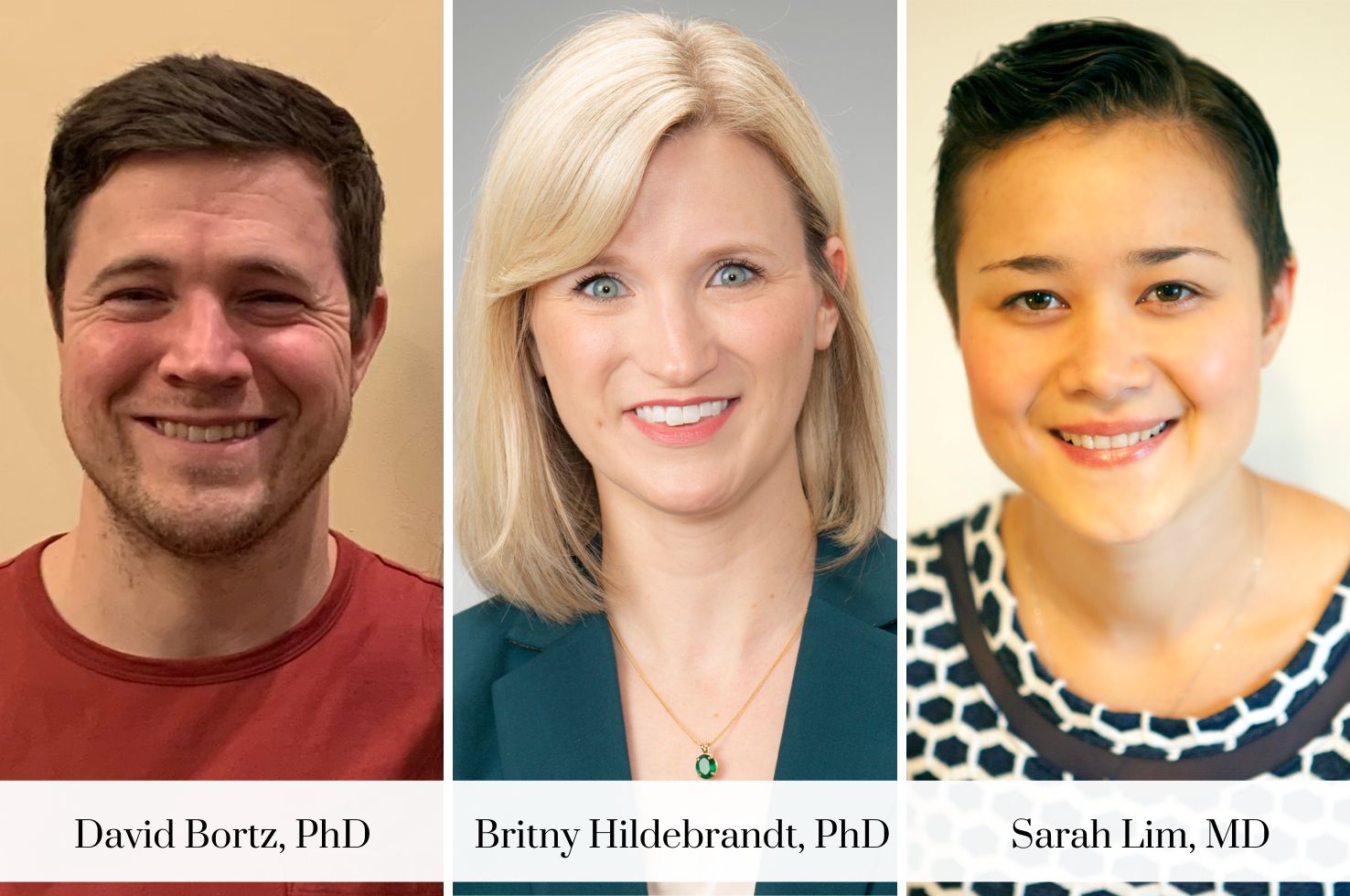 Pitt Psychiatry extends a warm welcome to three new faculty members:
David Bortz, PhD (Research Assistant Professor of Psychiatry)
Dr. Bortz received his PhD in behavioral neuroscience from The Ohio State University, then joined the Pitt Department of Neuroscience as a postdoctoral scholar funded by a National Institute of Mental Health (NIMH) Ruth L. Kirschstein National Research Service Award. Under the mentorship of Anthony Grace, PhD (Distinguished Professor of Neuroscience, Professor of Psychiatry and Psychology), Dr. Bortz's postdoctoral research focused on understanding the circuit that regulates midbrain dopamine activity, with the long-term goal of discovering treatment targets for dopamine-related psychological disorders, such as schizophrenia, depression, Parkinson's disease, and addiction. Following his postdoctoral studies, Dr. Bortz spent two years on the neuroscience faculty. 
Dr. Bortz currently works with Mary Torregrossa, PhD (Associate Professor of Psychiatry) to better understand cognitive flexibility in animal models of addiction. Specifically, his research focuses on decreasing drug-seeking behavior and compulsive drug taking with the goal of helping patients reduce instances of relapse. Dr. Bortz has published peer-reviewed articles in journals such as Neuropharmacology and Neuropsychopharmacology, and is a recipient of professional development awards from the Winter Conference on Brain Research and the Society of Neuroscience.
Britny Hildebrandt, PhD (Research Instructor in Psychiatry)
Dr. Hildebrandt earned her PhD in clinical psychology from Michigan State University, having completed her clinical internship at UPMC Western Psychiatric Hospital (WPH). She joined the Pitt Department of Psychiatry in 2017 to conduct postdoctoral training under the mentorship of Susanne Ahmari, MD, PhD (Associate Professor of Psychiatry), as part of the NIMH-funded T32 Training in Transformative Discovery in Psychiatry program, and was additionally funded by a National Institutes of Health (NIH) F32 award.
Dr. Hildebrandt's research with Dr. Ahmari is focused on the biological bases of eating disorders, as well as translational approaches to studying the neurobiology of eating pathology, including hormonal influences and reward circuitry alterations in human and animal models.  Her research integrates her clinical experience with circuit neuroscience to investigate the neural mechanisms underlying binge-like eating, and she is currently examining the role of corticostriatal circuits in the persistence of binge eating. Dr. Hildebrandt has presented her research nationally and internationally at numerous conferences including the Conference on Eating Disorders, the Society for the Study of Ingestive Behavior, and the Eating Disorder Research Society.  
Sarah Lim, MD (Assistant Professor of Psychiatry) 
Dr. Lim earned her MD at the University of Pittsburgh School of Medicine and completed her general psychiatry residency at WPH. Dr. Lim's clinical interests include substance use disorder treatment, LGBTQ psychiatry, community psychiatry, and mental health advocacy and education. She supervises third- and fourth-year medical students, and in 2021 was awarded the Golden Apple Award for her excellence as a teacher. In 2019 Dr. Lim was awarded the Claire B. Morrison Fund scholarship, which recognizes residents who demonstrate compassion, altruism, and high commitment to excellence in caring for patients. Dr. Lim has served as a presenter for the WPH journal club and for clinical case conferences, as well as a panelist for informational sessions for medical students interested applying for residency training in psychiatry.  Dr. Lim provides clinical services in ambulatory adult psychiatry for the Bellefield LGBTQI Intensive Outpatient Program, and the Pittsburgh AIDS Center for Treatment (PACT) Clinic. 
Please join us in welcoming Dr. Bortz, Dr. Hildebrandt, and Dr. Lim!