Augmented Reality Brain-Computer Interface for Depression Prevention Receives Pitt Innovation Challenge Award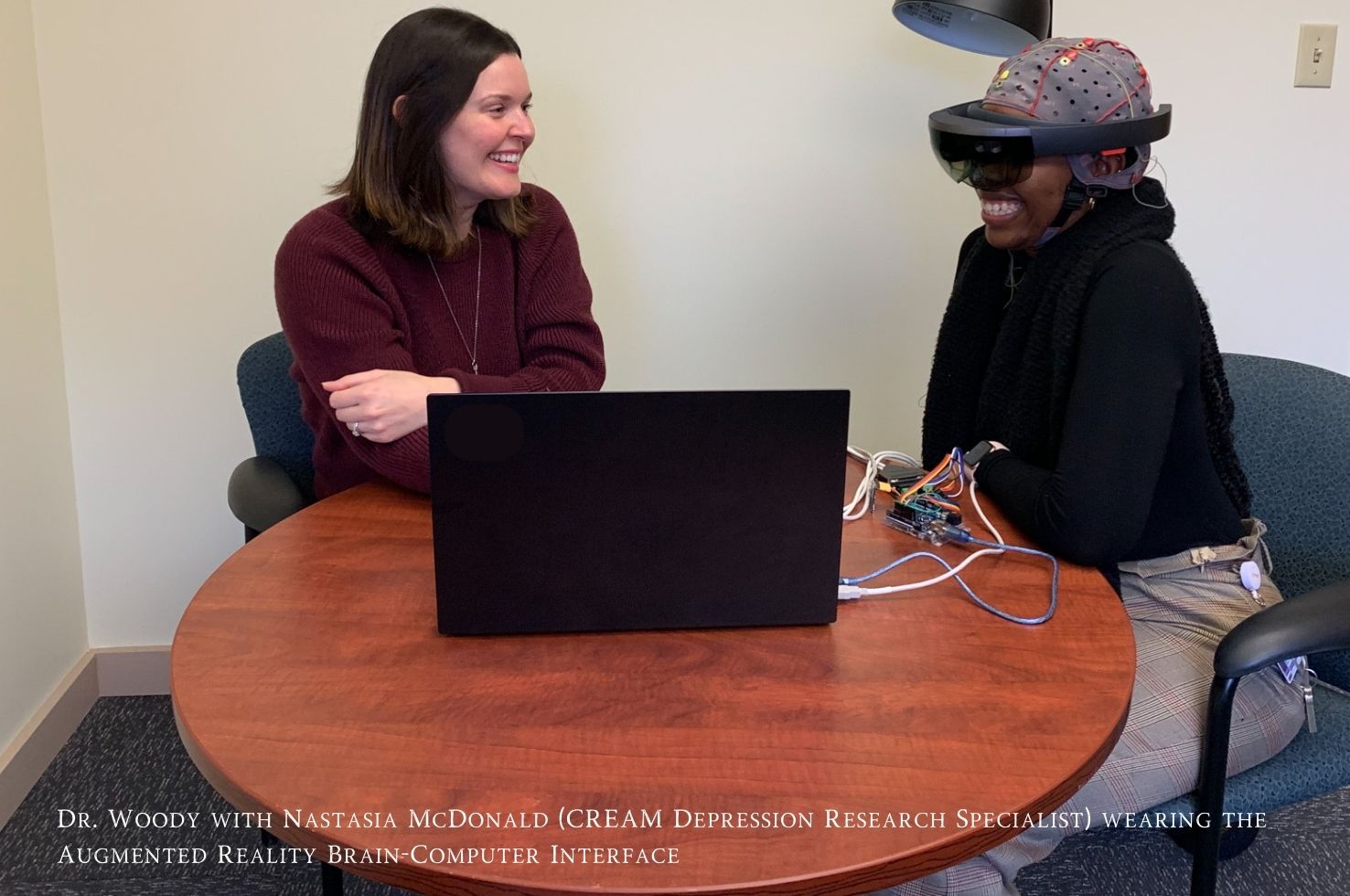 Congratulations to Mary Woody, PhD (Assistant Professor of Psychiatry), whose project CREAM Depression: Augmented Reality BCI* was selected to receive a Pitt Innovation Challenge (PInCh) award!
The PInCh competition is supported by the Clinical and Translational Science Institute and is designed to support diverse teams who generate innovative solutions to challenging health problems. PInCh provides funding and project management to help develop high-quality health science research that serves people and communities outside the University.
Dr. Woody developed a preventative approach to depression treatment that modifies negativity bias in adolescents who are at high risk for future depression due to a family history of the disorder. Similar to teens diagnosed with clinical depression, high-risk teens often struggle to focus on school, family, and friends because they cannot disengage attention from information that causes unhappiness, such as spending extensive time viewing upsetting social media posts rather than enjoying time with loved ones. 
To replicate negativity bias in the laboratory, CREAM Depression uses an augmented reality headset to create a mixed-reality experience that replicates emotionally challenging activities of daily living by overlaying 3D depressive visuals onto the real-world physical environment. The brain-computer interface uses EEG waves to measure attention to depressive visuals and then provides neurofeedback through the augmented reality headset to redirect attention away from depressive information and toward activities of daily living. 
Dr. Woody collaborated with Murat Akcakaya, PhD (Associate Professor of Engineering) in the development of CREAM Depression and worked with the Innovation Institute to file a provisional patent for the invention of CREAM Depression. 
"CREAM Depression was inspired by conversations with depressed parents who are well-aware that depression runs in families, and are frustrated by the lack of preventative care for their children," said Dr. Woody. "Dr. Akcakaya and I will spend the first part of the PInCh award partnering with high-risk teens and parents with depression to collaboratively identify the activities of daily living most impacted by teens' negativity bias. We will then design immersive AR environments to reflect these real-world scenarios and the neurofeedback protocols needed to support attention modification. The award will conclude with a small open trial. With help from PInCh, our overarching vision is for CREAM Depression to be prescribed by clinicians as a preventative treatment for high-risk teens." 
*CREAM Depression: Clinical Application of AR (augmented reality) guided EEG (electroencephalogram) based Attention Modification to Prevent Depression