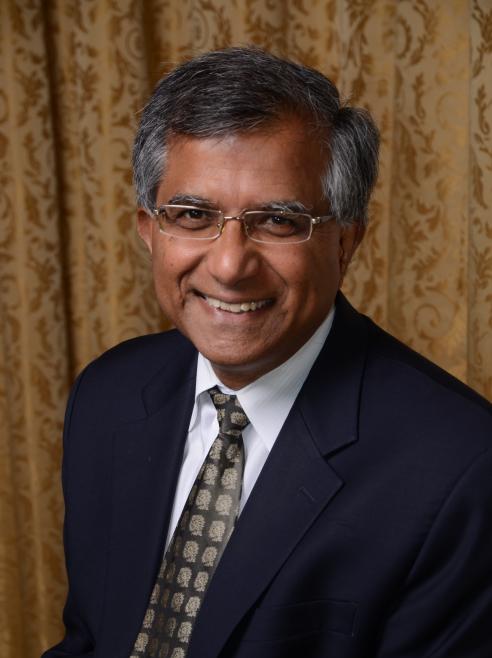 Vishwajit L Nimgaonkar, MD, PhD
Professor of Psychiatry and Human Genetics
Contact Details
3811 O'Hara St.
Pittsburgh
PA
15213
Assistant
Wesesky, Maribeth
Education & Training
MD
Madras University
, Christian Medical College
PhD
Neuropharmacology
, University of Oxford, Faculty of Medicine
Medicine, Surgery, Obstetrics, Gynecology, and Community Health, Christian Medical College
Psychiatry, Western Psychiatric Institute and Clinic of UPMC
Psychiatry, Maudsley Hospital, London, United Kingdom
Biochemistry, University of London, United Kingdom
Biochemistry, University of London, United Kingdom
Specialty Certifications
Board Certification
American Board of Psychiatry and Neurology
Current Appointments
Director, Program for Genetics and Psychosis
Professional Affiliations
Fellow, American College of Neuropsychopharmacology
Member, Society of Biological Psychiatry
Member, International Society of Psychiatric Genetics
Member, American Society of Human Genetics
Member, Royal College of Psychiatrists, UK
Selected Honors & Awards
International Mentorship Award, Department of Psychiatry, University of Pittsburgh School of Medicine
Sir Dennis Hill Prize for Best Psychiatric Resident, Maudsley Hospital, Institute of Psychiatry, United Kingdom
Rhodes Scholarship, Rhodes Trust, India
Research Interests
Genetic/environmental roots of cognitive variables; Cellular models for psychosis; Neurovirology
Selected Research Publications & Products
DAiuto L, Williamson K, Dimitrion P, McNulty J, Brown CE, Dokuburra CB, Nielsen AJ, Lin WJ, Piazza P, Schurdak ME, Wood J, Yolken RH, Kinchington PR, Bloom DC, Nimgaonkar VL (2017). Comparison of three cell-based drug screening platforms for HSV-1 infection. Antiviral Research. 142, 136-140.
Ganapathiraju MK, Thahir M, Handen A, Sarkar SN, Sweet RA, Nimgaonkar VL, Loscher CE, Bauer EM, Chaparala S: Schizophrenia interactome with 504 novel proteinprotein interactions (2016). Schizophrenia, 2:16012
Das DK, Tapias V, DAiuto L, Chowdari KV, Francis L, Zhi Y, Ghosh A, Surti U, Tischfield J, Sheldon M, Moore JC, Fish K, Nimgaonkar VL (2015). Genetic and morphological features of human iPSC-derived neurons with chromosome 15q11.2 (BP1-BP2) deletions. Molecular Neuropsychiatry. 1:116-123 (DOI:10.1159/000430916). PMID: 26528485.
Prasad KM, Eack SM, Keshavan MS, Yolken RH, Iyengar S, Nimgaonkar VL. (2013) Antiherpes VirusSpecific Treatment and Cognition in Schizophrenia: A Test-of-Concept Randomized Double-Blind Placebo-Controlled Trial. Schizophrenia Bulletin. 39(4):857-66. doi: 10.1093/schbul/sbs040. Epub 2012 Mar 23. PMID: 22446565, PMCID: PMC3686443.
Nimgaonkar VL, Fujiwara TM, Dutta M, Wood J, Gentry K, Maendel S, Morgan K, Eaton J (2000). Low prevalence of psychoses among the Hutterites, an isolated religious community. American Journal of Psychiatry 157(7):1065-1070. PMID: 10873912.
Clinical Interests
Treatment of psychotic disorders; Treatment of cognitive disorders; Translational virology
Education Interests
Research mentorship; International research training/mentorship; Medical student & resident mentorship