University of Pittsburgh School of Medicine Promotes Marta Peciña, MD, PhD, to Associate Professor of Psychiatry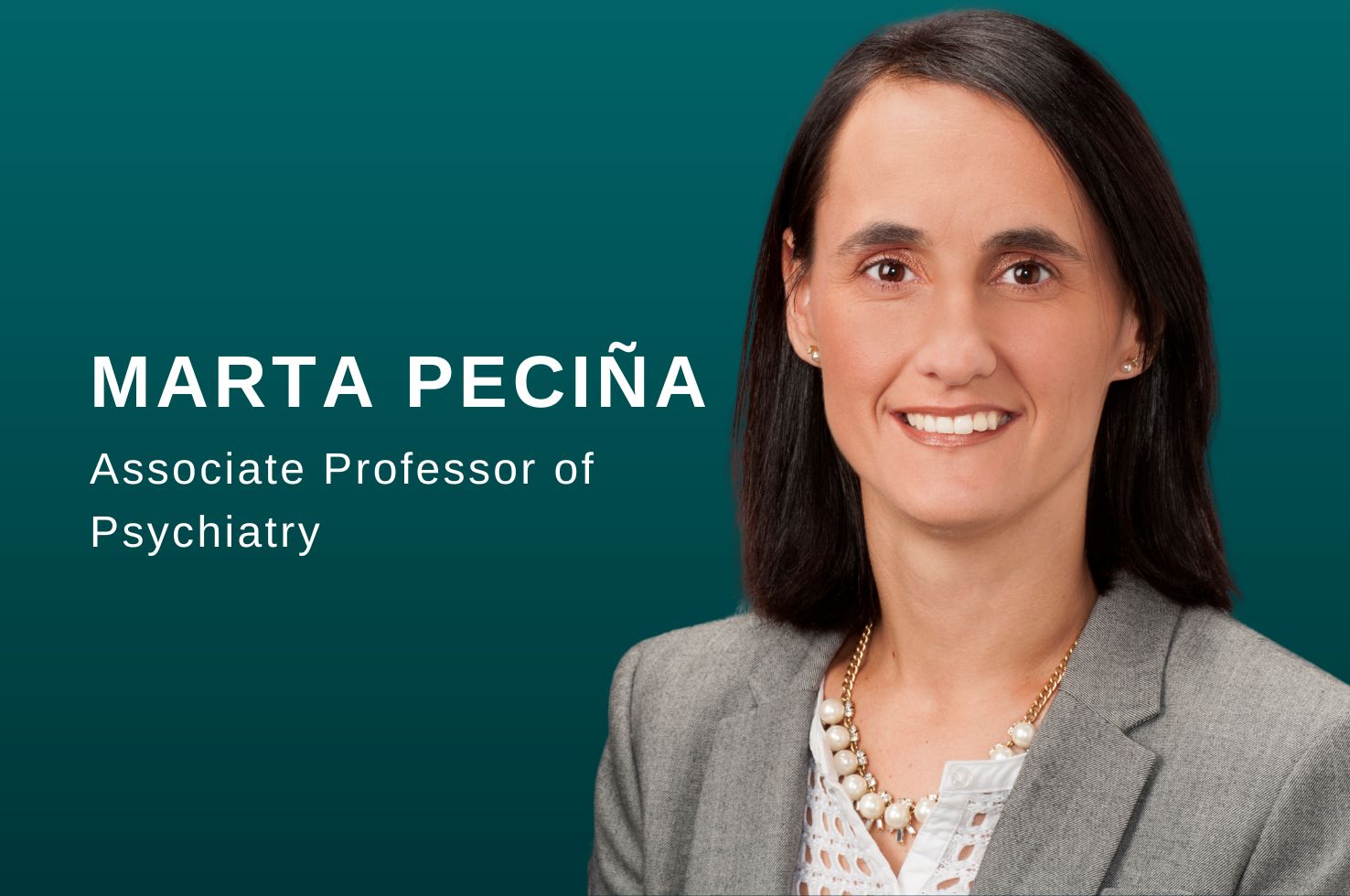 We are delighted to announce that Marta Peciña, MD, PhD, has been promoted to Associate Professor of Psychiatry by the University of Pittsburgh School of Medicine.
Dr. Peciña earned her MD, and her PhD in neuroscience from the University of Navarra in Spain. She completed her psychiatry residency at the University of Navarra Medical Center, and postdoctoral training in neuroimaging at the University of Michigan. In 2016, Dr. Peciña joined the Department of Psychiatry at the rank of assistant professor. 
Dr. Peciña's research focuses on the neurobiology and treatment of depression, as well as on identifying individual differences in mechanisms of antidepressant treatment response. She has conducted ground-breaking work using placebos to investigate how expectancies and learning mechanisms impact mood improvement. Dr. Peciña's clinical expertise in depression treatment complements her use of functional magnetic resonance imaging and positron emission tomography to investigate response to pharmacological treatments. 
Dr. Peciña is a past recipient of a NARSAD Young Investigator Award and of a National Institute of Mental Health (NIMH)-funded K Award, both focused on investigating placebo effects in depression. She is currently principal investigator of a NIMH BRAINS R01 focused on neurocomputation mechanisms of antidepressant placebo effects. In addition, Dr. Peciña serves as co-investigator or consultant on additional federal and privately funded grants.
 
An excellent educator, Dr. Peciña has taught or mentored graduate and medical students, residents and fellows, and postdoctoral scholars. At the school of medicine, Dr. Peciña co-directs the behavioral medicine course, and is a newly appointed co-director of the Neuroscience Area of Concentration for Pitt medical students. She serves on the Center for Neuroscience at the University of Pittsburgh and the NIMH T32 Bioengineering in Psychiatry Predoctoral Training Program training faculties. 
"We have limited knowledge of the brain mechanisms of placebo responses to antidepressants, in part because changes in mood unfold slowly and are hard to study in the lab," said Alex Dombrovski, MD (Pittsburgh Foundation Endowed Professor in Brain and Mind Research, and Associate Professor of Psychiatry). "Dr. Peciña designed an innovative experiment using insights from the study of analgesic placebos to induce antidepressant placebo responses in a magnetic resonance scanner and is conducting an ambitious study manipulating the activity of these networks using brain stimulation and opioid receptor modulation. I expect her work to impact the design of future antidepressant trials and potentially inform the development of new treatments for depression. Dr. Peciña is not only an indefatigable empirical researcher, but also a very kind and sincere person—working with her has been a true privilege."
"Dr. Peciña has earned well-deserved national recognition in the field of neuroscience," said David Lewis, MD (Chair, Department of Psychiatry). "She has conducted ground-breaking and innovative research, and  is a highly valued educator in our Department and the broader academic community at Pitt. She is an exemplary citizen of the scientific community."
Please join us in congratulating Dr. Peciña!