University of Pittsburgh School of Medicine Promotes Lauren Bylsma, PhD, to Associate Professor of Psychiatry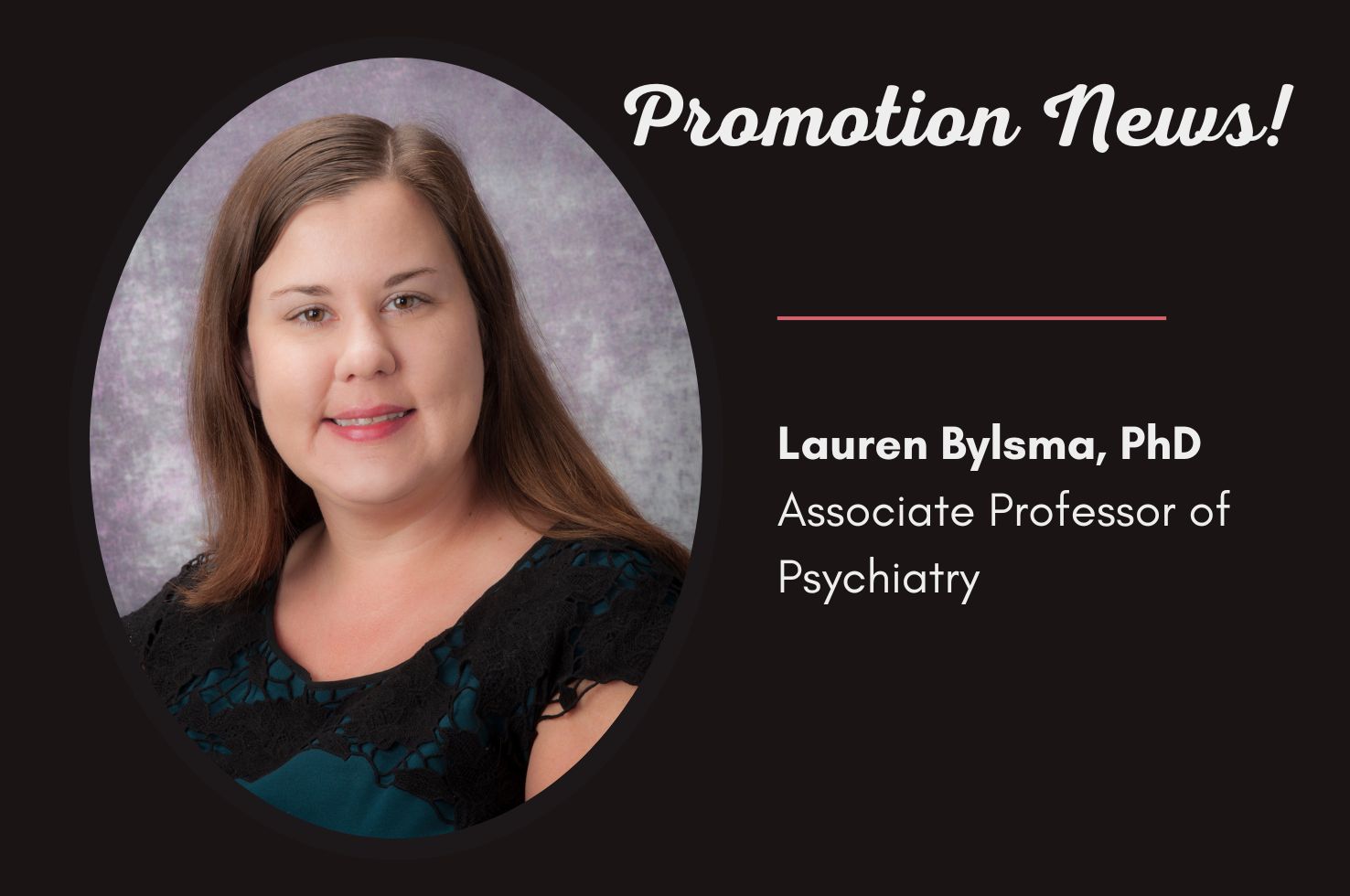 We are delighted to announce that Lauren Bylsma, PhD, has been promoted to Associate Professor of Psychiatry by the University of Pittsburgh School of Medicine. 
Dr. Bylsma earned her PhD in clinical psychology from the University of South Florida. She came to Pittsburgh for postdoctoral research training in the Department of Psychiatry's National Institute of Mental Health (NIMH)-funded T32 training program for clinical research in child and adolescent psychiatry. Dr. Bylsma co-leads two clinical training programs the Center for Advanced Psychotherapy (CAP), part of Adult Behavioral Health Services at UPMC Western Psychiatric Hospital (WPH) Bellefield Clinic, and the Helping Overcome Prodromal Experiences (HOPE) TEAM clinic. 
Dr. Bylsma conducts research in developmental affective science using multi-modal assessments of neurophysiological, behavioral, and ecological indices of emotional regulation in adolescents and adults at risk for depression. This research, focused on examining emotional processes in youth at high risk for pathology, informs and enhances the care she provides for patients at the CAP and the HOPE TEAM clinics, where she provides excellent, compassionate care for patients with complex psychiatric presentations, and uses sophisticated, research-informed models to optimize treatments for them.
Dr. Bylsma co-leads Project 2, "Daily Life Emotion Dysregulation in Autistic Adults with Ambulatory Psychophysiology," of the recently funded NIMH Autism Center of Excellence (P50) grant, focused on mental health in autistic adults. In addition, she collaborates with colleagues at the University of Pittsburgh, as well as at external institutions, on research grants funded by the National Institutes of Health. Dr. Bylsma is a past recipient of a NARSAD Young Investigator Award and a Society for Psychophysiological Research Early Career Award for Distinguished Contributions to Psychophysiology. 
An excellent teacher, mentor, and clinical supervisor, Dr. Bylsma has extensive teaching and leadership experience with a wide variety of learners at the University of Pittsburgh and trainees at WPH. In particular, she is an expert in cognitive behavioral therapy (CBT) and provides supervision and assessment for trainees in adult and child CBT to treat mood and anxiety disorders. 
"Dr. Bylsma occupies a unique and vital position in the Pitt Department of Psychiatry. A highly accomplished clinical psychologist and expert in child and adolescent psychiatry and CBT, a productive researcher, and an outstanding educator, Dr. Bylsma contributes tremendously to our Departmental mission," said David Lewis, MD (Chair, Department of Psychiatry).
Please join us in congratulating Dr. Bylsma!