Psychiatry Resident Angela Ianni, MD, PhD, Honored with 2022 National Institute of Mental Health Outstanding Resident Award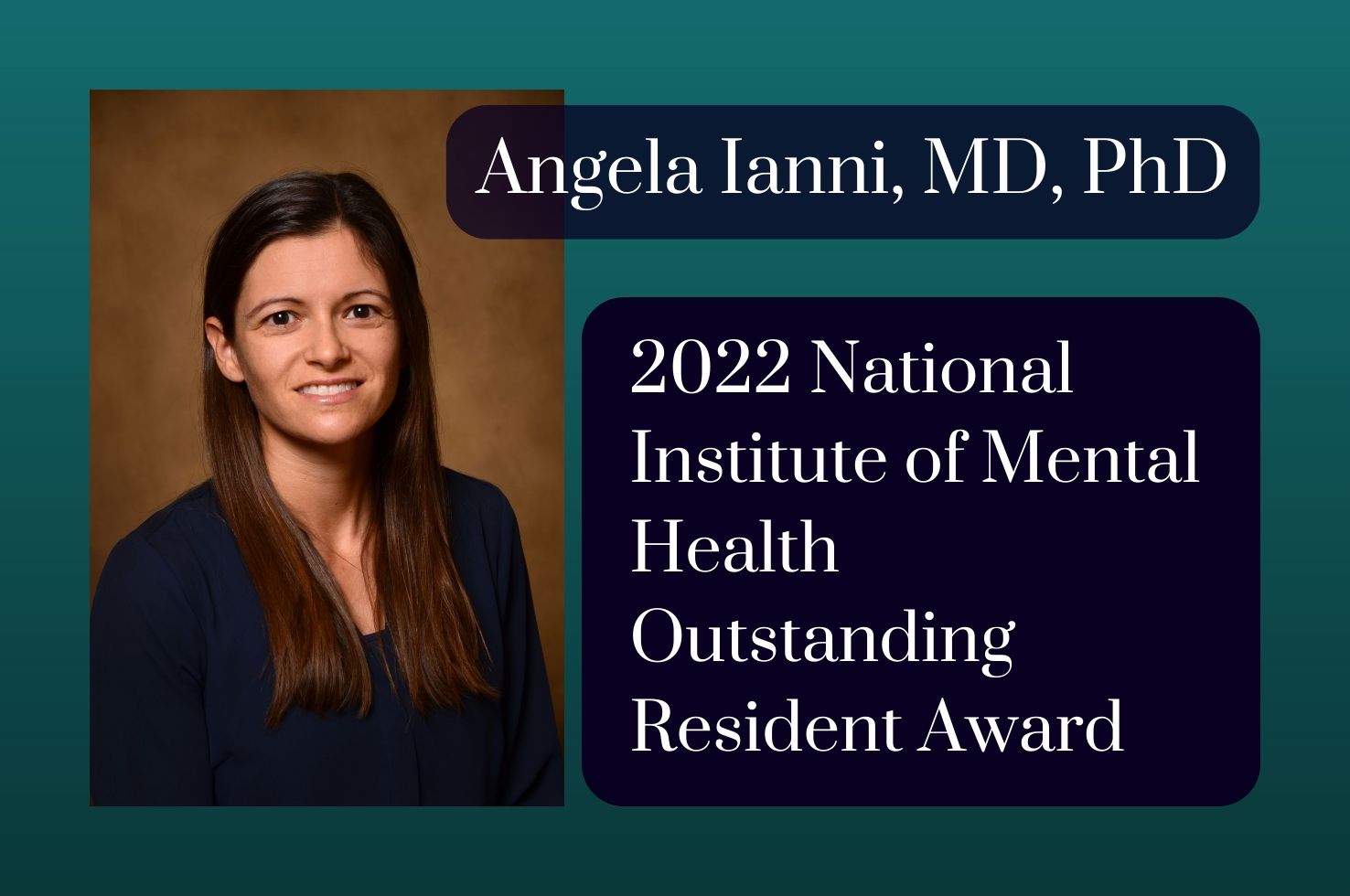 Congratulations to Angela Ianni, MD, PhD (PGY3), who has received a 2022 National Institute of Mental Health (NIMH) Outstanding Resident Award, which recognizes residents with outstanding research and academic potential. 
Recipients were invited to participate in an award program, held October 2-3, 2022, to meet with NIMH leadership and to learn about the unique resources and research conducted in the NIMH Intramural Research Program. 
Dr. Ianni earned her MD at the University of California San Diego, and her PhD at the University of Oxford as part of the NIH-Oxford Graduate Partnership Program. She is a member of the Department's Psychiatry Research Pathway, which enables residents to simultaneously receive clinical training and conduct mentored research. Dr Ianni's research focuses on computational approaches to investigating the link between neuromodulator dopamine and reward-guided behavior in order to better understand the neural processes underlying suicidal behavior in late-life depression.
"Dr. Ianni has accomplished a great deal during graduate school and residency, and shows extraordinary promise as a physician-scientist. I am thrilled that the NIMH has recognized her promise through the Outstanding Resident Award, and I am sure she will benefit immensely from participating in this program," said Danella Hafeman, MD, PhD (Assistant Professor of Psychiatry and Director of the Psychiatry Research Pathway). 
"Dr. Ianni ranks alongside the very top tier of the MD/PhD students whom I have known. She is quick to grasp new ideas and is constantly seeking ways to use her knowledge of psychiatric neuroscience to improve the care of her patients. She is a wonderful contributor to every classroom session she joins. I am fully confident that she has the intellectual resources, work ethic, compassion, and interpersonal skills to be a superb physician-scientist and independent investigator," said Michael Travis, MD (Associate Professor of Psychiatry and Director of Residency Training).
Please join us in congratulating Dr. Ianni!