Pitt Psychiatry Teams with Global Initiative on Psychiatry USA to Aid Ukrainian Mental Health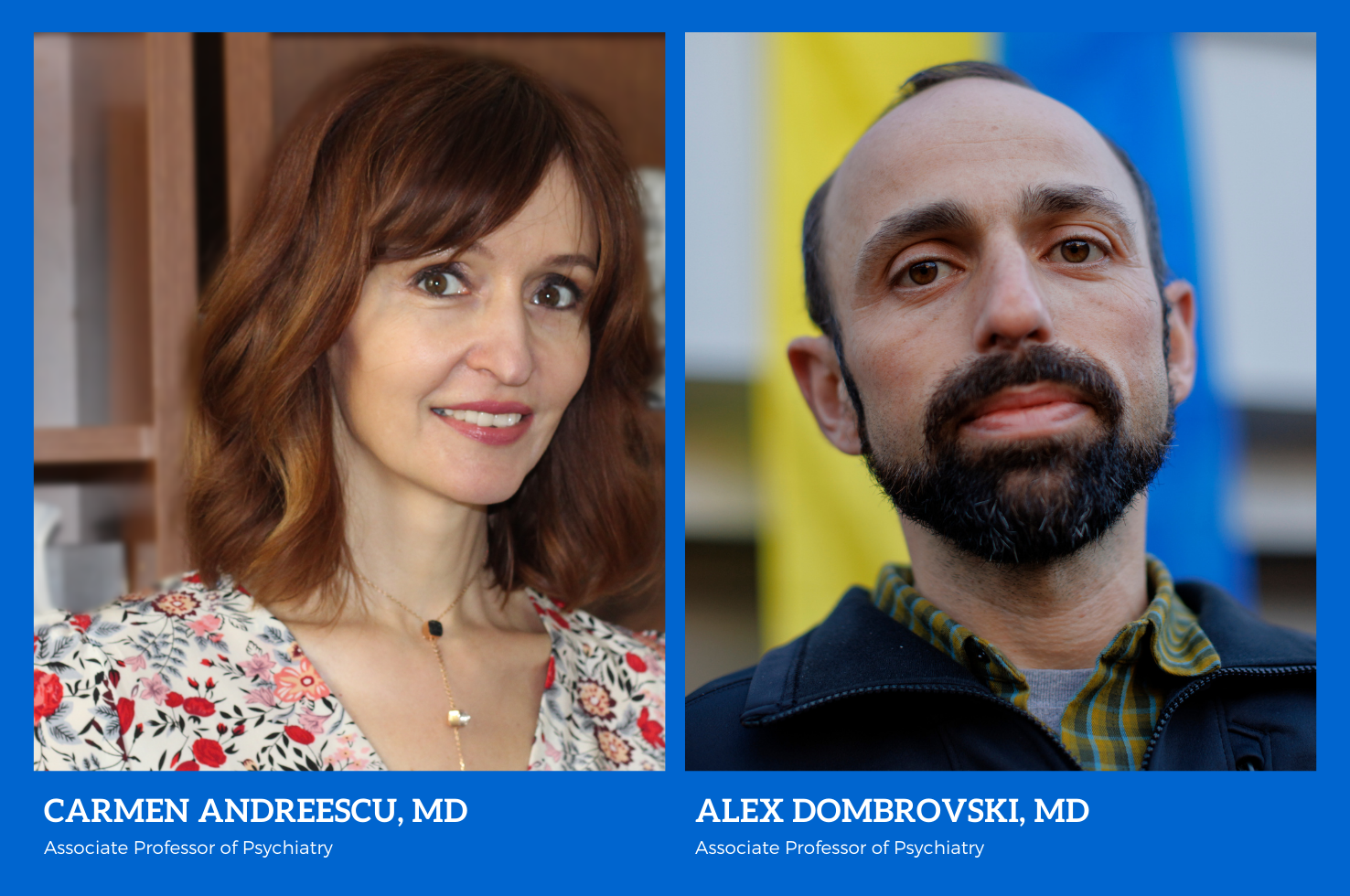 The war in Ukraine is causing catastrophic human suffering, forcing millions of Ukrainians to flee to safety. In response, the Federation Global Initiative on Psychiatry (FGIP) began a campaign to aid mental health professionals and the general population in dealing with the psychological consequences of the war.
Carmen Andreescu, MD (Associate Professor of Psychiatry), and Alex Dombrovski, MD (Associate Professor of Psychiatry), are both members of the American branch for the FGIP leadership, the Global Initiative on Psychiatry-USA (GIP-USA). We spoke with them to learn more about the mental health crisis in Ukraine and how we can help.
---
How would you characterize the nature of the current mental health crisis in Ukraine?
The war in Ukraine has and continues to destroy the country's healthcare infrastructure, making it impossible for people to get the care they need, leaving them without medications and hospital treatment. Many Ukrainians have suffered psychological trauma.
Could you describe the campaign?
FGIP is working on several projects. First, the organization delivers medications and basic supplies to Ukrainian psychiatric hospitals. It also focuses on providing psychological support programs to Ukrainians hurt by the war, including internally displaced people and refugees in neighboring countries, as well as first responders, who experience a high burnout rate.
What began in the 1990s as work focused on mental health reform in Ukraine has shifted since the beginning of the war to emergency programs for patients, caregivers, and first responders. Large-scale humanitarian aid is distributed through this network to hospitals that need it. The decades-long connections with the Ukrainian Psychiatric Association have been instrumental in getting the aid to those who need it most. For example, when a hospital is bombed and water and power are shut off, FGIP knows to bring a mobile kitchen and generators.
FGIP has also established multiple online resources, including social media accounts, as well as direct connections to a team of mental health professionals. A brick-and-mortar crisis center has been established in Lithuania and is staffed by Ukrainian and Russian speaking therapists who are available to provide counseling to refugees. 
How has the campaign helped Ukrainians so far? 
Frontline hospitals in Chernihiv, Kramatorsk, Zaporizhzhia, Mykolaiv, and a hospital in the Poltava region have received supplies. The first warehouse for long-term use in Lviv has been secured, and there will soon be a second in Lviv and a third in Ivano-Frankivsk. 
How can we provide aid from the US?
GIP-USA is a 501(c)(3) charitable organization. Donate here.