Residents and Faculty Members Honored with Best Poster Award at Academy of Psychosomatic Medicine Annual Meeting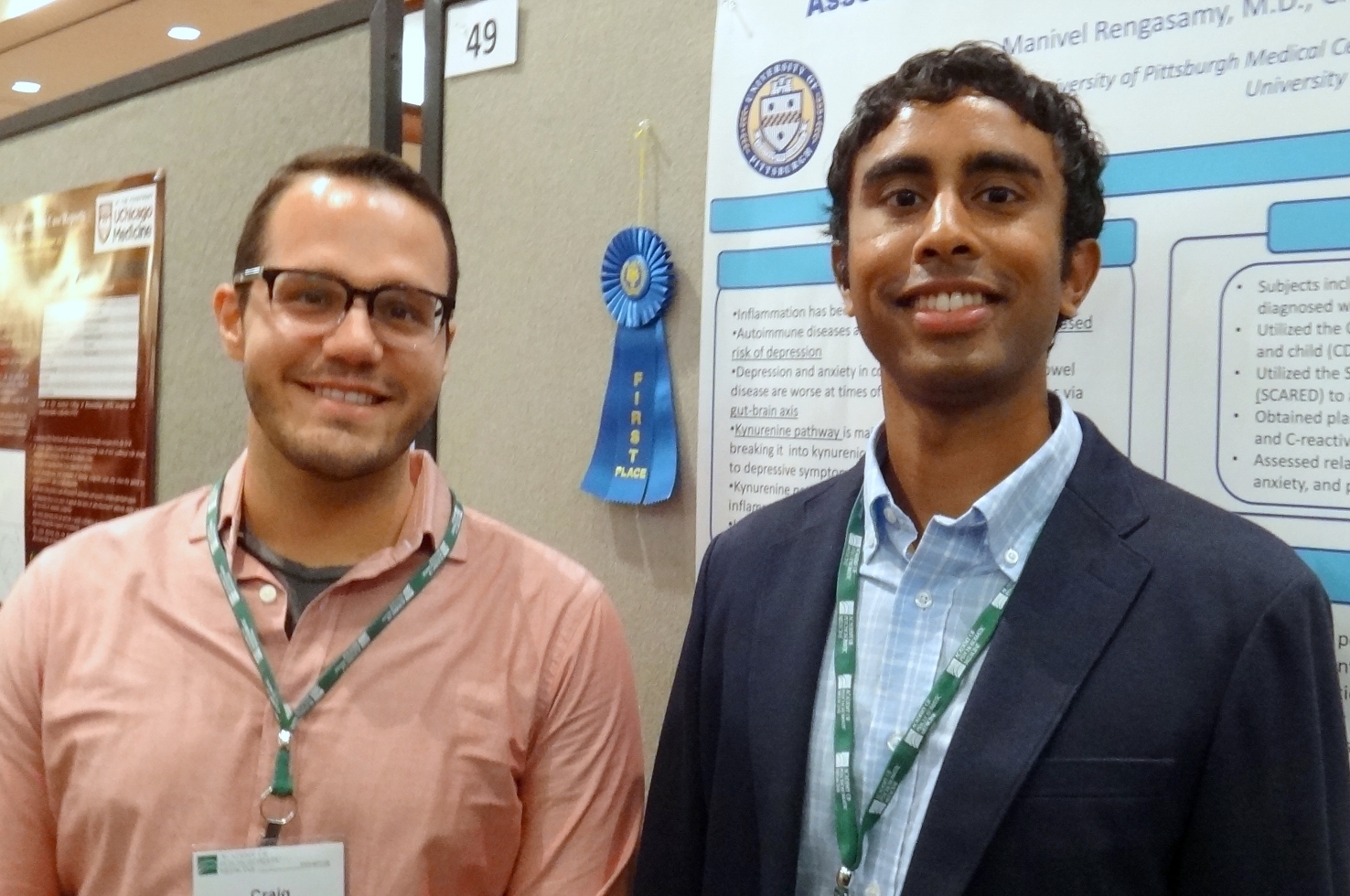 Residents Craig Riccelli, MD (PGY4) and Manivel Rengasamy, MD (PGY4) and faculty members Eva Szigethy, MD, and Francis Lotrich, MD received the Best Poster Award for "Associations of Tryptophan Metabolites and Depression in Inflammatory Bowel Disease" at the Academy of Psychosomatic Medicine Annual Meeting held November 7-11 in Orlando, FL. 
Autoimmune diseases are associated with a 20%-60% increased risk of depression, and depression and anxiety in cohorts with inflammatory bowel disease (IBD) are worse at times of flare-ups of disease, perhaps via gut-brain axis. Inflammation has been bidirectionally linked to depression, and the kynurenine pathway is a major catabolic route for tryptophan, breaking it into kynurenic acid/metabolites, potentially leading to depressive symptoms; this activity can increase during inflammation, providing a mechanism for depressive symptoms. Limited research exists on role of peripheral kynurenine in depressed adolescents or adolescents with IBD. The hypotheses behind the study is that elevated peripheral kynurenine pathway activity will be associated with depression and anxiety severity and inflammatory markers in adolescent subjects with IBD.
Study participants were 44 adolescents (age 9-17) diagnosed with IBD. The researchers utilized the Childhood Depression Inventory (CDI), with both parent (CDI-P) and child (CDI-C) to assess for depression severity and the Screen for Childhood Anxiety Related Emotional Disorders (SCARED) to assess for self-reported anxiety. They obtained plasma kynurenine, tryptophan, interleukin-6, and C-reactive protein and assessed the relationship between measures of depression, measures of anxiety, and plasma markers via linear regression and Pearson correlations. 
The discovered that plasma tryptophan may be an indicator of parent-reported depression severity, with no correlation between depression or anxiety severity and kynurenine pathway activation. They also found an association between depression severity and kynurenine/tryptophan ratio but no associations between depression or anxiety severity and inflammatory activation. Limitations include the inability to assess for confounds such as BMI, level of current inflammation, and immunomodulatory treatment.
Congratulations to this talented team for their Best Poster Award!