Dr. Thurston Receives Honors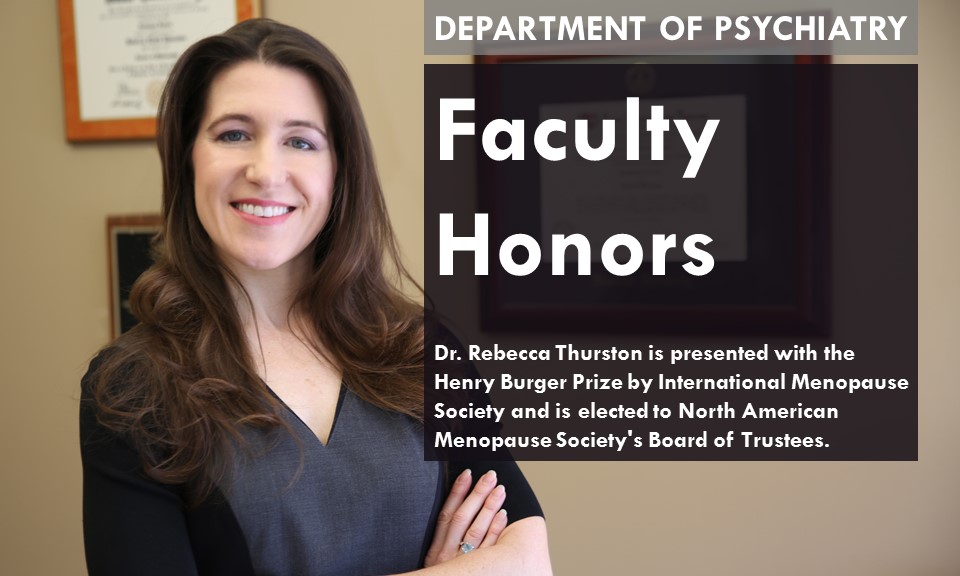 Congratulations to Dr. Rebecca Thurston, PhD, on her selection by the International Menopause Society (IMS) for the prestigious Henry Burger Prize.  Dr. Thurston was presented with the prize at the recent 15th World Congress on Menopause in Prague. The prize is awarded to the investigator who is judged as having published the most significant contributions to the field of menopause in basic science or clinical studies in the period since the previous World Congress.
In addition to this honor, Dr. Thurston was also recently elected to the Board of Trustees by the North American Menopause Society.  The Society is North America?s leading independent, nonprofit organization dedicated to promoting the health and quality of life of all women during midlife and beyond through an understanding of menopause and health aging. Its membership includes 2,000 leaders in the field representing a variety of disciplines. The Society serves as an important resource on all aspects of menopause to both healthcare providers and the public.
Dr. Thurston is Professor of Psychiatry, Psychology, Epidemiology and Clinical and Translational Science at the University of Pittsburgh.  She is an internationally recognized expert in the field of women?s health, particularly in the areas of menopause and the risk for cardiovascular disease in women.