JAMA Psychiatry Study Links Cortical Brain Thinning to Development of Psychosis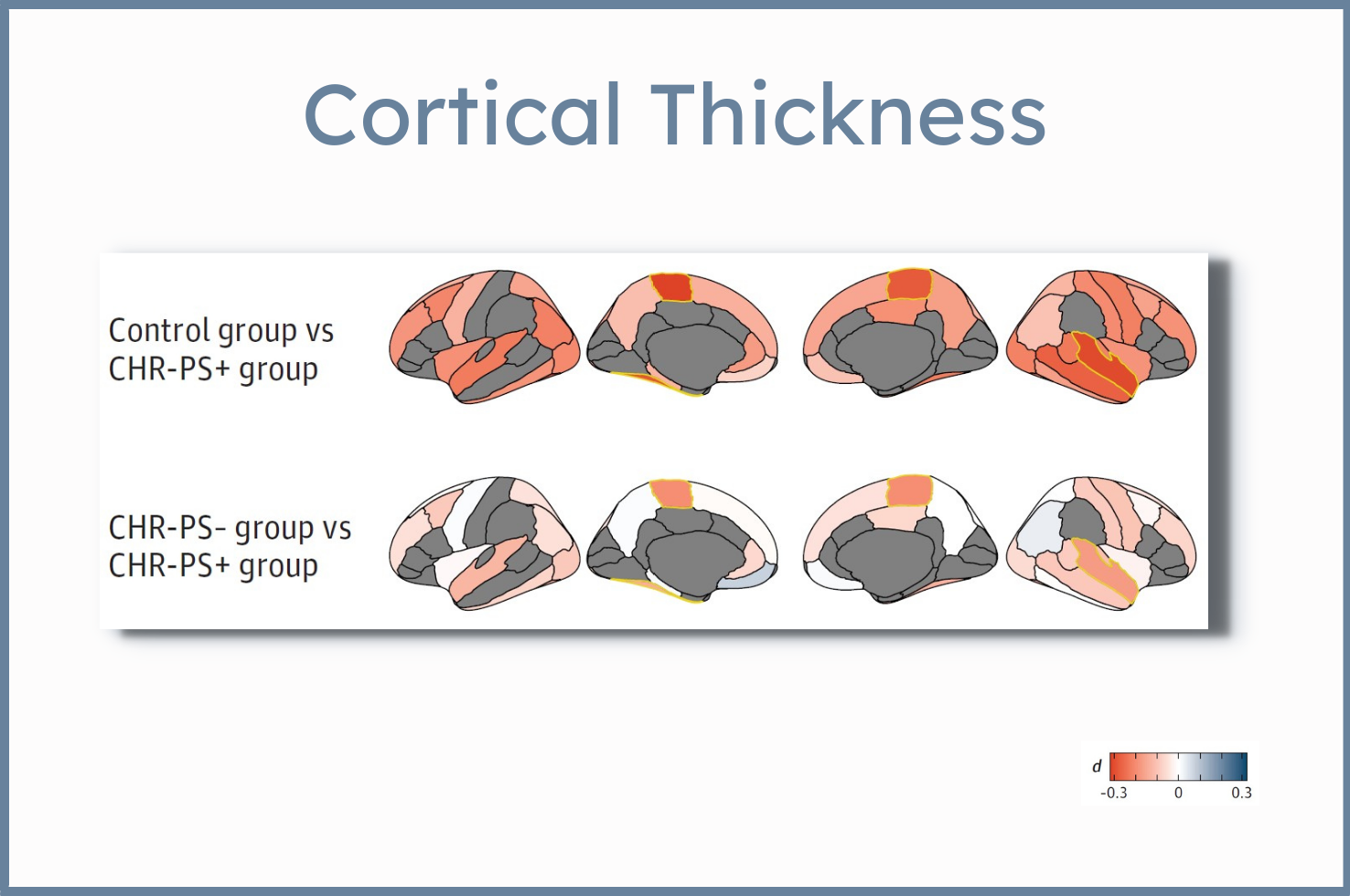 In 2018, an international group of scientists founded the Enhancing Neuro Imaging Genetics Through Meta-Analysis (ENIGMA) Clinical High Risk for Psychosis Working Group to improve understanding of brain differences in individuals with clinical high risk for developing psychosis, who later develop a psychotic disorder, compared with those who do not. 
In an international multisite neuroimaging study published in JAMA Psychiatry, the ENIGMA Working Group, including corresponding author and Working Group co-chair Maria Jalbrzikowski, PhD (Assistant Professor of Psychiatry), and Dean Salisbury, PhD (Professor of Psychiatry), used structural magnetic resonance imaging data and longitudinal clinical information from 3,169 study participants to investigate how brain morphometric features are associated with later psychosis conversion in individuals at clinical high risk for developing psychosis.
Baseline magnetic resonance imaging data were pooled from participants at 31 sites. Clinical high-risk status was assessed using the Comprehensive Assessment of At-Risk Mental States or Structured Interview for Prodromal Syndromes. Magnetic resonance imaging scans were processed using harmonized protocols and analyzed within mega-analysis and meta-analysis frameworks.
Reduced cortical thickness has been observed in individuals with schizophrenia and other psychiatric disorders. The results of the study showed widespread cortical thinning in individuals at clinical high risk for psychosis, even in younger participants between the ages of 12 and 16, compared with unaffected study participants. In youth who later developed psychosis, a thinner cortex was most pronounced in fusiform, superior temporal, and paracentral regions.
"Adolescence is a critical time in a child's life – it's a time of opportunity to take risks and explore, but also a period of vulnerability," said Dr. Jalbrzikowski. "We could be seeing the result of an aberration that occurred even earlier in brain development but only begins to influence behavior during this developmental stage."
Association of structural magnetic resonance imaging measures with psychosis onset in individuals at clinical high risk for developing psychosis: An ENIGMA Working Group Mega-analysis
ENIGMA Clinical High Risk for Psychosis Working Group
JAMA Psychiatry. 2021;78(7):753-766. doi:10.1001/jamapsychiatry.2021.0638 Published online May 5, 2021.