"Ginnie is the master of celebrating successes as a community" – Congratulations to ACES Award Honoree Ginnie Lape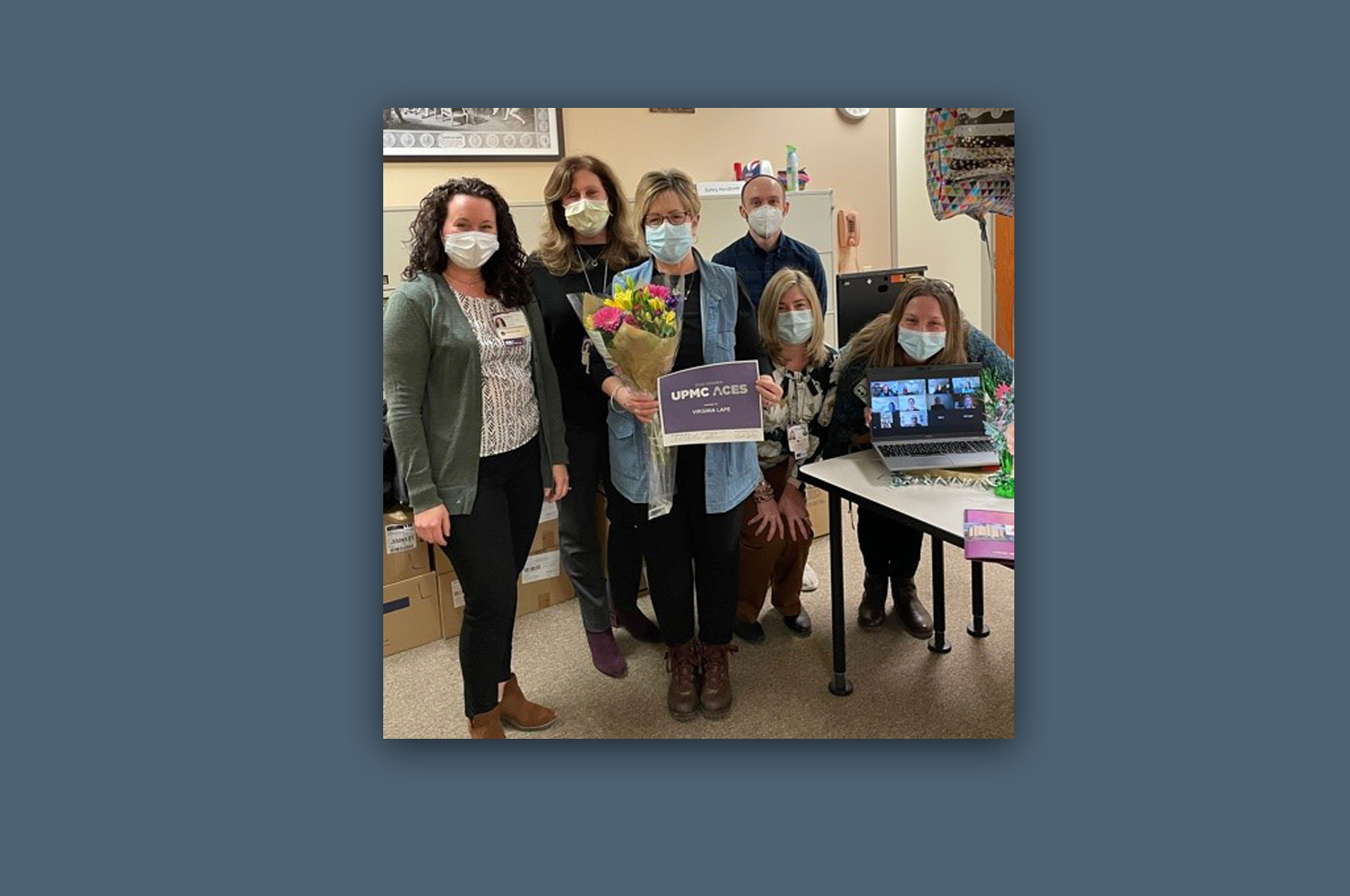 The Department of Psychiatry is thrilled to congratulate Virginia "Ginnie" Lape, who has received a 2020 UPMC ACES award for her outstanding work in the Pitt Psychiatry Office of Grants and Contracts (OGC). The prestigious ACES award, received by fewer than 1% of UPMC staff annually, honors individuals who regularly go above and beyond.
As Administrative Coordinator for the OGC, Ginnie is "the glue that holds our department together," said Mariana Rieke (OGC Director). 
Ginnie has been a UPMC employee for 45 years. Kasey Godard (OGC Grants Database Administrator) notes Ginnie's achievements during the early weeks and months of COVID. "When it was time to open back up, Ginnie was instrumental to the restart. She collaborated with the space coordinator and building coordinators. While our office worked remotely, Ginnie continued to commute to the office, while following safety procedures, to distribute nearly 25,000 pieces of personal protective equipment (PPE) and cleaning products to the research projects."
Mariana added: "Ginnie is committed to the research mission of the Department of Psychiatry. When a job is assigned to Ginnie, she takes full ownership of it and sees it through until its completion. Needless to say, her work is done with highest standards."
"Most people don't know all the behind-the-scenes tasks Ginnie handles – they just benefit from the fruits of her labor," said Debra Montrose, PhD (Director of Research Operations, Department of Psychiatry). " She tackles every challenge that comes her way without waiting for direction – all for the good of the Department. She is valuable in so many ways to our office, our department and to me. We are certainly lucky to have her guidance, wisdom, and hard work for all these 45 years!"
Hermi Woodward, Assistant Director of Research, offered a look at the broad scope of Ginnie's contributions. "Ginnie joined Western Psychiatric Institute and Clinic (WPIC, now known as WPH) straight out of high school, where she had acquired excellent typing and shorthand skills. She was soon put to work typing grant applications. She became an expert in 'cutting and pasting' when grants were put together by literally cutting and pasting. 
After a brief period away in 1984, she returned and was assigned in 1985 to assist me, and she has done so ever since. Ginnie has moved through several different areas of responsibility, from administering MacArthur Foundation Research Networks, back to a renewed focus on our research community when I became Assistant Director of Research in 2005. Ginnie was an essential contributor to restructuring the Office of Grants and Contracts to the "best practices" group it is today. With her great sense of humor and warm-hearted openness to co-workers, she became the safe place to vent in times of frustration and the first person with whom to share both professional and personal achievements. She continues to foster community and the integration of new members of our team. Ginnie is the master of celebrating successes as a community, so please join us in congratulating us on her ACES award and to thank her for 45 years of service."
Congratulations, Ginnie!