The Department of Psychiatry Welcomes Three New Faculty Members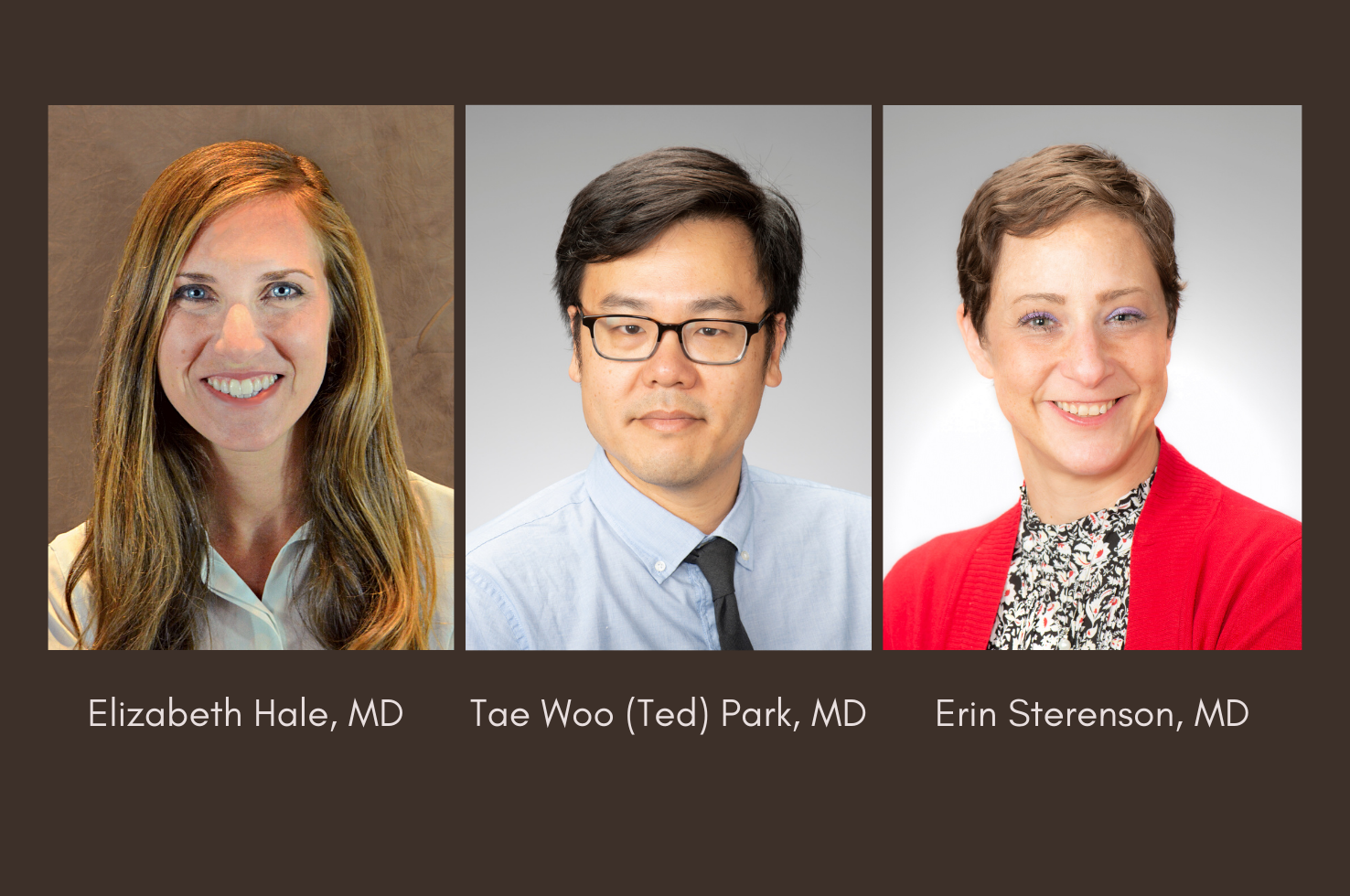 Pitt Psychiatry extends a warm welcome to three new faculty members who have joined our Department at the rank of assistant professor:

Elizabeth Hale, MD 
Dr. Hale earned her MD from the University of Toledo College of Medicine, and completed her general psychiatry residency at UPMC Western Psychiatric Hospital (WPH), serving as chief resident for ambulatory services. Following residency, Dr. Hale completed a consultation-liaison fellowship and was appointed chief resident for non-child fellowships. She has presented on topics including consultation-liaison (C-L) psychiatry and mental health issues during the COVID-19 pandemic. Dr. Hale is working with C-L psychiatry as part of the Palliative Care Psychiatry team, as well as working in the psycho-oncology clinic at the UPMC Hillman Cancer Center.
Tae Woo (Ted) Park, MD 
Dr. Park received his MD from Case Western Reserve University School of Medicine, and completed residency training in adult psychiatry and a fellowship in addiction psychiatry at UPMC Western Psychiatric Hospital (WPH). Dr. Park then completed a neuropsychiatry research fellowship at Sapporo Medical University School of Medicine in Japan, followed by a research fellowship in substance abuse treatment at the VA Boston Healthcare System. Dr. Park previously held academic appointments at Brown University and Boston University before returning to Pittsburgh. Dr. Park's research focuses on overdose in patients using opioids (particularly with concurrent benzodiazepine use), as well as addiction treatment in general medical settings. He is currently principal investigator of a National Institute on Drug Abuse-funded K23 grant investigating distress tolerance and benzodiazepine discontinuation in opioid agonist therapy.
Erin Sterenson, MD 
Dr. Sterenson earned her MD from Drexel University College of Medicine. She completed her psychiatry residency, having served as chief resident, as well as a consultation-liaison (C-L) fellowship, at the Mayo Clinic. Dr. Sterenson has delivered presentations on C-L psychiatry and on working to identify and treat psychopathology such as mood disorders, obsessive compulsive disorder, and eating disorders in patients with diabetes. In her new role, Dr. Sterenson is practicing C-L psychiatry at UPMC St. Margaret hospital.