The Department of Psychiatry Welcomes New Faculty Members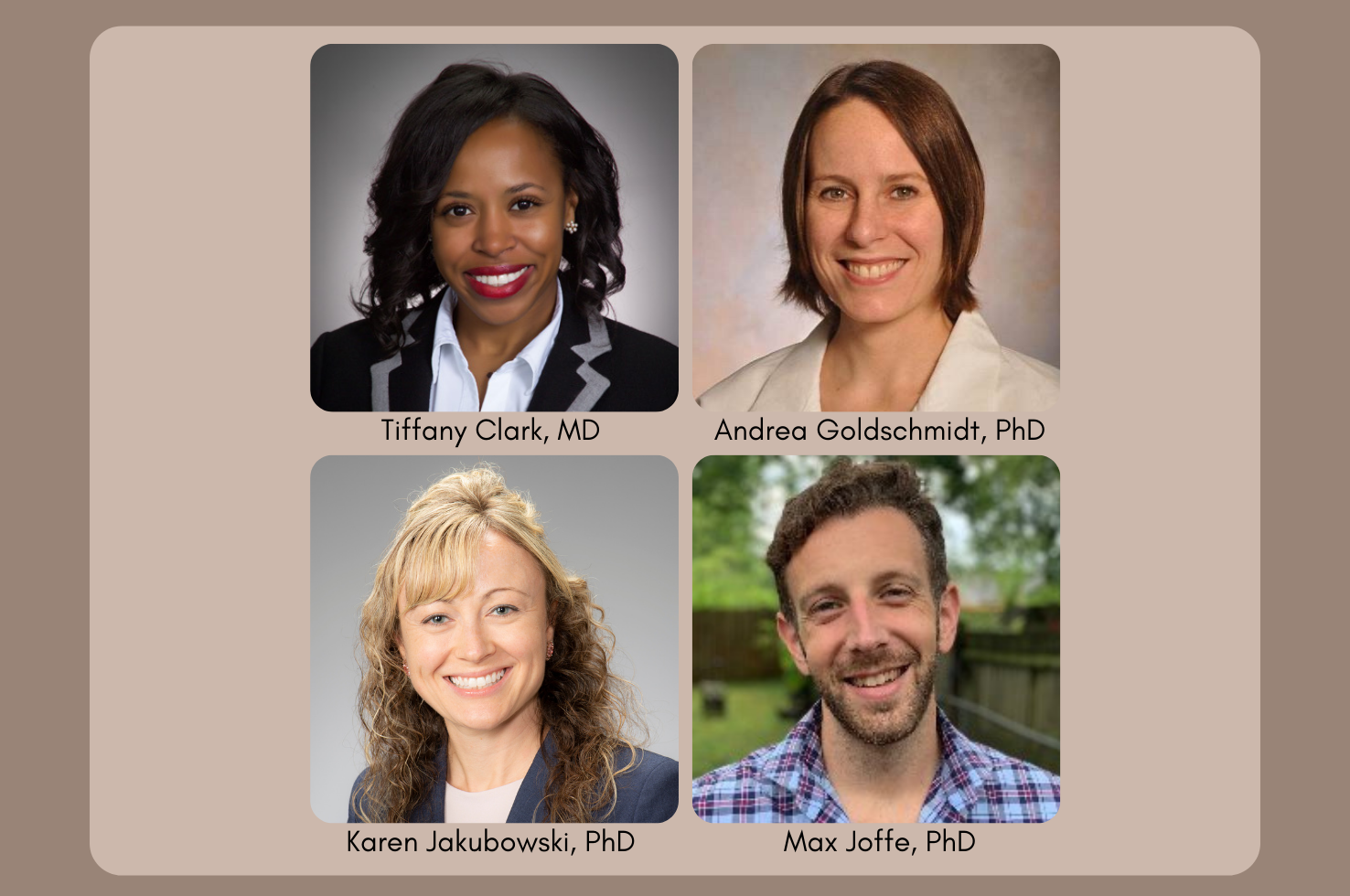 The Department of Psychiatry extends a warm welcome to four new faculty members:
Tiffany Clark, MD (Assistant Professor of Psychiatry)
Dr. Clark earned her medical degree from Creighton University School of Medicine. Following psychiatry residency at Temple University, she completed her consultation-liaison fellowship at UPMC Western Psychiatric Hospital (WPH). At the Temple University Hospital Health System, Dr. Clark was chair of the Graduate Medical Education housestaff diversity committee and received a residency service award for her leadership efforts in this area. In 2020 she co-authored a poster presented at the Academy of Consultation-Liaison annual conference on stigmatizing language in medical records. She has additionally presented grand rounds on demystifying steroid-induced psychosis and posters on cannabis-induced hyperemesis syndrome. Dr. Clark's clinical focus at UPMC will be in consultation-liaison psychiatry and the WPH Psychiatric Emergency Services department.
Andrea Goldschmidt, PhD (Associate Professor of Psychiatry)
After completing a psychology internship eating disorders at the University of Missouri Counseling Center, Dr. Goldschmidt earned her PhD in clinical psychology from Washington University in St. Louis. She then undertook postdoctoral training at the University of Chicago Medical Center in eating disorders research. After four years as Assistant Professor of Psychiatry and Behavioral Neuroscience at the University of Chicago, Dr. Goldschmidt joined the faculty at the Brown University Alpert Medical School.
Currently, as Associate Professor of Psychiatry at the University of Pittsburgh, Dr. Goldschmidt will serve as director of the Pathological Eating Behaviors Lab, a new research initiative established to investigate mechanisms underlying loss of control eating and pathological eating behaviors in youth. Dr. Goldschmidt leads a National Heart, Lung, and Blood Institute (NHLBI) R01 focused on overweight/obesity and inadequate sleep in children, and a National Institute of Diabetes and Digestive and Kidney Diseases R01 examining executive functioning, weight trajectories, and loss of control eating in children with overweight/obesity.
Karen Jakubowski, PhD Assistant Professor of Psychiatry)
Dr. Jakubowski earned her PhD from the University of Pittsburgh and completed her clinical internship at the WPH American Psychological Association-accredited clinical psychology internship program. She then undertook postdoctoral training through Pitt Psychiatry's NIMH-funded T32 program in clinical research training for psychologists.
Dr. Jakubowski is the principal investigator of a NHLBI K23 award focused on intimate partner violence and subclinical cardiovascular disease in midlife women. She is also a recent recipient of a North American Menopause Society New Investigator Award.
Max Joffe, PhD (Assistant Professor of Psychiatry)
Dr. Joffe received a PhD and conducted NIMH-funded postdoctoral training in pharmacology at Vanderbilt University. His research focus is brain dysfunction and novel pharmacology in models of alcohol use disorder, and Dr. Joffe currently leads a National Institute on Alcohol Abuse and Alcoholism R00 Award designed to test the hypothesis that sex differences in drinking are modulated by mGlu receptors on specific neuronal subpopulations in the prefrontal cortex.