Congratulations to the UPMC Western Psychiatric Hospital Resident and Fellow Class of 2021!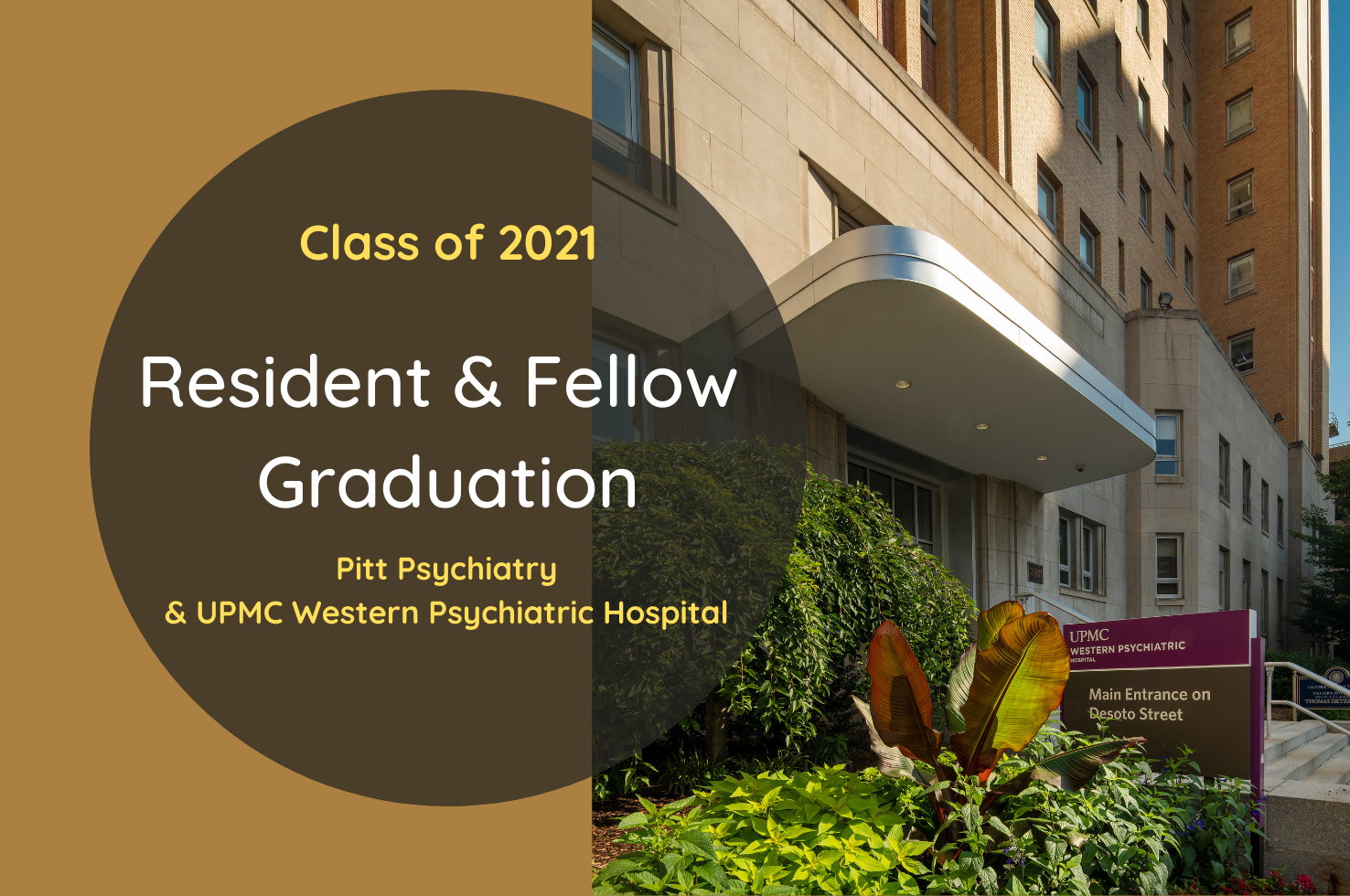 This year the Department of Psychiatry held a hybrid graduation for the UPMC Western Psychiatric Hospital (WPH) resident and fellow class of 2021, with graduates gathering in person and friends and family celebrating through a virtual livestream.
Michael Travis, MD (Senior Director for Postgraduate Physician Training) opened the ceremony with remarks on the challenges of COVID, as well as the heightened awareness around the long unanswered need to confront systemic racism, which began in 2020 and have continued this year. "In my frequent Town Halls with our residents during the height of the pandemic, and the Respect, Responsibility and Equity In Medicine Curriculum sessions, I have been moved by their solidarity and their willingness to change," he said.
David Lewis, MD (Chair, Department of Psychiatry), Deborah Brodine (President, WPH), Kenneth Nash, MD (Chief of Clinical Services, WPH), and Camelia Herisko (Chief Nursing Officer & Vice President, Operations and Patient Care Services, WPH) also offered congratulations to the graduating class.
Below are the awards and honors presented at the 2021 graduation. Congratulations to all!
2021 Psychiatry Student Interest Group Exemplary Service Award for Excellence in Teaching
Faculty Winners: Neeta Shenai, MD, and Antoine Douaihy, MD
Resident Winners: Sarah Lim, MD, Lauren Andrews, MD, and Julia (Jamie) Farquhar, MD
The class of 2021 presented the following awards to key faculty, staff and groups in honor of their extraordinary contributions to the medical training of WPH's residents and fellows.  Below are the 2021 Residency Training Awards:
Sarah Elizabeth Wolfe Exemplary Teaching Service Award for Child and Adolescent Psychiatry: Garrett Sparks, MD
WPH Exemplary Teaching Service Award for Adult Faculty: Ryan Peterson, MD
WPH Exemplary Teaching Service Award for Geriatric Faculty: Tejal Bhojak, MD
WPH Exemplary Teaching Service Award for Volunteer Faculty: Stephanie Stepp, MD
WPH Exemplary Teaching Service Award for Non-Faculty Staff: Tiffany Reid & Jenna Fallert
WPH Exemplary Teaching Service Award for Outpatient Services: WPH Adult OCD Program
WPH Exemplary Teaching Service Award for Special Services: WPH Safety Officers
WPH Exemplary Teaching Service Award for Inpatient Services: Inpatient Clinical Pharmacy Team