Child Psychiatry Resident Jessica Stephens, DO, Honored by Association for Academic Psychiatry and American Academy of Child and Adolescent Psychiatry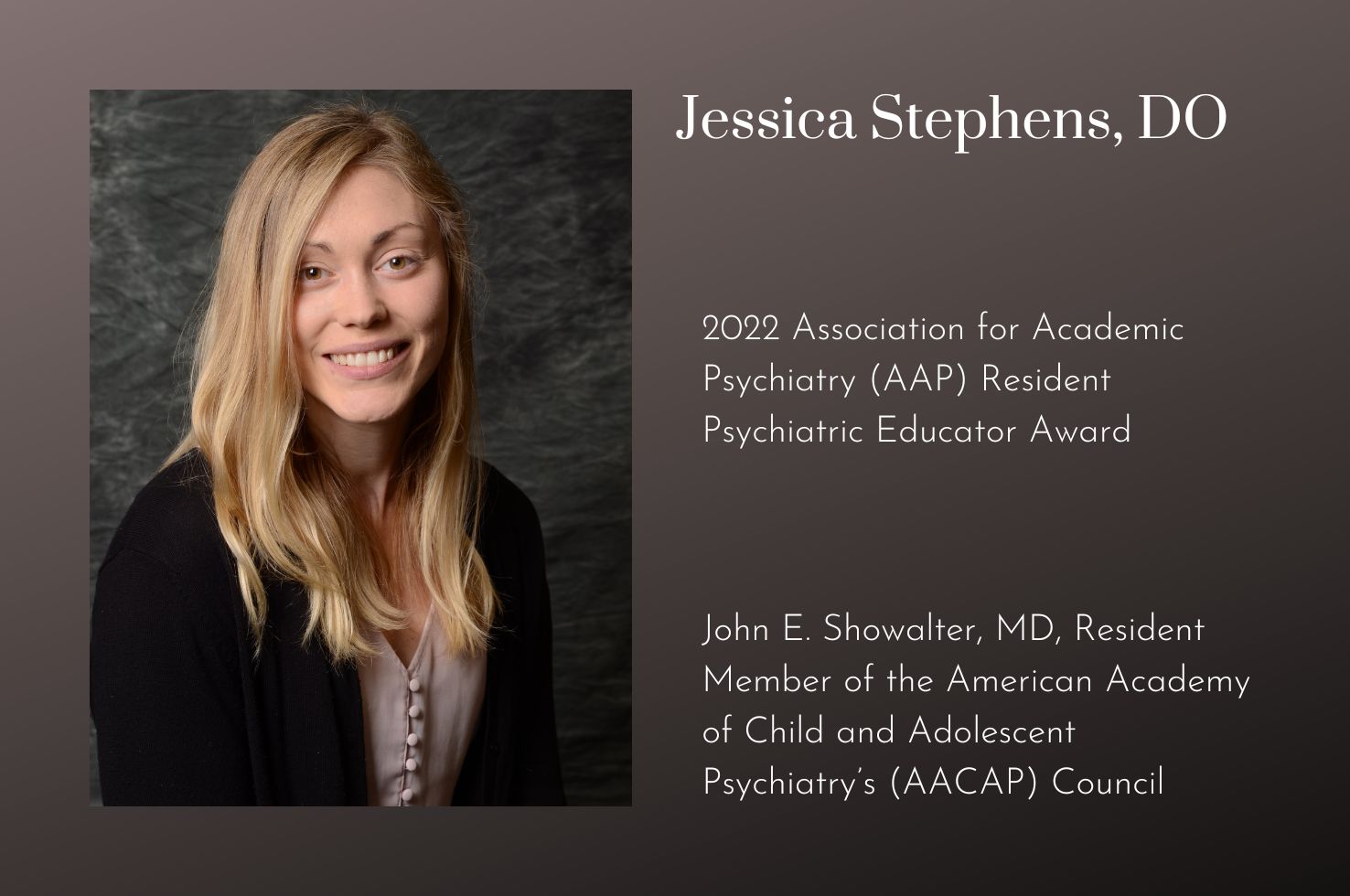 We are delighted to announce that Jessica Stephens, DO (PGY4) has received the 2022 Association for Academic Psychiatry (AAP) Resident Psychiatric Educator Award, and has been selected to serve a two-year term as the John E. Showalter, MD, Resident Member of the American Academy of Child and Adolescent Psychiatry's (AACAP) Council. 
Dr. Stephens earned her DO at the Edward Via College of Osteopathic Medicine. In 2019, she joined UPMC Western Psychiatric Hospital (WPH) and Department of Psychiatry as a child and general psychiatry resident in the Academic Administrator Clinician Educator (AACE) Track. Dr. Stephens has been a member of AACAP since 2018, and received the AACAP Educational Outreach Program Award for General Psychiatry Residents in 2019.
"Undeniably Dr. Stephens is a natural leader, teacher, advocate, and mentor," said Sansea Jacobson, MD (Associate Professor of Psychiatry and Program Director, Child Fellowship & Triple Board Program). "She has worked on academic projects throughout residency including collaboration with the WPH Creative and Expressive Art Therapy (CEAT) department to provide trauma-informed care education to our intern residents, quality improvement projects for improving parent and patient satisfaction with inpatient care on the child and adolescent inpatient units at WPH, and has been an active member of our program's Respect Responsibility and Equity in Medicine (RREM) curriculum steering committee. She is a passionate wellness champion and has contributed fresh perspectives and invited important positive change in the realm of physician wellness. We are all thrilled that she will be serving as the John E. Showalter, MD, Resident Member of the AACAP Council, and I have no doubt that Dr. Stephens will be a trailblazer, connector, and innovative leader in the field of child and adolescent psychiatry."
Please join us in congratulating Dr. Stephens!