Carol Walker Hundiak Receives 2022 UPMC Award for Commitment to Excellence in Service (ACES)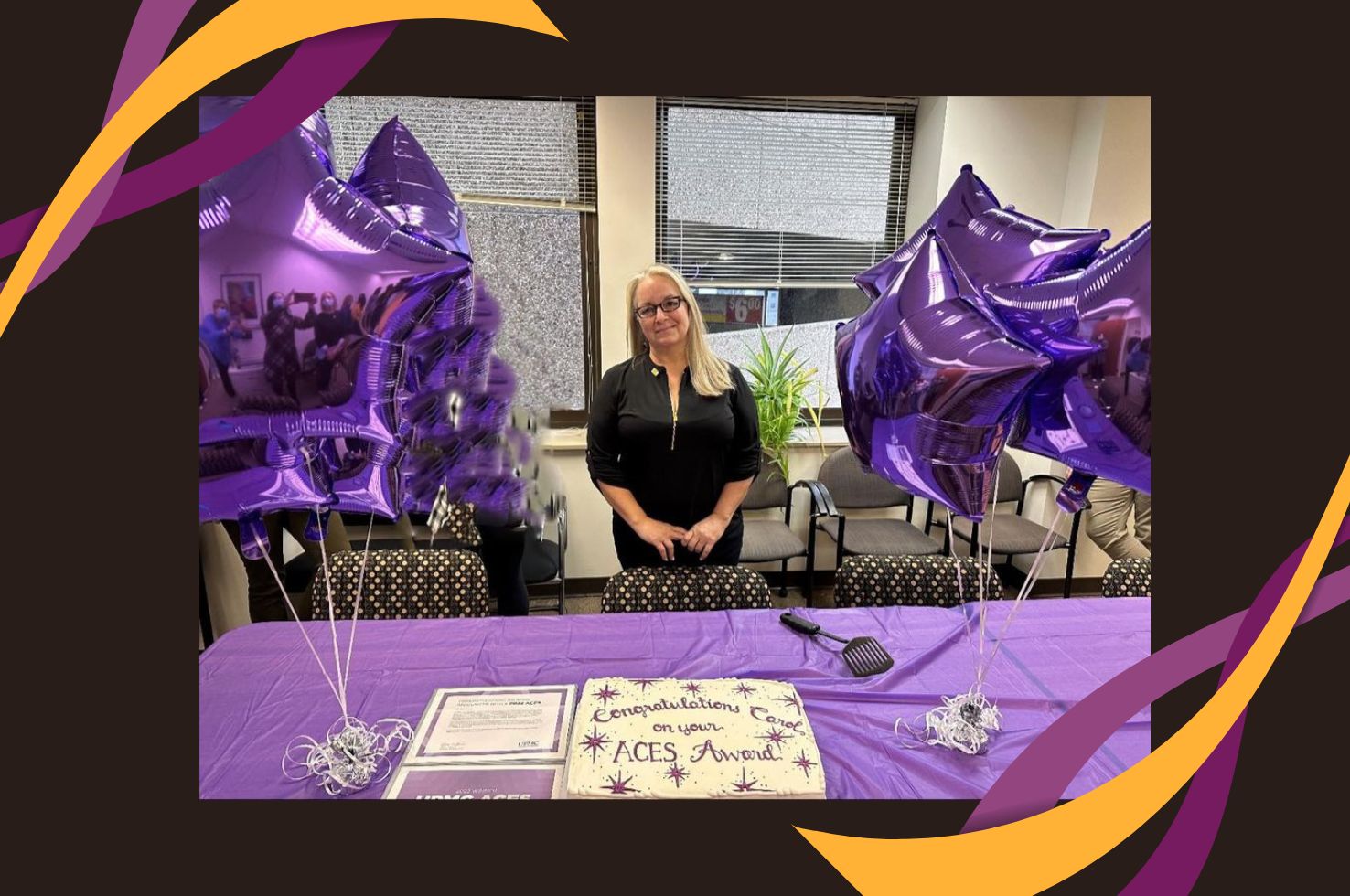 We are thrilled to congratulate Carol Walker Hundiak (Administrative Coordinator), who has received a 2022 UPMC Award for Commitment to Excellence in Service (ACES) for her outstanding work in the Department of Psychiatry's Youth and Family Research Program (YFRP). The prestigious ACES award, received by fewer than 1% of UPMC staff annually, honors individuals who regularly go above and beyond.
Carol's ACES nomination comprised six testimonials outlining her exceptional effectiveness in her role, excerpts from which are included below:
"Carol embodies each and every one of the UPMC values in her work within the YFRP. She sits at the hub of the program, directing traffic and helping onboard new staff, trainees, and faculty. She does this with grace, respect, and knowledge which is why everyone turns to Carol for her wealth of knowledge about the Pitt and UPMC systems within which we work. In fact, I'd like to point out the basis of our research program: we are only successful to the extent that we continually innovate new and impactful science and take advantage of the latest technologies and information. Carol gets that; she is loyal to that principle and she strives to support all of us in that endeavor. Additionally, on top of that, she cares about our science. She doesn't just come to work to do her job. She identifies with her career and seeks to raise all of us up together in the pursuit of improving mental health for all." (Brooke Molina, PhD, Professor of Psychiatry, Psychology, Pediatrics, Clinical & Translational Science; Director, YFRP)
"Carol treats everyone with respect and goes out of her way to help new staff, postdocs, and students get acclimated with our lab. Her open-door policy and investment in the personal and professional lives of all the people in our lab is truly inspiring. I continue to learn from Carol's cumulative knowledge, on the move troubleshooting skills, and in her approach to others. Carol Hundiak is truly an exemplary UPMC employee." (Sarah Pedersen, PhD, Associate Professor of Psychiatry and Psychology)
"Carol achieves excellence and innovation by constantly thinking creatively to solve the multitude of problems that crop up in her work. I once somehow deleted an entire folder of documents on my computer that I critically needed, and I ran to Carol's office in a panic. She immediately dropped what she was doing to help me, and before long, she had heroically recovered the documents. I was so amazed and relieved that I exclaimed, CAROLLUJAH! Since then, the nickname has stuck, because Carol has gotten me (and many others) out of more pinches than I can count, and always with a friendly smile and calming word." (Traci Kennedy, PhD, Assistant Professor of Psychiatry)
"Carol is a knowledgeable and efficient trouble shooter whom we have all become dependent on to keep the flow of work steadily moving. To say she is hardworking is an understatement! She is skillful in her ability to balance multiple tasks and challenges with grace and optimism. In addition to excelling at her job, she is a delightful coworker who brings joy to the lab with her cheerful smile and genuine concern for others." (Heather Joseph, DO, Assistant Professor of Psychiatry and Pediatrics)
"Carol has many roles in our lab and does them all well. She went above and beyond to help me get started up as a faculty member, including helping me with space and furniture, providing technical support, and helping my staff get situated in the lab. I am pretty sure few of these things are in her job description. I truly don't know how we would all function as a lab without Carol!" (Frances Wang, PhD, Assistant Professor of Psychiatry)
"Carol cares deeply about her work, the vision, mission, objectives and accomplishments of the lab, and all of the people who function internally and externally to our group. It is Carol's expertise and initiative that supports every effort in this lab. Like all UPMC hospitals, we have a "Condition C," but at the Youth and Family Research Program it has a different meaning – "Condition Carol." If there is an issue on the floor, Carol knows what to do or who to call. If she doesn't know, you can bet that she will research whatever the challenge is and present a solution. Carol is a role model and she inspires all of us on a daily basis." (Heidi Kipp, MEd, LPC, YFRP Research Operations Coordinator)
Congratulations, Carol!

Photos courtesy of Heidi Kipp.