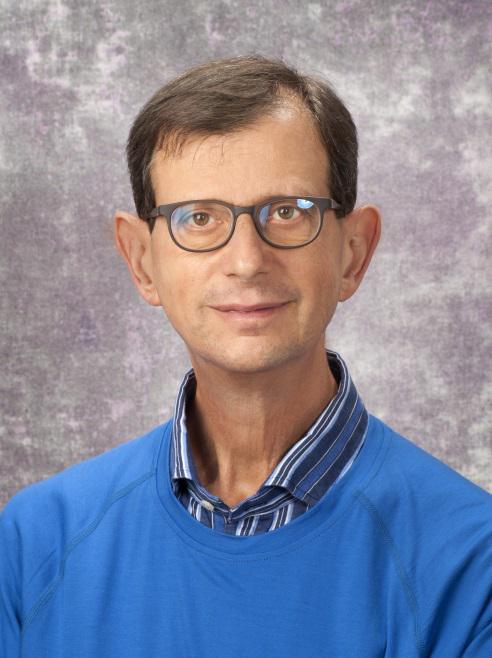 Ronald M Glick, MD
Associate Professor of Psychiatry and Physical Medicine and Rehabilitation
Contact Details
3811 O'Hara St.
Pittsburgh
PA
15213
Education & Training
MD
University of Illinois
, School of Medicine
Physical Medicine and Rehabilitation, University of Pittsburgh Medical Center
General and Child and Adolescent Psychiatry, Western Psychiatric Institute and Clinic of UPMC
Pediatrics, Cardinal Glennon Memorial Hospital for Children, St. Louis University
Child and Adolescent Psychiatry, University of Pittsburgh
Specialty Certifications
Board Certification
American Board of Psychiatry and Neurology (Child and Adolescent Psychiatry)
American Board of Pain Medicine (Pain Medicine)
Current Appointments
Medical Director, Center for Integrative Medicine
Professional Affiliations
Founding Member and Chair, International Network of Integrative Mental Health
Steering Committee Member, Academic Consortium for Integrative Medicine and Health
Research Interests
Anxiety & bipolar disorders in children; Nutritional management of ASD; Acupuncture for cancer-related pain
Selected Research Publications & Products
Yeh CH; Suen LK; Shen J; Chien LC; Liang Z; Glick RM; Morone NE; Chasens ER. Changes in Sleep with Auricular Point Acupressure for Chronic Low Back Pain. Behavioral Sleep Medicine. 14(3):279-94, 2016 May-Jun.
Schneider MJ, Haas M, Stevans J, Glick R, Landsittel D. A comparison of spinal manipulation methods and usual medical care for low back pain: a randomized clinical trial. Spine. 2015.
Greco CM, Yu L, Johnston KL, Dodds NE, Morone NE, Glick RM, SchneiderMJ, Klem ML, McFarland CE, Lawrence S, Colditz J, Maihoefer CC, Jonas WB, Ryan ND, Pilkonis PA. Measuring nonspecific factors in treatment: item banks that assess the healthcare experience and attitudes from the patient's perspective. Quality of Life Research. Nov 12, 2015, 26563249.
Glick RM, Matsumoto M, Chen X, Cheng Y, Smith P, Balk JL, Greco CM, Bovbjerg DH. Acupuncture for Cancer-Related Pain: An Open Clinical Trial. Medical Acupuncture. 2015, 27(3), 188-193.
Clinical Interests
Integrative and holistic care; Chronic pain syndromes; Mood and anxiety disorders
Selected Clinical Publications & Products
Glick RM, Teverovsky E. Mind-Body Techniques to Improve Coping and Stress Response. In Complementary and Integrative Therapies for Mental Health and Aging. Lavretsky H, Sajatovic M, Reynolds C. Oxford University Press. NY. 2016.
Glick RM. Integrative Mental Health in 2015. Adv Integr Med. 2015, 2(1): 1-2. 2015 April.
Sarris J, Glick R, Hoenders R, Duffy J, Lake J. Integrative mental healthcare White Paper: Establishing a new paradigm through research, education, and clinical guidelines. Adv Integr Med. 2014, 1(1): 9-16.
Glick RM, Azzam PN. Psychiatric Evaluation and Management of Pain. In Psychosomatic Medicine. Ackerman KD, DiMartini AF. Oxford University Press. NY. 2015.
Glick RM. Desai KM. Lovett E. Farrah R. Low Dog T. Integrative medicine. Oncology: focus on breast cancer. FP Essentials. 2013, 406: 29-33.
Education Interests
Integrative and holistic care
Selected Education Publications & Products
Dicianno BE, Glick RM, Sowa GA, Boninger ML. Processes and outcomes from a Medical Student Research Training Program in Integrative, Complementary, and Alternative Medicine. A J Physical Medicine and Rehabilitation. 95(10): 779-786 2016 Oct.
Guerrera MP, Glick RM, Sierpina VS, Benn R. Integrative medicine increasing in family medicine residency programs. Journal of the American Board of Family Medicine. 2008, 21(2):170-1.