2018 Class of Resident and Fellow Graduates Celebrated at Ceremony Held June 2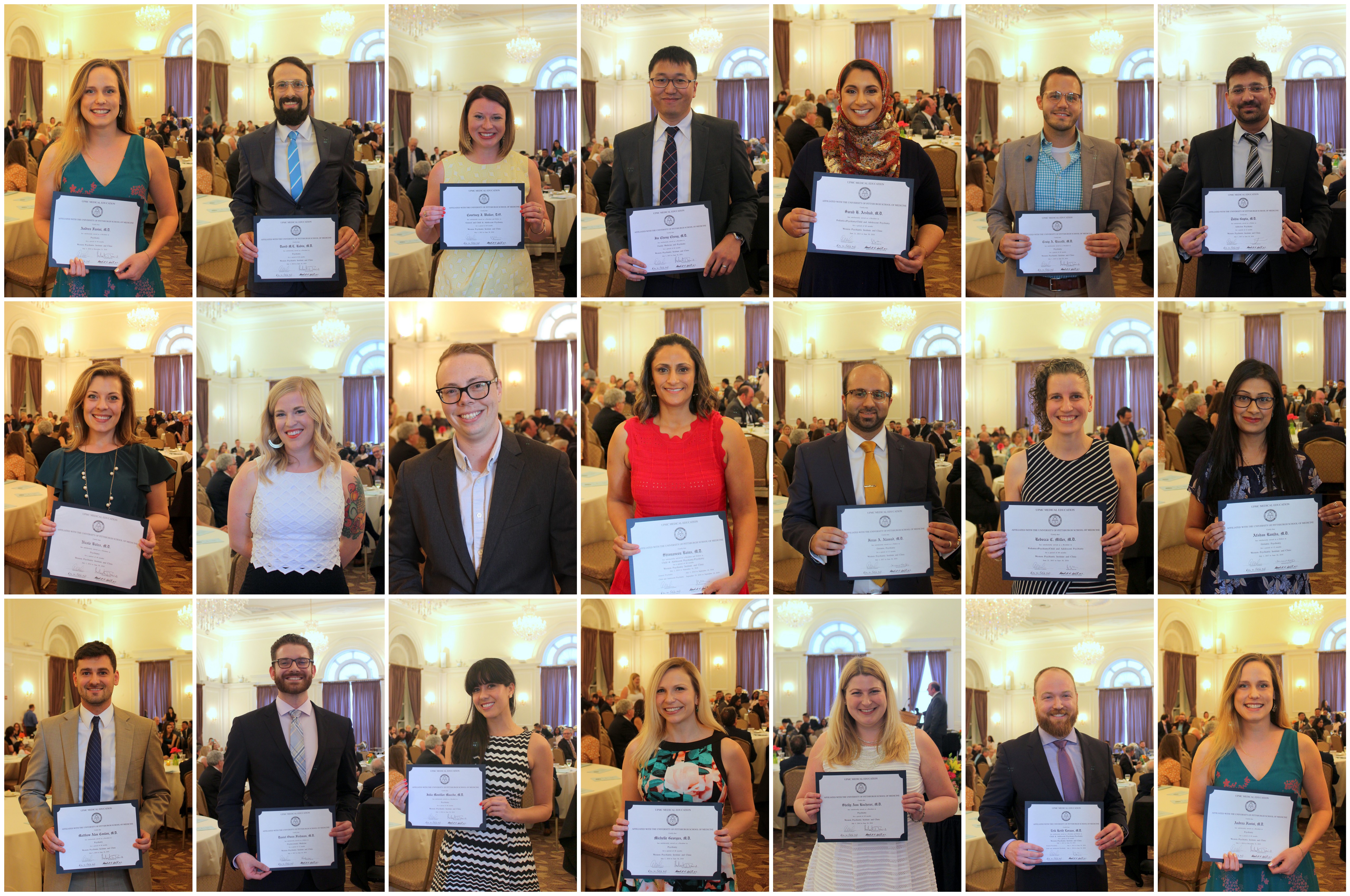 Please join us in congratulating the 2018 graduates of Western Psychiatric Institute and Clinic Residency and Clinical Fellowship programs. Residents, fellows, and their families and friends celebrated at the graduation ceremony held at the University Club on June 2. The event recognized the completion of an important component of the residents' medical training and the outstanding contributions of Department faculty and residents to medical education and mentorship. Several residents received awards in recognition of their significant accomplishments to medical education and service.
The Laughlin Family Psychiatric Endowment Award: Nicole Bates, MD, Chief Resident for Education
Outstanding Adult Resident Teaching Award: Jin (Cam) Cheng, MD, Chief Resident, Family Medicine/Psychiatry
Outstanding Child Resident Teaching Award: Sarah Arshad, MD, Chief Resident, Triple Board
Award for Outstanding Graduating Resident: Matthew Conlon, MD, Chief Resident, Outpatient Services
Graduating Resident Humanism Award: Shelly Kucherer, MD, Chief Resident, Inpatient Services
The Class of 2018 also presented the following teaching awards to key Department of Psychiatry faculty members and staff and specific programs of excellence for their crucial role in advancing the clinical expertise of our trainees.
Adult Psychiatry Faculty: Hader Mansour, MD and Pierre Azzam, MD
Sarah Wolfe Teaching Award for Child & Adolescent Psychiatry Faculty: Gautami Veeragandham, MD
Geriatric Faculty: Crystal White, MD
PsychSIG Exemplary Service Award for Excellence in Teaching: Faculty, Garrett Sparks, MD and Resident, Kristen Eckstrand, MD, PhD
Volunteer Faculty: Patrick Driscoll, MD
Non-Faculty Staff: Rachel Sant
Outpatient Services: Comprehensive Recovery Services (CRS)
Specialty Services: WPIC Safety Officers
Inpatient Services: Center for Overcoming Problem Eating (COPE)
Congratulations to the Class of 2018! We look forward to their success as they move forward in their careers.