WPIC Complete Primary Care
WPIC Complete Primary Care Provides Easy Access
To Care for Mental and Physical Conditions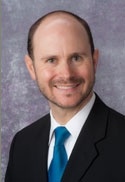 In order to better reflect the unique quality of primary care provided to our patients, the Primary Care Medicine Clinic at WPIC has a new name - WPIC Complete Primary Care.
Dr. Christopher Dobbelstein, the program?s Medical Director, said that the new name conveys the comprehensive services provided by their team of health care professionals, who treat patients in a complete, holistic way that recognizes both their mental and physical illnesses.
The WPIC Complete Primary Care program is dedicated to providing primary care services of the highest quality to individuals with a serious mental illness. Two dually-certified internists/psychiatrists and a dedicated nurse practitioner provide a wide range of health care services, and coordinate with other psychiatric providers and pharmacy staff to meet the patient?s needs. For patients residing in group homes or personal facilities, program staff also coordinate with the appropriate individuals at those facilities to help the patient better manage their conditions.
The program has two locations, in suite B10 of Bellefield Towers and suite 753 of the Oxford Building on the UPMC Oakland campus.  To refer patients to the WPIC Complete Primary Care program, please call 412-246-6606.