SOBP 2012 Honors
Postdoc Scholars Honored at 2012 SOBP Meeting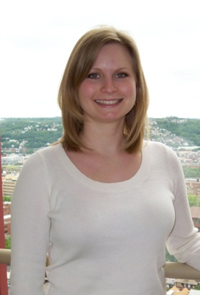 Jill Glausier, PhD, Receives Travel Award
The SOBP annually selects a group of talented young scientists in the field of biological psychiatry to receive Young Investigator Travel Awards. Dr. Jill Glausier, a post-doctoral scholar in the lab of Dr. David Lewis, was one of the six recipients of the domestic travel award this year. The highly competitive merit-based award is given to promising young investigators within North America who would benefit from attending the annual SOBP Meeting, and covers the costs of travel to conference.
CONGRATULATIONS TO DR. GLAUSIER!
---
Layla Banihashemi, PhD, & Adam Tripp, MD, PhD, Selected as Finalists for SOBP Top Poster Award
At this year?s 67th Annual SOBP Conference, Drs. Layla Banihashemi and Adam Tripp were named finalists for the SOBP Top Poster Award, meaning that their abstracts ranked among the top 34 submissions out of over 800 abstracts reviewed by the SOBP program committee. The 34 finalists? posters were judged by a selection committee at the conference, which took place in Philadelphia from the 3rd to the 5th of May, 2012, and the award winners will be announced on the SOBP website and in the newsletter.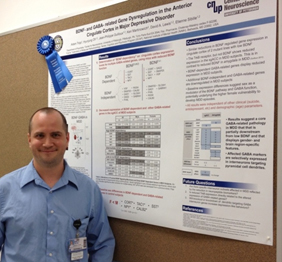 Left: Dr. Adam Tripp with his poster, entitled BDNF- and GABA- related gene dysregulation in the anterior cingulate cortex in major depressive disorder. Authors: Adam Tripp,Hyunjung Oh, Jean-Philippe Guilloux, Keri Martinowich, David A. Lewis, & Etienne Sibille.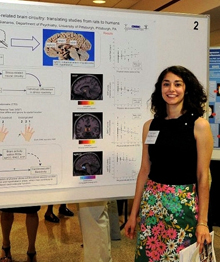 Right: Dr. Layla Banihashemi with her poster, entitled Childhood abuse predicts adulthood stressor-evoked activity in hypothalamic and limbic forebrain regions. Authors:  Layla Banihashemi, Lei K. Sheu, & Peter J. Gianaros.
CONGRATULATIONS TO DRS. BANIHASHEMI AND TRIPP!