Department Welcomes Sarah Pedersen, PhD to Faculty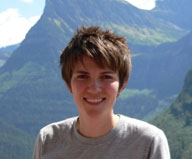 The Department of Psychiatry is pleased to welcome Sarah L. Pedersen, PhD, Assistant Professor of Psychiatry, to our faculty.
After receiving a Master's degree and a PhD in Clinical Psychology from the University of Missouri, Dr. Pedersen completed a clinical psychology internship and a post doctoral fellowship at the University of Pittsburgh Department of Psychiatry. Her research has focused on understanding individual risk and protective factors for heavy alcohol use and alcohol use disorders such as alcohol expectancies and behavioral disinhibition. Dr. Pedersen is also looking at these factors across and within different racial groups. With support from a career development award funded by the National Institute on Alcohol Abuse and Alcoholism, she is investigating disinhibition and acute response to alcohol in European and African Americans. In addition to these projects, Dr. Pedersen is also collaborating on several projects examining the association between ADHD, alcohol-related cognitions, and risk taking behaviors with her colleagues in the Department's Youth and Family Research Program.