Resident Joins AACAP Committee
AACAP Selects Melissa Muniz-Cohen, MD
for Educational Outreach Award and
Appoints Her to Diversity and Culture Committee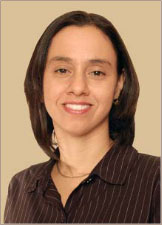 Congratulations to Melissa Muniz-Cohen, MD on her selection as a member of the Diversity and Culture Committee of the American Academy of Child and Adolescent Psychiatry (AACAP).  The committee is charged with identifying and promoting activities aimed at culturally informed child and adolescent psychiatric practices.
In addition to appointment to the committee, Dr. Muniz-Cohen has also been presented with her membership an Educational Outreach Award to support her participation at the 2013 AACAP Annual Meeting in Orlando, Florida, October 22-27, 2013.  The award provides support for Dr. Muniz-Cohen to attend the annual AACAP meeting and take advantage of a wide variety of educational session, study groups and forums as well as important networking opportunities.
Dr. Muniz-Cohen is a PGY5 resident in the Child and Adolescent Psychiatry program at Western Psychiatric Institute and Clinic at UPMC and a Center for Public Service Psychiatry Fellow.