Physician Leadership Program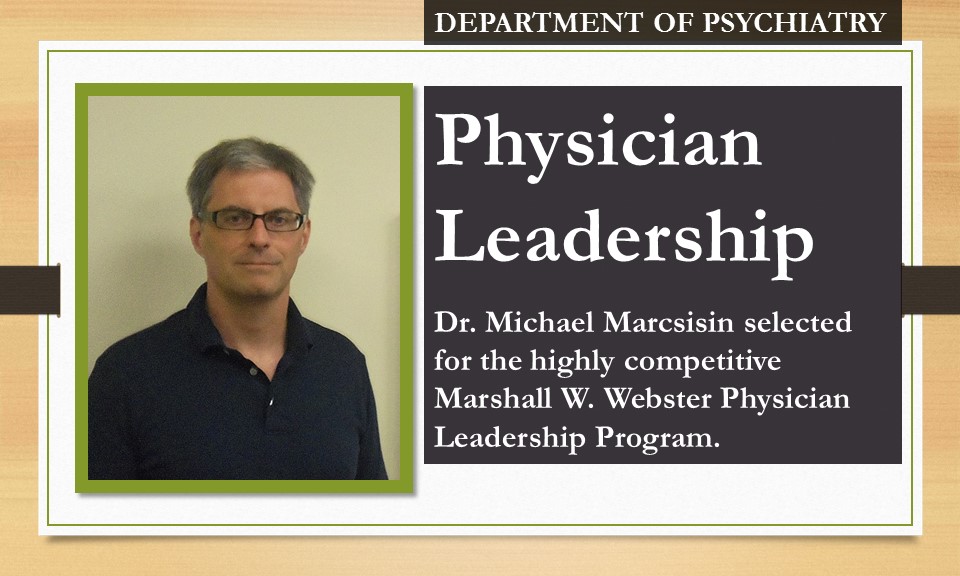 Congratulations to Michael Marcsisin, MD on his selection for the 2016 Marshall W. Webster Physician Leadership Program.  The Marshall Webster Physician Leadership Program is a collaborative venture between the Center for Healthcare Management at the University of Pittsburgh Katz School of Business and UPMC.
Each year, only 30 physicians are selected from a large pool of applicants for the highly competitive program to learn about business analytics and leadership. This "mini-MBA" program has been running annually since 2008.  The program provides physicians with business concepts they can then apply to improving the quality and delivery of care.
Dr. Marcsisin is an Assistant Professor of Psychiatry and serves as the Medical Director for General Adult Inpatient Services at Western Psychiatric Institute and Clinic of UPMC (WPIC).  He is a graduate of the University of Pittsburgh School of Medicine and the WPIC Residency Training Program.  In addition to his extensive clinical activities, Dr. Marcsisin also is actively involved in the teaching and supervision of medical students and residents, and serves on numerous WPIC committees.  The program will kick-off with an opening reception on September 12th at the University Club in Oakland.