New Role for Dr. Azzam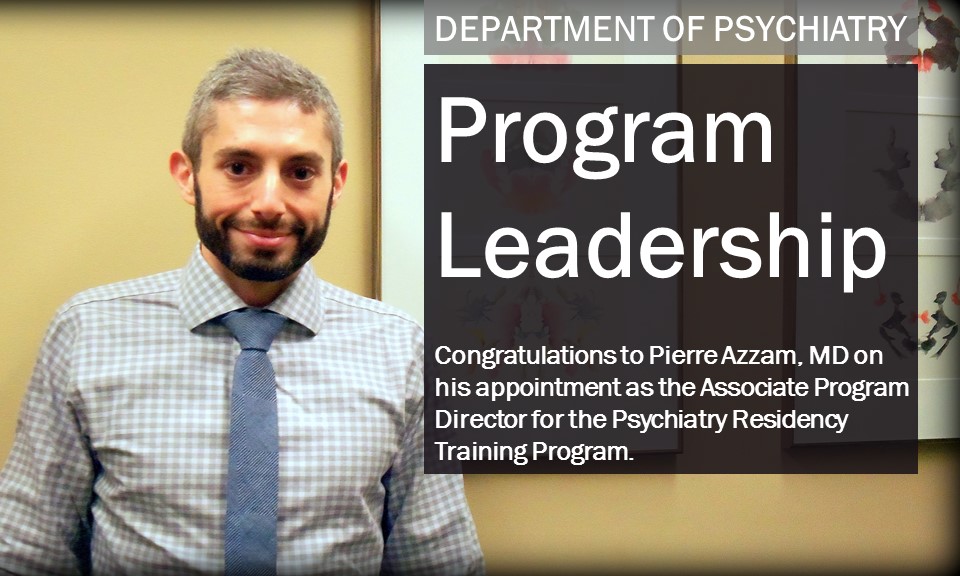 The Department of Psychiatry is pleased to announce the appointment of Dr. Pierre Azzam as Associate Program Director for the Psychiatry Residency Program. 
Dr. Azzam is a graduate of Rice University and the Baylor College of Medicine. He completed his psychiatry residency at Western Psychiatric Institute and Clinic (WPIC) of UPMC and fellowship training in psychosomatic medicine at the Massachusetts General Hospital. Dr. Azzam co-founded and directs the Psychosomatic Medicine Fellowship at WPIC and co-leads the Academic Administrator and Clinician Educator (AACE) track in the residency program. In addition to his teaching and mentorship activities, Dr. Azzam is an attending physician on the WPIC Psychiatry Consultation Service, where he devotes his time to seeing patients alongside the Palliative Care Service at UPMC. He is an award winning educator and contributor to the clinical and educational literature, as well as an active member of the Academy of Psychosomatic Medicine. 
Dr. Azzam has a special interest in curriculum development and the integration of "bedside" with "classroom" teaching. As Associate Program Director, he will work closely with the Director of the Psychiatry Residency Program, Dr. Michael Travis, and Dr. Sansea Jacobson, who directs both the Child & Adolescent Psychiatry Fellowship and Triple Board Program, as well as the rest of the Education Committee to further enhance the clinical learning environment at WPIC. 
Please join us in congratulating Dr. Azzam on his new role!