Meredith Wallace, PhD Joins Faculty
Department Welcomes Meredith Wallace, PhD to Faculty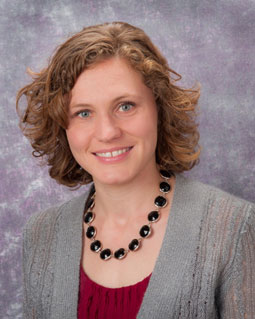 The Department of Psychiatry is pleased to welcome Meredith Wallace, PhD to its faculty as an Assistant Professor of Psychiatry.
A graduate of the University of Pittsburgh, Dr. Wallace earned her PhD in Biostatistics from the Graduate School of Public Health in 2009. She completed post-doctoral fellowships in both psychiatry and statistics at Pitt under the mentorship of Drs. Ellen Frank and Satish Iyengar. Her post-doctoral research focused on developing and applying new statistical methods for psychiatric research, including classification models for longitudinal data and optimal treatment moderators in randomized clinical trials. She has published in several scientific journals including Biological Psychiatry, Statistics in Medicine, and most recently in JAMA Psychiatry. Dr. Wallace has also presented her work at numerous conferences and scientific meetings in the United States and abroad including the 2012 New Clinical and Drug Evaluation Unit (NCDEU) meeting and the 2012 International Joint Conference on Biomedical Engineering Systems and Technologies in Vilamoura, Portugal.
Dr. Wallace is currently the Principal Investigator of a federally-funded career development award concentrating on statistical methods for developing RDoC-based multidimensional profiles. Specifically, her research activities focus on developing new clustering methods that incorporate multiple dimensions of intensively measured data (e.g., polysomnograhpy, actigraphy, and daily self-report scales) and applying these methods to data from individuals with disturbances related to mood, anxiety, and sleep/wake regulation. Her proposed methods have particular relevance to investigators pursuing new lines of research in the future under the National Institute of Mental Health?s (NIMH) Research Domain Criteria (RDoC) project. The RDoC initiative was launched by NIMH to define basic domains of functioning (such as fear circuitry or working memory) to be studied across multiple units of analysis, from genes to neural circuits to behaviors, cutting across disorders as traditionally defined.
Please join us in congratulating Dr. Wallace on her appointment and welcoming her to the faculty!