Loren Roth, MD
Loren Roth, MD, MPH
Honored as Grand Champion at
Fourth Annual Celebrating Senior Champions Benefit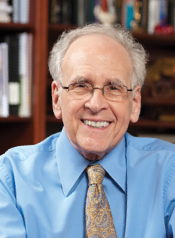 Dr. Loren Roth will be honored as a Grand Champion by UPMC at the fourth annual Celebrating Senior Champions benefit dinner on October 11, 2012 at the Omni William Penn Hotel in downtown Pittsburgh.  This event recognizes extraordinary individuals and groups who contribute significant time and energy to serving seniors throughout western Pennsylvania. This year?s event will focus on promoting and celebrating healthy aging, healthy living, and healthy communities.
Dr. Roth is Associate Senior Vice Chancellor for Clinic Policy and Planning, Health Sciences, University of Pittsburgh; Professor of psychiatry, University of Pittsburgh School of Medicine; Professor of Health Policy and Management, University of Pittsburgh Graduate School of Public Health; and a Senior Advisor on Quality to the UPMC Health Plan. A leading expert in the field of law and psychiatry, Dr. Roth has conducted seminal research and written extensively on the subjects of informed consent, patient dangerousness and competency, confidentiality, and ethics in research. Throughout his prestigious career, Dr. Roth has held leadership positions within the University of Pittsburgh and the UPMC and has directed numerous initiatives aimed at enhancing communication between physicians and patients, and improving patient safety and the quality of care.
Congratulations to Dr. Roth on this well-deserved honor.  To learn more about Dr. Roth and the upcoming Celebrating Senior Champions benefit, click here click here.