Jay Fournier, PhD Joins Faculty
Jay Fournier, PhD Appointed to Department Faculty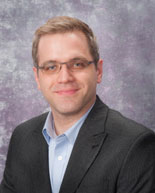 The University of Pittsburgh School of Medicine has appointed Jay Fournier, PhD, as an Assistant Professor of Psychiatry.
Dr. Fournier earned a master's and a doctorate degree in Clinical Psychology from the University of Pennsylvania and is a graduate of the APA-Accredited Clinical Psychology Internship program at Western Psychiatric Institute and Clinic of UPMC (WPIC). After completing the Clinical Psychology Internship at WPIC, he was appointed to the Clinical Research Training for Psychologists T32 program where he worked closely with his mentors, Drs. Ellen Frank and Mary Phillips.
Throughout his career, Dr. Fournier has focused on identifying patient characteristics that are associated with response to different treatments for depression and on the effects that the therapies used to treat depression can have in patients' lives. In addition to presenting his findings at a variety of scientific meetings and conferences, Dr. Fournier serves as the lead author of several peer-reviewed articles that have appeared in the British Journal of Psychiatry, the Journal of Consulting and Clinical Psychology and JAMA, among other outlets, and as co-author of numerous other works.
With support from a K23 career development award, Dr. Fournier currently is examining whether neural markers of individual difference in emotion regulation in depressed adults can help to explain some of the predictors of differential treatment response that he and his colleagues have identified.
The Department welcomes Dr. Fournier's appointment to the ranks of its faculty and we look forward to his contributions to the University and to the field.