Frank A. Ghinassi, PhD
Promoted to Associate Professor of Psychiatry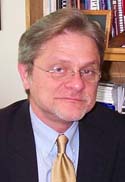 We are pleased to announce that Dr. Frank Ghinassi has been promoted to the rank of Associate Professor of Psychiatry. Dr. Ghinassi has devoted his career to improving the quality of health care, evaluating and enhancing systems for delivering care, and training the next generation of clinicians and quality improvement specialists. His academic career includes appointments at the Harvard Medical School and the University of Pittsburgh Department of Psychiatry. Throughout his career in Pittsburgh, he has collaborated with other faculty on numerous research projects including the PROMIS project funded by the National Institute of Mental Health (NIMH), which is developing a national resource for effective computer-adapted testing and symptom assessment of functioning for use by researchers across the country. Dr. Ghinassi has published articles on a range of topics related to evidence-based treatment and quality/performance improvement.
Dr. Ghinassi's clinical, academic, and administrative accomplishments have led to his membership and leadership roles in several prominent national organizations over the years. Dr. Ghinassi joined the Department faculty in 1997 and has been an important member of the clinical administration team at Western Psychiatric Institute and Clinic (WPIC) of UPMC. Since 2005, Dr. Ghinassi has served as Vice President of Quality and Performance Improvement. He has also played a lead role in numerous research and quality improvement initiatives including the development and implementation of performance measurement standards, clinical pathways, and guidelines to help orient clinical teams toward an outcomes driven method of delivering services. Dr. Ghinassi's clinical, academic, and administrative accomplishments have been recognized by and led to his membership and selection for leadership positions at several prominent national organizations. He serves as the chair for numerous professional committees including the Performance Measure Committee of the National Association of Psychiatric Health Systems (NAPHS), the NAPHS Performance Measurement and Benchmarking Committee, the Technical Advisory Panel for the Hospital-based Inpatient Psychiatric Services Core Measure Project sponsored by the Joint Commission, and served a six year term as the Vice Chair of the Joint Commission's Behavioral Health Professional Technical Advisory Council (PTAC). In addition, Dr. Ghinassi has served on the boards of Academic Behavioral Health Consortium and the America College of Mental Health Administration. Dr. Ghinassi's comprehensive understanding of health care delivery systems, his experience as a clinician, and his outstanding reputation as a leader in quality improvement and innovation in health care delivery systems. Please join us in congratulating Dr. Ghinassi on this well-deserved appointment.