Conte Center Grant

University of Pittsburgh Department of Psychiatry Awarded
$10 Million Grant from the National institute of Mental Health
The National Institute of Mental Health (NIMH) has awarded a $10 million, five-year grant to fund the Silvio O. Conte Center for Translational Mental Health Research at the University of Pittsburgh?s Department of Psychiatry.  The Center focuses on cortical cells, circuits, connectivity and cognition in schizophrenia. 
Schizophrenia is a major public health problem affecting 0.5-1% of the world?s population. Current treatments for schizophrenia have limited effectiveness, and all medications currently used to treat schizophrenia and related disorders were discovered by serendipity. These problems emphasize the need for a new approach to treatment development, similar to that used in other domains of medicine, where drug development begins with the identification of molecular targets based on their role in the pathophysiology of an illness.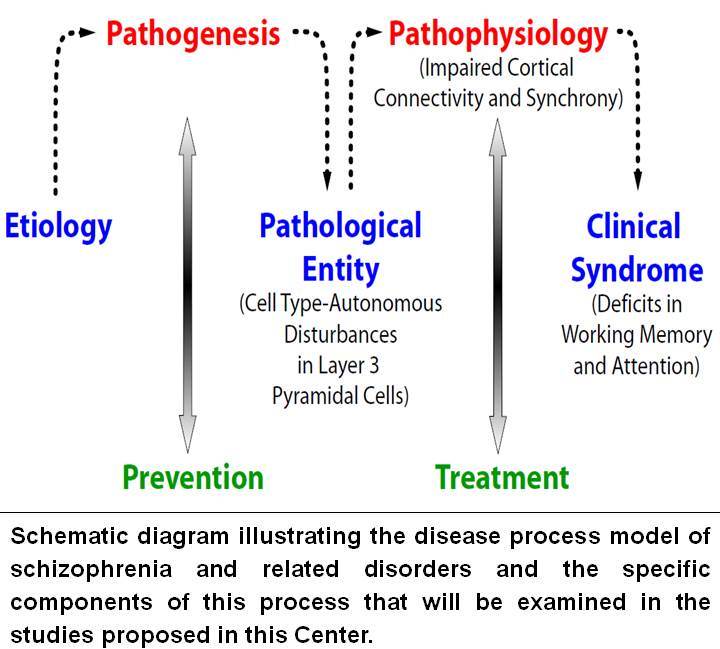 Under the direction of David A. Lewis, MD, this innovative Center addresses this challenge by focusing on the mechanisms that link the pathology, pathophysiology and clinical features of schizophrenia (Figure). The Center?s research activities test the hypothesis that cell type-autonomous molecular disturbances in layer 3 pyramidal cells of the neocortex give rise to morphological abnormalities in these neurons, the severity of which is moderated by normal differences across cortical regions. This pathology alters cortical circuitry within and between regions, impairs functional connectivity and neural synchrony across regions, and disturbs both ?bottom up? and ?top down? processes during working memory and attention in individuals with schizophrenia. 
The Center is composed of five research projects and two cores that are designed to provide convergent tests of this hypothesis. The synergism of these projects facilitates a translational approach to schizophrenia research, making laboratory findings readily relevant to clinical interventions. The Center?s work is directed at identifying pathophysiology-based molecular targets for new therapeutic interventions and at developing biomarkers of this pathophysiology that can be used to monitor the efficacy of such interventions. Thus, the Center is a multi-disciplinary effort directed at testing a mechanistic hypothesis in order to improve our understanding of a core component of the disease process of schizophrenia.
The investigations of the Center reflect the synergistic scientific interactions among Center investigators from the University of Pittsburgh Schools of Medicine and Arts and Sciences, and Carnegie Mellon University, and the resulting development and implementation of innovative experimental designs and research tools to achieve these goals.   Collectively, the Center represents a broad array of expertise spanning molecular, systems, cognitive, computational and clinical neuroscience.  The investigative team includes faculty in the Departments of Psychiatry (Drs. David Lewis, Raymond Cho, Ken Fish, Guillermo González-Burgos, Gretchen Haas, Beatriz Luna, Dean Salisbury, Etienne Sibille, Robert Sweet, and David Volk), Neuroscience (Dr. Carol Colby), Neurosurgery (Dr. Avniel Ghuman), Biostatistics (Dr. George Tseng), Statistics (Dr. Allan Sampson and Kehui Chen) at the University of Pittsburgh and Dr. Carl Olson at Carnegie Mellon University.