CABS Receives Reintegration Award
CABS Program Honored for Integration Efforts
CABS Faculty (left to right): Drs. Boris Birmaher, Tina Goldstein, David Axelson, Dara Sakolsky and Rasim Diler
The Department of Psychiatry is pleased to announce that the Child and Adolescent Bipolar Services (CABS) program has been selected by the National Council for Community Behavioral Healthcare for the 2013 Reintegration Award in Clinical Medicine. The program was selected for the award in recognition of combining effective and innovative treatment approaches through their successful integration of outpatient and inpatient child and adolescent psychiatric services.
The Reintegration Awards celebrate the achievements of individuals who dedicate themselves to improving the lives of individuals with serious mental illnesses, and the achievements of those living with schizophrenia or bipolar disorder and their efforts to improve their own lives and the lives of their peers. In addition to recognizing the compassionate care and educational services provided by the CABS faculty and staff, the Reintegration Award also provides a cash prize that will be donated to a non-profit organization of the honoree?s choice.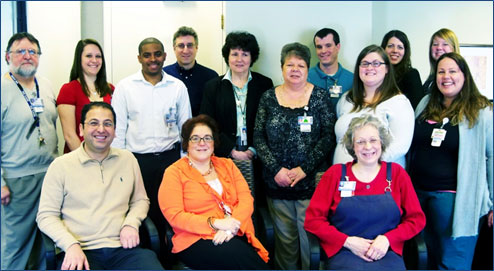 CABS Inpatient Unit Faculty and Staff with Dr. Cami Herisko, WPIC Director of Nursing (front row-center)
The Child and Adolescent Bipolar Services (CABS) program was established 15 years ago and in 2010, Western Psychiatric Institute and Clinic of UPMC became home to the nation's first inpatient facility for diagnosing and treating bipolar disorder in children. The CABS program offers consumer-oriented, family-focused care and services that are developmentally appropriate and culturally-sensitive. The assessment and intervention approaches and wellness programs are designed to reduce the burden of the illness, improve recovery, and maximize resilience, cognitive-emotional development, and psychosocial functioning in youth. The CABS program serves as a successful model for integrated evidence-based care for youth with bipolar disorder and other serious mood problems.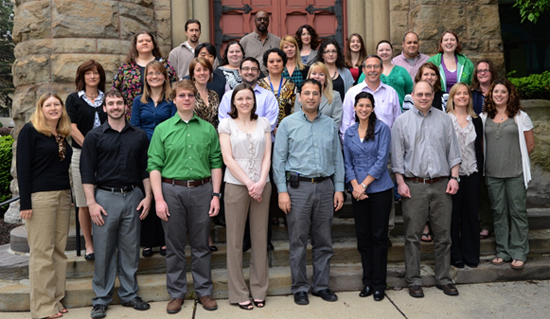 CABS Outpatient Services Faculty and Staff.
The Reintegration Award is the latest in a series of awards bestowed on the CABS program in light of its outstanding integrated inpatient and outpatient services, including the Best Patient Care Award in 2011 from the Hospital Association of Pennsylvania (HAP).