2014 SOBP Travel Awards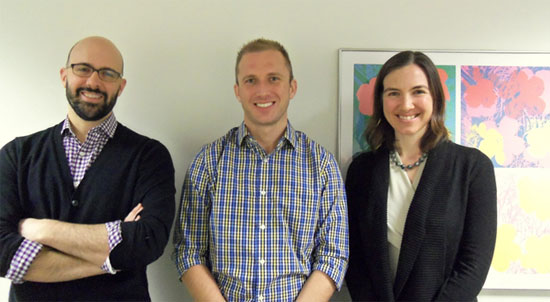 2014 Society for Biological Psychiatry Travel Awards
Congratulations to Drs. Matthew MacDonald, Brandon McKinney and Danella Hafeman on their receipt of 2014 Society for Biological Psychiatry Travel Awards.
The award provides support for the recipients to attend the Society?s annual meeting in New York City, May 8-10, 2014, where they will be matched with a mentor and actively participate in the scientific program.
Matthew MacDonald earned a Bachelor?s degree in Biology from Ogelthorpe University in Atlanta, GA before obtaining a PhD in Pharmacology and completed postdoctoral training in Psychiatry at the University of Pennsylvania. He is currently a Postdoctoral Fellow in the laboratory of Dr. Robert Sweet at the University of Pittsburgh Department of Psychiatry Translational Neuroscience Program where he is investigating the role of synaptic pathologies in schizophrenia and other human neuropsychiatric diseases.  Dr. MacDonald is utilizing multilabeling fluorescence confocal microscopy in parallel with the fractionation ? mass spectrometry method that he developed as a graduate student to explore whether combining these two approaches will enable investigators to first identify alterations in synaptic protein networks and then map these alterations to cortical circuits within the auditory cortex.  
Dr. Danella Hafeman began her residency training at Western Psychiatric Institute and Clinic (WPIC)  of UPMC following her graduation of the Columbia University Medical Scientist Training program, having earned both her MD and a PhD in Epidemiology (with Distinction). She is currently the Chief Resident for the Child Psychiatry Fellowship.  Dr. Hafeman?s research interests focus on understanding emotion dysregulation in youth (particularly those with bipolar disorder), from both a research and clinical perspective. Building on her methodological background in epidemiology and statistics, she is working with mentors in neuroimaging (Mary Phillips, MD) and pediatric bipolar disorder (Boris Birmaher, MD and Tina Goldstein, PhD) to use neuroimaging and other biomarkers to better understand the mechanisms by which interventions (particularly non-pharmacological) improve emotion regulation, with the hope that these interventions might be improved.   
Brandon McKinney, MD, PhD is currently a PGY-3 psychiatry resident and Co-Chief of the Resident Research Track at Western Psychiatric Institute and Clinic (WPIC) of UPMC. After earning a Bachelor?s and a Master?s degree in Biology from the University of Illinois at Urbana-Champaign, he entered the University of Michigan Medical Scientist Training Program and earned his medical degree and a doctorate degree in Neuroscience.  Since beginning his residency in Pittsburgh, Dr. McKinney has actively pursued research activities focusing on neuroscience and more specifically on the interactions among environments, brain structure and function, and psychopathology.   Under the mentorship of Etienne Sibille, PhD in the University of Pittsburgh Translational Neuroscience Program, Dr. McKinney is investigating the role of epigenetic modifications in relaying information about an individual?s environment to gene expression (and possibly brain structure and function, and psychopathology).  He is currently implementing a project in which human postmortem brain tissue from individuals with major depressive disorder and those without are probed for the presence of two epigenetic modifications (DNA methylation and histone lysine methylation) within and in the regions flanking the gene somatostatin.