2013 AAP Fellowship
Laura McLafferty, MD Chosen by Association for Academic Psychiatry
for Fellowship Award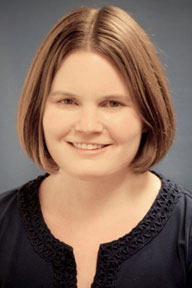 The Association for Academic Psychiatry (AAP) has presented Laura McLafferty, MD with a 2013 AAP Fellowship Award.
The two-year fellowship award was created to honor psychiatry residents who demonstrate particular promise as educators and scholars in academic psychiatry. Awardees are selected for this competitive program based on their demonstrated ability as a teacher and their commitment to building successful academic careers in psychiatry. As part of the fellowship, Dr. McLafferty will attend and present at the AAP?s 2013 Annual Meeting in October 2013 in Charleston, South Carolina. The fellowship also will provide her with the opportunity to network and obtain mentoring from leading educators in the field of psychiatry.
Dr. McLafferty is the Chief Resident for Education as well as the Chair of the Academic Administrator Clinician-Educator (AACE) Track and a PGY-4 Resident in General Adult Psychiatry at Western Psychiatric Institute and Clinic at UPMC (WPIC). She earned her medical degree from the University of Pittsburgh School of Medicine. Dr. McLafferty?s academic interests include qualitative research in medical education. Upon graduation from the residency program, she plans to pursue fellowship training in psychosomatic medicine.
Please join us in congratulating Dr. McLafferty on her receipt of the AAP fellowship.