2012 STAR-Center Conference

Still Time To Register for the
2012 Services for Teens at Risk (STAR) Conference
There is still time to register for the 2012 STAR-Center (Services for Teens at Risk) Conference, which will take place in Pittsburgh, PA on May 4, 2012 at the William Pitt Union. The theme of this year's conference is "Protecting Children from Harm."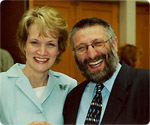 Dr. Mary Margaret Kerr
and Dr. David A. Brent
The program will feature keynote addresses by David Brent, MD, and Mary Margaret Kerr, EdD, as well as an array of clinical and educational breakout session topics to choose from.
Registration for WPIC employees is $30.00, which represents a 50% savings.
The full program brochure and registration form for this program is available on our website at www.starcenter.pitt.edu
Please e-mail Jamey Covaleski (covaleskijj@upmc.edu), Administrative Coordinator, STAR-Center Outreach, with questions regarding the conference program. Questions regarding registration should be e-mailed to Maria Pena Jordan (penajordanmi@upmc.edu), Conference Planner, OERP/WPIC.