Center for Sleep and Circadian Science Research Day
The University of Pittsburgh Center for Sleep and Circadian Science (CSCS) Research Day is scheduled for Thursday, November 9, 2017 from 9 am – 6 pm. This event will highlight the innovative and transdisciplinary sleep research across the translational spectrum taking place here at Pitt and other local universities. It also provides us with the opportunity to network with colleagues. 
LOCATION: Please join us at the University Club located at 123 University Place on the Oakland University of Pittsburgh campus for this event.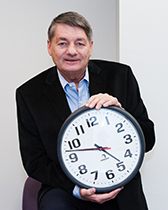 DAVID J. KUPFER LECTURE:  We are honored to have Dr. Fred Turek, the Charles & Emma Morrison Professor of Neurobiology at Northwestern University, as our speaker this year. Dr. Turek is affiliated with the Center for Sleep & Circadian Biology. Research in his laboratory focuses on the study of sleep and circadian rhythms, with special interest in identifying genes that regulate sleep and circadian rhythms. 
REGISTRATION: Follow this link to register for this event. 
NEW THIS YEAR: This year we are featuring a "methods" symposium on Circadian Rhythm Techniques followed by a round table lunch. Space for the round table lunch is limited. Please indicate your interest when you register.
The 2017 CSCS Research Day will feature a number of activities including two symposia, one on circadian rhythm techniques and another on sleep and metabolism; a data blitz; and poster Session.  Research Day will close with an awards ceremony for top-ranked posters submitted by trainees.
SCHEDULE OF ACTIVITIES: 
9:30am – 11:00am    Symposium: Translational Circadian Rhythms Methods
11:00am - 11:45am   Poster set up 
12:00pm - 12:05pm  Opening Remarks
12:05pm -1:00pm      Introduction and Keynote Presentation - Fred Turek, PhD
1:15pm - 2:15pm       Data Blitz
2:25pm - 3:25pm       Symposium: Sleep & Metabolism
3:35pm - 4:35pm       Poster Session 
4:35pm - 4:55pm       Award Ceremony
4:55pm - 5:00pm       Closing Remarks 
For more information, visit our website. We hope to see you on November 9th! 
QUESTIONS: If you have any questions, please contact Linda Willrich (Telephone: [412] 246-6451; Email: willrichl@upmc.edu).