Loren Roth, MD, MPH Honored by Pitt School of Medicine
with Distinguished Service Professorship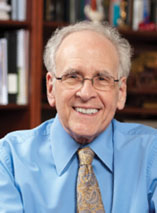 The University of Pittsburgh School of Medicine recently announced that Loren Roth, MD, MPH has been promoted to the rank of Distinguished Service Professor, one of the highest honors that the University of Pittsburgh can accord a member of the faculty. Designation as a Distinguished Service Professor recognizes distinctive contributions and outstanding service to the University community in support of its multi-faceted teaching/research/service mission, as well as performance excellence in the faculty member's department or school, and national stature in his or her discipline or field. Dr. Roth's contributions to the University and the health care community are extraordinary and have had a significant impact on the development of collaborative partnerships between academic and clinical programs that have improved the quality of care and the safety of patients and individuals participating in research.
Dr. Roth continues to play a major role in the educational, clinical and academic mission of the University of Pittsburgh and UPMC. He is Associate Senior Vice Chancellor for Clinic Policy and Planning, Health Sciences, University of Pittsburgh; Professor of psychiatry, University of Pittsburgh School of Medicine; Professor of Health Policy and Management, University of Pittsburgh Graduate School of Public Health; and a Senior Advisor on Quality to the UPMC Health Plan. He has had a profound influence on medical student education and the training of residents, serving as the originator of the medical school's curriculum for the Patient-Doctor Relationship Block and as the driving force behind the development of three very innovative medical student courses offered by the University. Dr. Roth has also been instrumental in the conceptualization and implementation of a system that successfully integrates the academic and clinical missions of the University of Pittsburgh and its clinical partner, UPMC. He played a significant role in the development of UPMC during a period of rapid change in health care economics, insurance and care delivery beginning in 1993 with the advent of managed care, eventually becoming Sr. Vice President for Medical Services and Chief Medical Officer of UPMC. He also advocated for and assisted UPMC in starting the Community Care Behavioral Health Organization (CCBHO).
A leading expert in the field of law and psychiatry, Dr. Roth has conducted studies and published extensively on the subjects of informed consent, patient dangerousness and competency, confidentiality, and ethics in research throughout his prestigious career. His work concentrates on enhancing communication between physicians and patients, and improving patient safety and the quality of care. From the early stages of his career, Dr. Roth has been engaged in interdisciplinary research and has been a proponent of team decision making in patient care. Competency assessment is critical to operationalizing patients' decisional capacity and/or legal competency, and Dr. Roth's work in this area had a major impact on the field. He is the first author of an article on tests of competency to consent to treatment that was the first systematic paper on this subject to appear in the American Journal of Psychiatry, and that opened up a new field of empirical literature and testing that proved relevant to seminal issues in psychiatric/medical care and research.
The Department is honored to have Dr. Roth as a member of its 'academic family' and looks forward to his future contributions to the University, UPMC and the field of psychiatry.