Faculty in the Spotlight
Jason Rosenstock, MD
Associate Professor of Psychiatry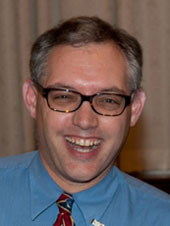 Passionate about improving patient care and inspiring learners, Jason Rosenstock, MD has provided an indispensible service to both Western Psychiatric Institute and Clinic (WPIC) and the Department of Psychiatry as a clinician-educator for nearly two decades. As a physician, he delivers direct clinical care for individuals with schizophrenia, and has helped to develop and administer services on behalf of patients and families affected by this illness. In addition, his endeavors as an educator have inspired medical students, residents, fellows, and physicians to explore careers in both academic psychiatry and neuroscience. Through his teaching methods, he instills in his students and trainees the same commitment he has to providing patient care of the highest quality.
A graduate of Brown University, Dr. Rosenstock completed his residency in general psychiatry at WPIC of UPMC. He was appointed to the Department of Psychiatry faculty in 1996 and served as the Chief of WPIC's Comprehensive Care Services prior to his appointment as the Director of the Office of Medical Student Education in 2005.
He is the recipient of numerous awards in recognition of his dedication to education and training, including the Golden Apple Teaching Award for excellence in psychiatry teaching, the Sheldon Adler Award for innovation in medical education, and the Kenneth E. Shuit Award for education-related contributions to the medical education curriculum. His teaching efforts have helped to foster an interest in psychiatry among medical students, and have undoubtedly contributed to the increase in the proportion of University of Pittsburgh Medical students who choose to pursue careers in psychiatry, which is currently 50% higher than the national average.
In addition to his many clinical and teaching activities, Dr. Rosenstock is actively engaged in service to the University and WPIC community. He gives generously of his time as a member of numerous committees and advisory groups at the UPSOM, including the Curriculum Committee Executive Subcommittee, the Department's Academic Promotions Committee, the Standing Committee for Non-Tenured Faculty Promotions and Appointments (NTFPA), and the WPIC Department of Education Leadership Group. Dr. Rosenstock also serves as the Director of the Neuroscience Area of Concentration (AOC) for the University of Pittsburgh School of Medicine (UPSOM), the largest AOC at the University.