Sleep Medicine Researchers Play Prominent Role
at SLEEP 2014 Meeting
Faculty and trainees from the University of Pittsburgh Department of Psychiatry Sleep and Chronobiology Center (SCC) were a strong presence at the 28th Annual Meeting of the Associated Professional Sleep Societies, which took place in Minneapolis, Minnesota, May 31st through June 4th.
The annual meeting featured the research and expertise of 22 faculty, postdoctoral fellows, residents, and medical students engaged in research in the SCC through a total of 42 symposia, oral presentations, and poster sessions over the five-day meeting. Department of Psychiatry faculty and trainees were also the recipients of numerous travel awards and honors for their service to the professional organizations represented at the meeting.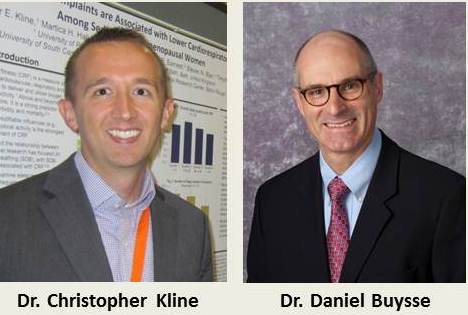 The Society of Behavioral Sleep Medicine presented a Merit Award to Christopher Kline, PhD, Assistant Professor of Psychiatry, and his colleagues for their symposium on Exercise as a Behavioral Sleep Medicine Intervention. The Society also recognized Daniel Buysse, MD, UPMC Endowed Chair in Sleep Medicine and Professor of Psychiatry, for his service on the organization's Board of Directors.

Martica Hall, PhD, Associate Professor of Psychiatry, was presented with the Strategic Research Award by the American Academy of Sleep Medicine. The award will support Dr. Hall's project, Quantifying the Diagnostic and Therapeutic Utility of Wrist Actigraphy in Insomnia. The Strategic Research Award is designed to support research aimed at improving quality of health care delivery in the field of sleep medicine.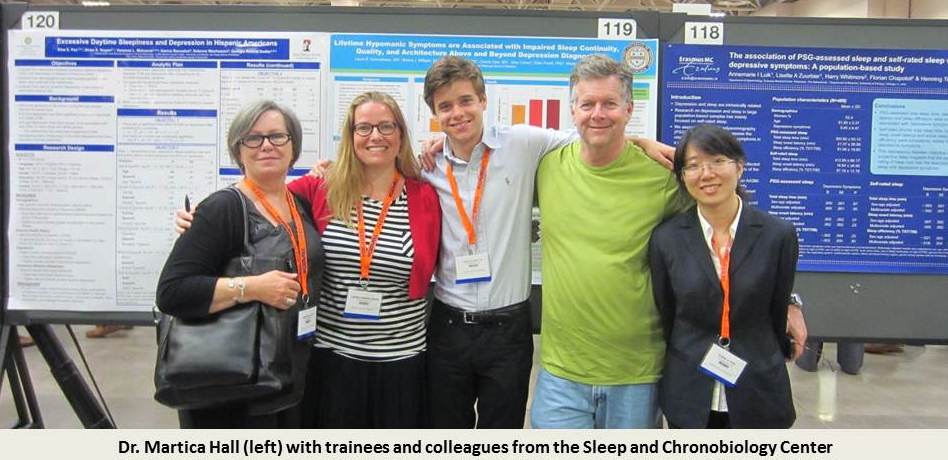 Four trainees were selected to receive travel awards from the Sleep Research Society to support their participation at the meeting.
Heather Gunn, PhD, a Postdoctoral Scholar working with Dr. Daniel Buysse, presented her research on Sleep-Wake Synchrony in Couples is Associated with Relationship Functioning that has been featured in over 40 media outlets, including NBC's Today Show and Time Magazine.
Melynda Casement, PhD, a Postdoctoral Associate working with Drs. Erika Forbes and Martica Hall, received Merit-based Travel Award from the for her poster titled Chronic Insomnia Symptoms in Early Adolescence Predict Neural Reward Processing and Depressive Symptoms.
Adriane Soehner, MA, an intern in the Clinical Psychology Internship Program at Western Psychiatric Institute and Clinic of UPMC, presented a poster titled You'll Feel Better in the Morning: Slow Wave Activity and Overnight Mood Regulation in Bipolar Disorder based on her work with Drs. Daniel Buysse and Brant Hasler.
Patricia Wong, MS, a graduate student at the University of Pittsburgh, in collaboration with Drs. Brant Hasler and Martica Hall, and under the mentorship of Drs. Steve Manuck and Pete Gianaros in the Pitt Department of Psychology, presented a poster focusing on Irregularity in Sleep Schedules and Insulin Resistance Independently Associate with Hippocampal Volume.
The annual meeting also served as a venue for numerous other researchers in the early stages of their careers to present their work and interact with experts in the sleep medicine field. These individuals included Adam Bramoweth, PhD, Tyler Conrad, BA, Matthew Cribbet, PhD, Sammy Dhaliwal, MS, Daniel Kay, PhD, Jessica Levenson, PhD, Briana Milligan, BA, Laura Samuelsson, MS, John Skicki, BS, Daniel Suter, BS, and Kristine Wilckens, PhD.