Department to Feature Work of Translational Scientists
Drs. Fabio Ferrarelli and Matthew MacDonald at Researchers on the Rise Series


We hope you will join us on February 10, 2017 when the Department of Psychiatry will feature two talented young scientists from its Translational Neuroscience Program as part of the Researchers on the Rise Lecture Series. The lectures will take place at noon in Room S120 of the Starzl Biomedical Science Tower.
Sleep Spindle Deficits in Schizophrenia. When Do They Start?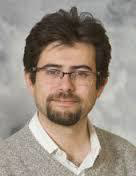 Fabio Ferrarelli, MD, PhD, Assistant Professor of Psychiatry, is utilizing imaging techniques including hd-EEG, MRI and Transcranial Magnetic Stimulation (TMS) to better understand the neurobiology of schizophrenia and to identify potential treatment targets. Dr. Ferrarelli earned his MD and PhD in psychiatry at the Catholic University of the Sacred Heart in Rome. At the University of Wisconsin, and while completing his residency at Western Psychiatric Institute and Clinic, he studied the alterations in neuronal circuits contributing to altered sleep architecture in schizophrenia. Since joining the Department of Psychiatry faculty in 2016, he has begun to extend those lines of research to high risk children and adolescents.

Mass Spectrometry Investigations of Synaptic Protein Networks in Schizophrenia


Matthew MacDonald, PhD, Assistant Professor of Psychiatry, is developing novel mass spectrometry approaches to study synaptic pathologies in schizophrenia and other human neuropsychiatric diseases. After earning his PhD in Pharmacology from the University of Pennsylvania in 2012, Dr. MacDonald performed postdoctoral research in Psychiatry at the University of Pittsburgh under the mentorship of Drs. Robert Sweet and Nathan Yates. In 2015 he was appointed to the Department of Psychiatry faculty where he is examining ATP1A3 induced alterations to glutamate signaling protein networks in schizophrenia with support from a K01 career development award funded by the National Institute of Mental Health.

Click here for more information regarding these lectures.