Pitt School of Medicine Presents Inaugural Roth Fellow Awards
to Three Talented Medical Student Researchers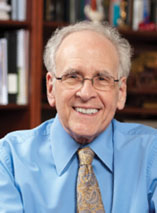 The University of Pittsburgh School of Medicine has selected the first recipients of the Roth Fellow Awards. The awards are named in honor of Dr. Loren Roth, Associate Sr. Vice Chancellor, Clinical Policy and Planning, Health Sciences and Distinguished Service Professor of Psychiatry. Dr. Roth has and continues to play a significant role in medical education at the University.
The Roth fellowship will assist talented University of Pittsburgh medical students in developing their research skills and completing scholarly projects focused on their areas of interest.
Please join us in congratulating these students on their receipt of this honor:

Eric V. Strobl
Scholarly Project: New Kernel Methods for Mining Biomedical Data
Eric is enrolled in the University of Pittsburgh School of Medicine Medical Scientist Training Program (MSTP) and is pursuing his PhD in Biomedical Informatics. As an undergraduate at the University of California at Berkley, Eric investigated brain derived neurotrophic factor, a protein in humans, as a diagnostic biomarker for neurodegenerative diseases. In collaboration with his mentor, Dr. Shyam Visweswaran in the University of Pittsburgh's Department of Biomedical Informatics, he is developing and testing an algorithm which infers causal relations directly from human observational data.
Kimberly Lin
Scholarly Project: The Impact of Role Conflict in Pediatric Primary Care Settings on Pediatricians' Perspectives of Behavioral Health Care Practices
Kimberly is currently a second year student at the University of Pittsburgh School of Medicine. She graduated Summa Cum Laude from Cornell University where she studied Biological Engineering. Under the mentorship of David Kolko, PhD, Professor of Psychiatry, Psychology, and Pediatrics at Pitt, she conducted a comparative clinical trial to examine the attitudes and experiences of pediatricians in providing such integrated care effectively. Kimberly's future plans include working closely with Dr. Kolko to implement collaborative care models on a larger scale throughout Pennsylvania. "With this research, I hope to add to the pool of evidence-based behavioral health care practices and contribute to the atmosphere of changing attitudes towards collaborative care" Kimberly said.
Brittany Atuahene
Scholarly Project: The Role of Sleep in Suicidal Thoughts and Behaviors
Brittany earned her Bachelor's degree from the University of Pennsylvania. As a medical student at Pitt, she has been collaborating with her mentor, Tina Goldstein PhD, Associate Professor of Psychiatry, to study the relationship between sleep duration and suicidality among a large, normative adolescent sample. The Roth Fellow Award will provide Brittany with the opportunity to further investigate if total sleep predicts the presence of suicidal ideation when appropriate covariates are held constant.