Register Today for the 2013 Showcase
Clinician Educator Showcase Offers Strategies for
Career Development, Clinical Innovation and Educational Enhancements
Register now for the Second Annual Clinician Educator Showcase, which will take place on Thursday, October 17, 2013 from 11:45am-3:45pm at Western Psychiatric Institute and Clinic of UPMC (WPIC).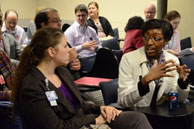 The half-day event offers something for everyone.  Whether you are looking for strategies to enhance your own career development, creating and implementing clinical innovations in your program, or learning how to enhance teaching and curriculum development skills, the showcase provides the opportunity for you to learn from experts in the field who will share their own experiences and offer guidance through the highly interactive plenary and breakout sessions.  The program also provides plenty of time for networking and reconnecting with your colleagues.

Registration is open to all faculty and clinicians, residents, medical students, and psychology interns in the Department of Psychiatry/WPIC community. 
Click here to obtain a registration form and register for this event.
Check out the showcase program schedule below for more information on the featured speakers and a detailed description of each session.
2013 CLINICIAN EDUCATOR SHOWCASE PROGRAM
11:45am-12:15pm
CHECK IN / LUNCH WILL BE PROVIDED FOR ALL REGISTRANTS
12:15pm-12:30pm
WELCOME AND INTRODUCTION ? David A. Lewis, MD
12:30pm-1:30pm
PLENARY SESSION - NEW STRATEGIES AND MODELS BY CLINICIAN EDUCATORS
Plenary Faculty: Kenneth Nash MD, MMM (Chair), Boris Birmaher MD, Rasim Diler MD, Christopher Dobbelstein MD, Antoine Douaihy MD, Frank Ghinassi PhD, Robert Hudak MD, Julie Kmiec DO, Mary Phillips MD, Lalith Solai MD and Charles F. Reynolds, III MD

This session consists of five brief presentations by clinical educators and program directors who have directed innovations within their respective clinical services line at Western Psychiatric Institute and Clinic of UPMC (WPIC). Each presenter is paired with their primary mentor, who will comment on the development and implementation of the initiative. The session will conclude with a brief Question/Answer session and group discussion focusing on aspects of identifying areas of improvement and developing and implementing changes that lead to clinical innovation.
1:30pm-1:45pm
TRANSITION TO BREAKOUT SESSIONS
1:45pm-2:35pm
BREAKOUTS - SESSION I
 
BREAKOUT 1-A: IMPROVING ACADEMIC LIFE THROUGH MENTORING
Session Faculty: Karen A. Matthews PhD (Chair), Holly Swartz MD, Jody B. Glance MD and James D. Tew, Jr. MD
Presentation:    Responsibilities and Benefits of Being in a Mentoring Relationship (Dr. Swartz)
Presentation:    Forming Productive Relationships with Mentors (Dr. Glance)

This session concentrates on the responsibilities and unique challenges of mentoring clinician-educator faculty, and will provide guidance on how to form productive mentoring relationships. Drs. Swartz and Glance will offer their unique perspectives as mentor and mentee and the mutual benefits of these relationships. Dr. Tew will lead a discussion of issues of special relevance: the need for mentoring with someone outside the reporting/supervision line; setting up the mentoring relationship with clear goals and products; and maintaining focus on a few academic goals. The audience will also be asked to provide additional issues of special relevance to mentoring for clinician-educator faculty for discussion.
 
BREAKOUT 1-B: IMPLEMENTING EVIDENCE-BASED MEDICINE
Session Faculty: Martin J. Lubetsky MD (Chair), Antoine Douaihy MD, Amy Herschell PhD, Kenneth Nash MD, MMM, Laurie Jones, Eleanor Medved MSN and Amy Shanahan MS, CADC
Presentation:   What is Evidence-Based Practice? (Dr. Herschell)
Presentation:   Parent Child Interactional Therapy (Dr. Herschell)
Presentation:   Motivational Interviewing (Dr. Douaihy)
Presentation:   High Fidelity Wraparound (Dr. Nash)

This session provides an overview of what makes a practice evidence-based and highlights three examples of evidence-based practices at WPIC, and how residents, staff and patients are being trained to implement these practices to better identify and treat behavioral health disorders. Following the presentations, Dr. Lubetsky will moderate a panel discussion with the audience to address process issues associated with implementing evidence-based practices.
 

BREAKOUT 1-C: ADVANCES IN CURRICULUM DEVELOPMENT
Session Faculty: Michael J. Travis MD (Chair), Priya Gopalan MD and Jason Rosenstock MD
Presentation: Steps in Formal Curriculum Design and Development (Dr. Gopalan)

This workshop is designed to: 1) introduce a systematic and evidence-based approach to curriculum development; 2) describe key building blocks of curriculum development; and 3) assist participants with developing curriculum goals and objectives. Video vignettes summarizing the key language, framework and steps to be taken in developing a curriculum will be presented followed by an overview of key learning points of the videos by Dr. Gopalan. A small group exercise will assist workshop participants in developing and presenting their own goals and objectives for a course in which they are involved as a teacher or learner, and obtaining feedback on enhancing their first steps toward developing a curriculum.

2:35pm-2:55pm
Break
2:55pm-3:45pm
BREAKOUTS - SESSION II
 
BREAKOUT 2-A: CONTRIBUTING TO DISCOVERY AND DISSEMINATION OF KNOWLEDGE AS A CLINICIAN EDUCATOR
Session Faculty: Srihari Bangalore, MD, Priya Gopalan MD (Chair), David A. Brent MD, Nasuh Malas MD, Roberto Ortiz-Aguayo MD, Anne Penner, MD, Neal D. Ryan MD, Eva Szigethy MD and Gregory Thorkelson MD
Presentation:     Avenues for Dissemination for a Clinician Educator (Dr. Ryan)
Presentation:     Successful Mentor-Mentee Pairings: Case Studies (Drs. Bangalore and Penner, Drs. Malas and Ortiz-Aguayo and Drs. Thorkelson and Szigethy)

In this session, Dr. Ryan will outline options for dissemination of the various types of work done by the clinician educator including case reports and poster presentations as avenues for career development. Successful mentor-mentee relationships will be highlighted through three case studies, followed by a brief summary of mentorship and its role in promoting successful career development by Dr. Brent, and a general discussion between session faculty and the audience.
 
BREAKOUT 2-B: MENTAL ILLNESS, VIOLENCE AND VIOLENCE PREVENTION
Session Faculty: Frank Ghinassi PhD, ABPP (Chair), Patricia Cluss PhD, Edward Mulvey PhD, Charles F. Reynolds, III MD, Eleanor Medved MSN and Mark Z. Zacharia Esq.
Presentation:    Mental Illness and Violence and Violence Prediction and Prevention (Dr. Mulvey)
Presentation:    Mental Health Procedures Act and Confidentiality Law (Mr. Zacharia)
Presentation:    The Overlap of Domestic Violence Victimization and Mental Health Concerns (Dr. Cluss)

This session focuses on the genesis of current mental health and violence prevention initiatives including the areas of clinician education, protocols and training, legislation, educational outreach addressing stigma, and victimization in mental illness. Dr. Mulvey will address the science of violence, prevalence and prediction in mental illness, and strategies that can be undertaken to assist in preventing violence. Mr. Zacharia will describe current obstacles to engaging emergent or urgent care as imposed by regulatory or legal statute and mechanisms to address these issues. Dr. Cluss will describe the overlap of domestic violence victimization with mental illness and substance abuse, and the impact of these issues on the willingness to seek and remain engaged in behavioral health treatment. The need for improved clinician training in domestic violence and its impact on mental health will be highlighted. The session will conclude with a Question/Answer session and group discussion moderated by Dr. Reynolds and Ms. Medved.

 
BREAKOUT 2-C: AACE TRACK AND CLINICIAN EDUCATOR CAREER DEVELOPMENT PROGRAM: PATHS TO INNOVATION
Session Faculty: Sansea Jacobson MD (Chair), Jessica Gannon MD, Keith Stowell MD, Michael J. Travis MD and Karen Matthews PhD
Presentation:    An Introduction to the AACE Track and CECDP (Drs. Travis and Matthews)
Presentation:    Meaningful Interventions with Meaningful Use (Dr. Gannon)
Presentation:    Quality Improvement in the Diagnostic Evaluation Center (Dr. Stowell)

This session introduces the audience to the inner workings of the Academic Administrator and Clinician Educator (AACE) track and Clinician Educator Career Development Program (CECDP), and how these programs support longitudinal approaches to career development in education and administration. Drs. Travis and Matthews will provide a brief history of the two programs, describe the process of selection, and outline the goals for the AACE track and CECDP. To illustrate these concepts further, two early-career faculty will give their perspective on how these programs have supported their own career development, resulting in innovation in educational, administrative, and clinical programs within the Department of Psychiatry and WPIC. The session will conclude with an interactive session to brainstorm about what other resources the audience would find helpful or supportive for their own careers going forward.
3:45pm
ADJOURN
Have questions about this event? Please contact Jeanie Knox Houtsinger at knoxjv@upmc.edu or at 412-246-6784. We look forward to seeing you there!