Rebecca Thurston, PhD Promoted
School of Medicine Promotes Rebecca Thurston, PhD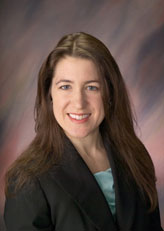 Please join us in congratulating Dr. Rebecca Thurston on her promotion to the rank of Associate Professor of Psychiatry by the University of Pittsburgh School of Medicine.
Dr. Thurston received both her Master?s and doctorate degrees in clinical health psychology from Duke University.  Following a clinical internship at the University of Washington School of Medicine in 2003, she went on to complete a two-year fellowship as a Robert Wood Johnson Health and Society Scholar at Harvard University before joining the Department of Psychiatry faculty at the University of Pittsburgh in 2005 as an Assistant Professor.  Dr. Thurston also holds secondary appointments at Pitt in the Department of Epidemiology and the Department of Psychology, and in 2011 was awarded membership on the University?s graduate faculty.
Throughout her career at the University of Pittsburgh, Dr. Thurston has demonstrated a passion for research and training the next generation of academic researchers.  Her innovative research focuses on menopause and cardiovascular disease (CVD) in women, two prevalent and inter-related health issues that can have a profound impact on women?s lives.  Specifically, one line of her research examines the physiology,  management, and sequelea of menopausal hot flashes - phenomena experienced by over 70% of women and for which there are no known treatments. Her most recent work examines hot flashes as a potential midlife marker of underlying risk for CVD, the leading cause of death in women. She also conducts research on psychosocial predictors of CVD, including how depression, loneliness, and low socioeconomic status may uniquely impact women?s cardiovascular health. In fact, Dr. Thurston was the first to publish findings indicating that the relationship between socioeconomic status and heart disease was stronger for women than men. As an Assistant Professor and Co-Investigator with the Study of Women?s Health Across the Nation (SWAN), she conducted a series of innovative epidemiological analyses challenging traditional notions about body fat?s protective role against hot flashes, showing that body fat may in fact increase the risk for hot flashes. With support from a National Institute on Aging (NIA) K23 career development award, Dr. Thurston?s work has shed light on the nature of relations between body fat, reproductive hormones, and hot flashes, reconciling seemingly contradictory findings in this area and underscoring how these relations change with aging. Currently, she is the Principal Investigator of an R01 grant funded by the National Heart, Lung and Blood Institute (NHLBI) that is the first large-scale study to comprehensively investigate the physiology underlying the complex relationship between hot flashes and CVD risk.  Dr. Thurston?s work promises to both indicate new methods to manage this bothersome midlife symptom as well as challenge conventional thinking about the benign nature of hot flashes.
Dr. Thurston?s research has produced a portfolio of high quality and frequently cited publications including 61 published peer-reviewed articles (28 of which list her as the first or senior author), several invited papers and reviews, and 43 abstracts. Dr. Thurston has also presented her research findings at numerous scientific meetings throughout the United States and abroad.  She is frequently called upon to present her work as well as share her expertise as a reviewer for a number of scientific journals and granting agencies.
In addition to her research accomplishments, Dr. Thurston is also an outstanding teacher and mentor.  Her teaching activities over the years have encompassed undergraduate, medical student, resident, and post-doctoral training. Dr. Thurston is a member of the teaching faculty of three NIH T32 training grants and has directly mentored and advised 15 trainees.  In addition, she has served on doctoral and thesis committees, has been an active member of the planning committee for the Behavioral Medicine first-year course for medical students, and has taught components of the Introduction to Psychiatry course, where students hailed her as knowledgeable and effective and as an excellent facilitator.
Dr. Thurston is also actively engaged in service to the University and UPMC communities.  She has served on the advisory board for the Center for Integrative Medicine and as a faculty associate for the Magee-Women?s Research Institute since 2005 and as the Co-Director of the Junior Faculty Women?s Networking Group since 2010, an organization established to provide information and career development support for junior female research faculty members.
Dr. Thurston is recognized nationally as a leader in the field of women?s health, particularly in the areas of menopause and the risk for cardiovascular disease in women.  We look forward to her future contributions to the field.