Rebecca Price, PhD Joins Faculty
Rebecca Price, PhD Appointed to Faculty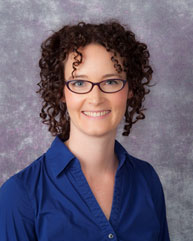 The University of Pittsburgh School of Medicine has appointed Rebecca B. Price, PhD to the rank of Assistant Professor of Psychiatry.  Dr. Price?s research interests focus on transdiagnostic neural mechanisms of information processing in anxiety, depression, and suicidality, with a specific focus on negative attentional biases.  She is broadly interested in the intersection of clinical and neurocognitive research, including translation of cognitive neuroscience findings into novel brain-based interventions, and individual differences in neurocognitive function that predict response to specific treatments.
Dr. Price attended Stanford University where she received a Bachelor?s degree in Symbolic Systems.  She earned a Master?s (2007) and a doctorate degree (2011) in Clinical Psychology from Rutgers University, where she also was the recipient of the Dean?s Award for Research Excellence (2011) and was selected for a National Research Service Award from the National Institute of Mental Health (2008-2010) to study behavioral and fMRI correlates of late-life generalized anxiety disorder.  Dr. Price relocated to Pittsburgh where she completed the Psychology Internship Program at Western Psychiatric Institute and Clinic of UPMC and a federally-funded postdoctoral fellowship under the mentorship of Dr. Greg Siegle in the Department of Psychiatry?s Program in Cognitive Affective Neuroscience (PICAN).
In addition to presenting her research at numerous scientific meetings and conferences, Dr. Price has published peer-reviewed articles in Biological Psychiatry, Translational Psychiatry, Depression and Anxiety, and other leading medical and scientific journals.  In addition to her research activities, she also is a reviewer for journals including the Archives of General Psychiatry and serves as the Treasurer and President-Elect of the Neurocognitive Therapies/Translational Research Special Interest Group for the Association for Behavioral and Cognitive Therapies.
Congratulations to Dr. Price on her appointment and please join us in welcoming her to the Department!