Mary Torregrossa, PhD
Newest Researcher to Join Department Faculty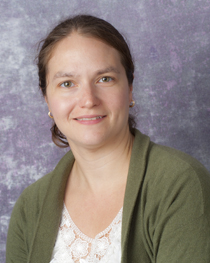 The Department of Psychiatry is pleased to announce the appointment of Mary Torregrossa, PhD to the faculty. Dr. Torregrossa earned her PhD in Neuroscience from the University of Michigan. She completed postgraduate neuroscience training at the Medical University of South Carolina and postgraduate training in psychiatry at Yale University. Her research focuses on determining the neurobiological mechanisms underlying vulnerability to addiction and identifying new treatments to prevent relapse in abstinent addicts. In addition, Dr. Torregrossa is interested in how stress during vulnerable developmental periods affects the development of the prefrontal cortex and associated circuits, and how this may underlie risk for certain psychiatric disorders.
Dr. Torregrossa is the Principal Investigator of a career development award to investigate the phosphoproteomics of extinction and reconsolidation of drug memories. She has published in numerous scientific journals including the Journal of Neuroscience and Neuropsychopharmacology, and is an active member of the Society for Neuroscience and the Research Society on Alcoholism. Please join us in welcoming Dr. Torregrossa to the faculty.